18 August 2011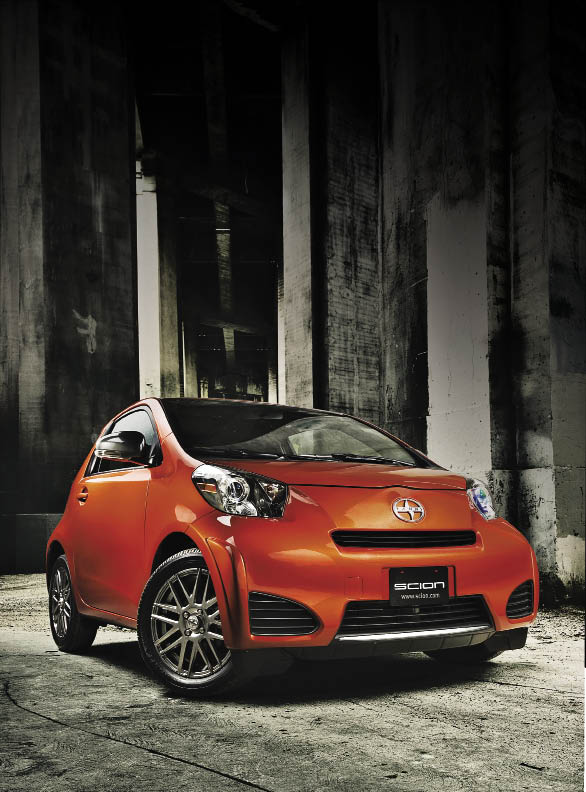 The world isn't getting smaller, there are just too many damn people in it. Unless you're somewhere in the middle of the United States growing corn on a farm, there isn't much space around to do anything. I just got back from China, Germany, and Paris where the streets were so cramped that you'd be lucky to find a parking spot. Hell, I live in LA where people live just to drive and park like idiots. Having big fancy cars in a busy metropolitan city just isn't practical anymore unless you're an NBA player or drug dealer. That's where mirco-subcompact cars like the Smart, FIAT 500, and now Scion iQ come into play.
Cold and gloomy, San Francisco was the ideal setting for the launch of Scion's newest family member. A compact city like this is where a 10-foot long car would thrive. At first glance, the iQ is as unique as the rest of the cars that rock the Scion badging and looks like it just got unloaded from a container out of Japan. J-Factor is what the Scion crew calls it and while the curvy exterior draws as much attention in SF as a Lamborghini would in Beverly Hills, the interior of this car is what sets it apart from the rest of the micro-subcompact pack. Though the iQ is listed as a four-seater, we're told that it's really more of a three plus 1 because of the offset front seats that leave more space for the person behind the passenger seat. Scion team members did boast that they fit four six-footers in the car and drove around San Francisco quite comfortably. I'm sure that was an interesting sight for San Franciscans to witness. As for storage space, I'm starting to think that it provides more than my NSX. With the 50/50 rear seats folded down, you're looking at 16.7 cu. Ft. and 3.5 cu. Ft. with them up and there's even a slide out storage bin under the passenger seat cushion.
Drivability:
As the morning fog layer lifted and my hangover wore off, we piloted this Dual VVTI 1.3L 94 horsepower beast (joking) through the windy and hilly roads of Frisco. To almost everyone's surprise, the little IQ held its own driving up and down the hills, even with the CVT transmission. Of course, the CVT transmission and tiny motor were mated together in order to achieve the best gas mileage possible while only having to fill up with 87 octane petro. At an estimated 37 mpg across the board, you're looking at 300 plus miles a tank and only hitting the gas station once every couple of weeks if you're only commuting through a small city every day. That will change a bit if you happen to shift into S mode or push the car to its 100mph top speed limit, which we clearly didn't have a chance to. There's a little green ECO light indicator to remind you that you're saving gas and not being a contributor to this whole global warming thing everyone keeps talking about.
Daily drivability is just as important and when you're forced to constantly dodge bad drivers and battle for parking spaces, you'll start to appreciate what the iQ has to offer. Most new cars can barely make a U-Turn on a four lane street, but the iQ has a 12.9 ft turning radius so that means you can pretty much do donuts around a light pole in the Giants parking lot until you vomit up last night's clam chowder from Fisherman's Warf. I'm also hoping that with the compact size and mobility, the iQ will "teach" people how to parallel park, but I'm not putting any money on that bet.
Safety:
The last thing anyone wants to think about is getting into a collision, especially if you're rolling around in this tiny car. Thankfully, Scion has the iQ fully equipped with as much safety equipment as you'll need to either avoid a crash like standard ABS or survive one with an industry most 11 funbags…er..airbags that also include a world's first rear window airbag. Additionally, with the front and rear crumple zones, in the iQ, safety will not be anything for you to ever worry about. Just try to stay away from giant semi trucks if at all possible.
Technology:
You probably wouldn't expect that much technology to be crammed into this mini mobile, but you would definitely be surprised with what Scion has to offer. All 2012 head units will come standard Bluetooth, HD radio, steering wheel audio controls, and CD player that plays both MP3 and WMA formats. The standard and optional head units are both from Pioneer with output ratings offered at 160-200 watts. The upgraded head unit is also touch screen and provides Pandora internet capabilities and iTunes tagging. For the ballers, go for the navigation that comes with a huge 7-inch touch screen, DVD player, and a USB connector to watch iPod videos. Just remember not to watch the videos while you're driving.
Roll Out:
You'll be seeing the launch of the iQ with a price tag of $15,995 starting on the west coast in October of this year, so just around when this issue hits the stands. It'll slowly spread through the US and will hit the Midwest around March of 2013. Pretty genius if you ask me, because nobody wants to try and drive this car through six feet of snow in those crazy winters over there. I can see it being a hot seller in almost every other country as well because of the space issues. Much like every other Scion, the iQ will appeal to almost every demographic out there. My dad is 65 and drives a 7-series BMW and Lexus LX470, but is looking into getting a car like this just to save money on gas every month. The tree huggers will love the car because it's very eco friendly and people who want to fix it up a bit still can. In fact, there are a couple of TRD parts available for the iQ already. Yeah, Scion isn't expecting record sales numbers for this car, but there is no doubt that it's going to make some noise when it finally hits the dealerships.
---
Essentials //
Car: 2012 Scion iQ
Micro-subcompact: Micro-subcompact
Power: 94hp @ 6,000rpm & 89 lbs-ft @ 4,400rpm MPG: MPG: 37/37
Transmission: Automatic CVT
Engine: 1.3L 1NR-FE (1,329cc) Dual VVT-I
0-60: 11.8 seconds
Curb Weight: 2,127 lbs
Wheels: 16-in steel wheels with choice
of two different wheel covers
Tires: 175/60R16 all-season
Brakes: 10-inch disc brakes (F);
7.1-inch drum brakes (R)
Suspension: MacPherson struts (F);
Inverted torsion beam (R)