Written by Dave Pankew | 01 September 2007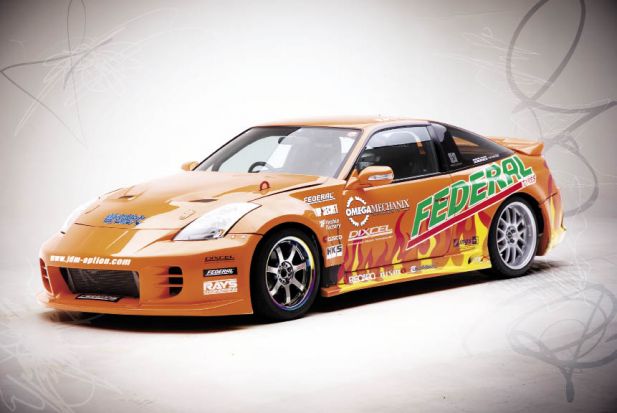 When it comes to the drifting scene anyone who knows about "mad JDM tyteness" knows Inada-san and his crazy antics. Daijiro "Dai" Inada is the mastermind behind Option Magazine, the genius of Option Video and one of the top ranking players in the D1 Grand Prix. He is a legend in Japan and fast becoming widely recognizable here, even though he doesn't really have a US counterpart. He would be somewhere between a combination of the instability of Johnny Knoxville, the success in motorsports of Bill France and the media smarts of a Robert Petersen. Dai incorporates all of those qualities and has the versatility of being a high-powered executive or a raging maniac crashing a race car at 150mph … twice. And anyone who knows Dai understands he does not follow convention and although he seems on the edge of madness has somehow become very successful sticking to it.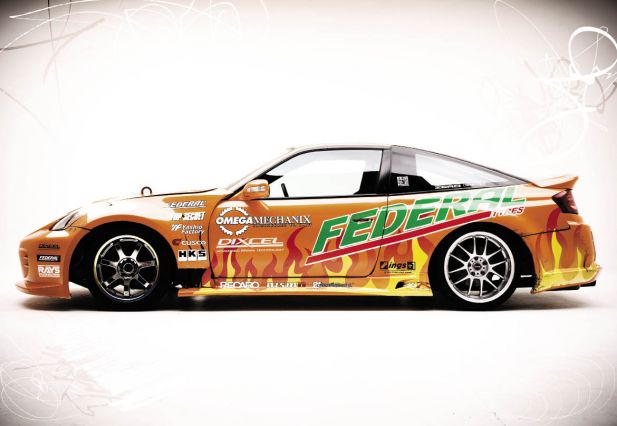 Back in 2005, I recall stumbling into the Tokyo Auto Salon half asleep from the grueling plane ride slowly building up some adrenaline for the most unreal show on the planet. Option cars are typically on an orange carpet up front and some of the baddest hardware on display. But to everyone's shock, here was Dai's Stream-Z from the Silverstate Classic in about 100 different pieces from a wreck that could easily have cost him his life. After flipping what was an estimated 7 or more times (too much of a dust cloud to tell) parts of the car were strewn for hundreds of feet. So what does Dai do? Collects all of the pieces, crates them back up and unloads them on the showfloor at the massive Makuhari Convention Center drawing more of a crowd than real showcars. Now that's nuts.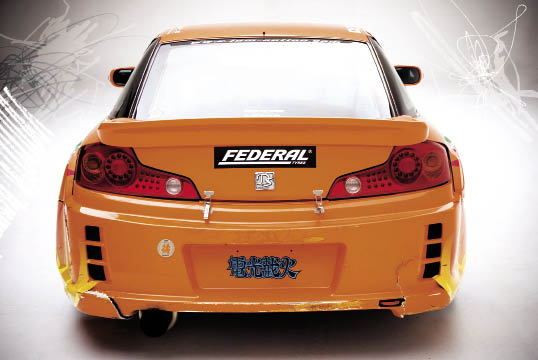 We had heard about a mysterious pair of modified Nissans at the Tokyo Auto Salon 2007 dubbed the "Stream Z GT Jr." It wasn't until the next evolution of the orange one that we spotted it. With its off-the-wall design, wild paint and graphics it was clear this was trademark Option Video styling. But this project was a slightly different than the long-nose top speed Z-cars that came before it. This creation was built to promote Dai's drifting school that he is operating in California. We hope that most of you out there recognize that the chassis underneath all this glam rock is actually an old school Nissan 180SX. There was confusion as to what year it was since the Inada brothers listed it as a "1998 model." A rare piece of Nissan-nut trivia is that there was actually a re-issue of 500 limited production S13s by a tuning shop called Kid's Heart. These rare offspring were produced in conjunction with Nissan and feature a 230hp SR20 feeding a 1.5-way LSD. The car was badged as a 'Sileighty' and was sold through select dealerships as a way to cash in on of all the crazy Silvia swaps being done by the tuners in Japan. Anyway, before we were about to verbally abuse Dai for cutting up such a rare car, he admitted it was an '89 model and that we taught him some things about the Sileighty.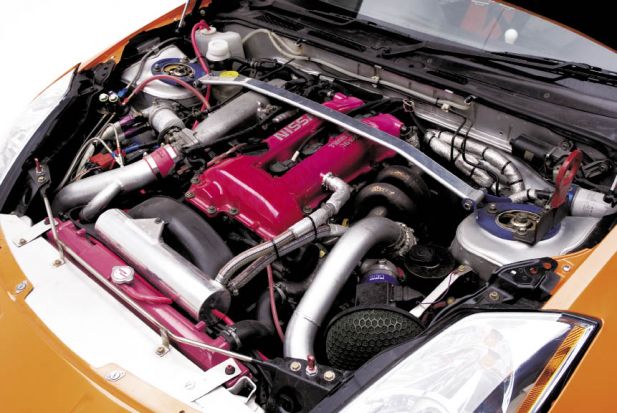 But that is really where the grasp on what is going on with this project stops. The rear end is grafted on from a G35 and the front is from a Z, hence our title "Young-G-Z" became mandatory. "I wanted an FR machine that was light and affordable" says Dai "but there is nothing on the market that compares to the legendary S13. And the car had to have outrageous looks as well, so we creating something no one had ever seen before." With that, Dai's crew at Top Secret started torching metal from a JDM Fairlady and Skyline 350GT wondering how it was all going back together. They blended custom fabricated parts along with items from the exclusive line of Top Secret Aero Parts. What resulted was the creation of the D's Club body kit that was developed at the Top Secret II facility outside Tokyo. The entire project was then drenched in trademark D1 Pearl Orange and vinyl'ed up with the sponsor logos. The condition has slid downhill since when we first saw the car but that is the way it goes with cars that are actually driven – hard.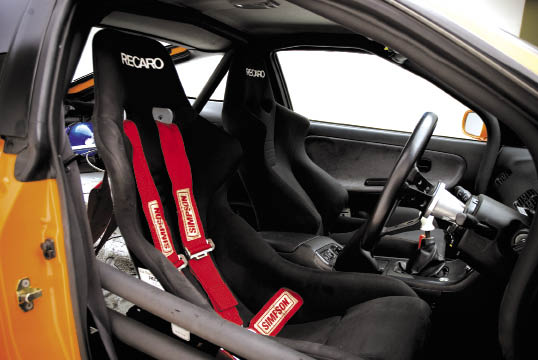 The title sponsor of the car on much of Dai's initiatives is Federal Tire. The irony here is that Federal is from Taiwan but asserting themselves with lots of Japanese motorsports with a solid product line. They are backing Dai's drift car as well as his drifting school called Federal Dai's Drift Academy where the car is involved in demonstrating how things are done the D1 way, with actual D1 pros! The Academy runs quarterly and you can check all the details at www.jdm-option.com, as well as pictures and latest news from the man himself – Daijiro Inada.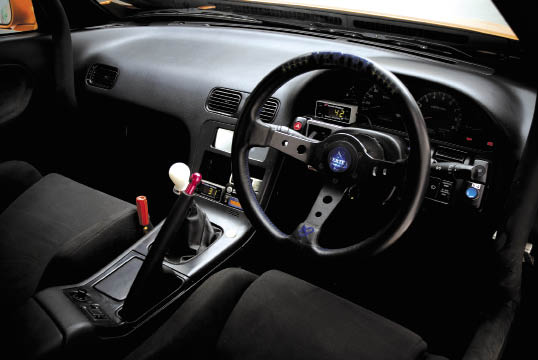 Federal supplied Dai with the rubber of his choice, which is the 595RS performance tire. Sized in 235/40R17 on a 17-inch Gramlights 57s up front, the rear 595RS are 245mm stretched over 18x10-inch INGs TS-06 wheels. Behind the mismatched wheels is a set of Dixcel 2-piece slotted rotors (280mm and 258mm) with Dixcel race pads clamped by Skyline R32 calipers. The suspension is by Yashio Factory, using their fully adjustable Spec Plus coilover. To get the radical steering angle and high speed drift stability, Dai added a few key Ikeya Formula suspension links. The reinforced S13 chassis is further tightened up with Cusco front and rear strut bars. The final suspension setup, alignment and tweaks were performed at Yashio Factory just outside Tokyo.
The engine work was also performed by the wizardry at Yashio as well. What started out as a blacktop SR20DET was completely reinvented by the engine builders. They added HKS pistons, cams and a metal headgasket after the machine work. The motor was capped off by a Yashio Factory valve-cover with a blazing pink paint job. The Yashio Factory header has an HKS GT-RS turbo hanging off it dumping into a 3-inch stainless exhaust. All of the intercooler piping that winds though the engine bay was fabricated by Yashio Factory who also installed their water sprayer kit on an HKS GT front mount intercooler. Yashio Factory developed the cooling system for the 180, with their racing radiator and water temp display available at the www.jdm-option.com site. Yashio also spec'ed out an HKS oil cooler and filter re-locator to deal with those searing temperatures the synthetic oil is subjected to. For our readers that are actually paying attention and totally sober, you might have noticed there is also a NX single fogger kit under the hood and we didn't even ask for an explanation of that. That's just crazy Dai!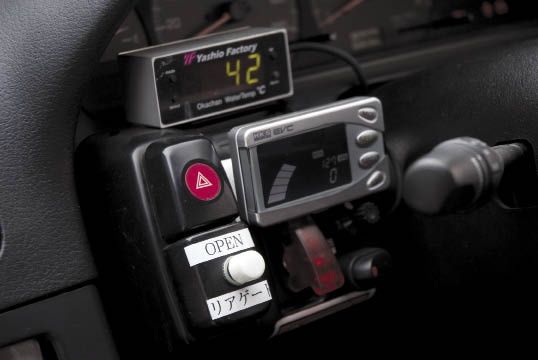 The tune was also done at the Yashio lab using and HKS FCON VPro and an HKS EVC boost controller. After the final touches were made the car put down 425whp which would be more than a stock drivetrain could handle. So the 5-speed box was pulled in favor of a Nismo 6-speed tranny with a Nismo Copper Mix clutch winding up a Nismo GT 2-way LSD. We were expecting to see a totally gutted and purpose built interior. The inside however is mostly intact, meeting the requirements of D1s hugely popular Street Class. The Nissan factory stuff is complimented by a custom cage, Recaro RS-GT and RS-6 seats with Simpson 4-points. The steering wheel is a rare low-offset Vertex model wrapped in suede, the shift knob is Nismo and e-brake is capped with a Yashio Factory spin-turn knob.
Drift fans have been waiting to get an inside glimpse of Dai's creation for a while now. It debuted at in Tokyo and took a while to come State-side. Now this 180SX is all over the scene and can be experienced up close and personal for those signing up at Dai's Drift Academy. You just have to ask yourself, am I ready for Dai 'cause we have been asking ourselves that question for years now.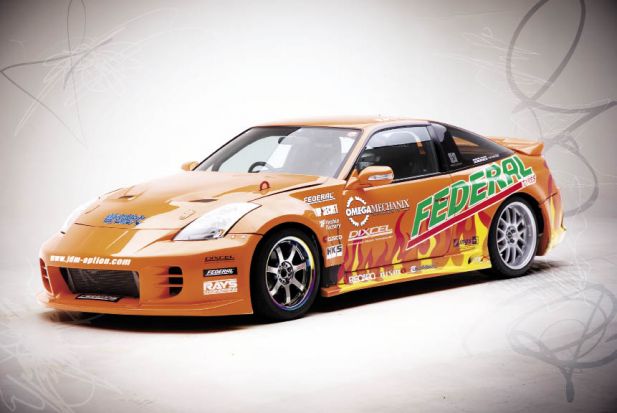 THE ESSENTIALS
Car: 1989 Nissan 180SX
Owner: Daijiro Inada of D's Club
Location: Torrance, CA
Power: 430ps

ENGINE MODIFICATIONS
Yashio Factory-built SR20DET
Yashio Factory valve cover
HKS pistons
HKS cams
HKS metal headgasket
HKS GT-RS turbines
HKS SPL filter
HKS front mount intercooler
HKS oil cooler and relocator
Yashio Factory intake manifold
Yashio Factory throttle body
Yashio Factory IC piping
Yashio Factory radiator
Yashio Factory temp controller
Yashio Factory header
Yashio Factory exhaust
Yashio Factory water sprayer
Nismo 6-speed cross-mission
Nismo Copper Mix clutch
Nismo GT Pro LSD
NX 50-shot fogger

ENGINE MANAGEMENT
HKS FCON V Pro
HKS EVC V boost controller

SUSPENSION
Yashio Factory Spec Plus
Ikeya Formula links
Cusco strut bars

WHEELS, TIRES, BRAKES
Rays Gram Lights 57s 17x8 front
Federal 595RS 235/40R17 front
INGs TS-06 18x10 rear
Federal 595RS 245/35R18 rear
Skyline GT-R R32 calipers
Dixcel slotted 2-piece rotors
Dixcel race pads

EXTERIOR
Top Secret: D's Club conversion
G35 Coupe rear clip
350Z front clip
Top Secret aero parts

INTERIOR
Recaro RS-GT / RS-6 seats
Simpson 4-point harnesses
Vertex low-offset suede wheel
Yashio Factory cage

SHOUTOUTS
D's Club
WWW.JDM-OPTION.COM
Federal Tire
Yashio Factory
INGS
Dixcel
Nismo
Vertex
Cusco
Ikeya Formula