Written by Dave Pankew | Photos by RCH Designs | 31 August 2007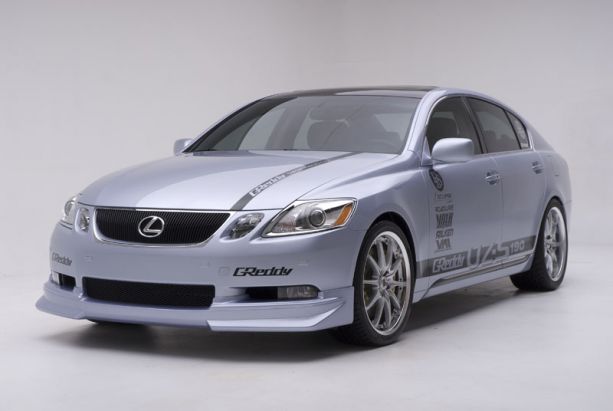 The majority of people outside the industry believe SEMA is nothing but pre-parties, parties, afterparties and general mayhem. They have this image nothing happens during 9-5 each day other than wandering the halls gazing at the leading-edge products, the latest project cars while sipping on an MGD in some NASCAR t-shirt. Well, SEMA does have its high points, but for us professionals it is a boatload of work hustling around 1,000,000 sq. ft. of concrete floor and talking-up your product to dozens of people. You definitely get your pitch sharpened to the point where you can basically recite it without using too much intellectual horsepower after those late nights (or early mornings?!). But I know this year there was one anecdote that cropped up over and over when discussing Performance Auto & Sound and that was this particular GReddy Lexus GS430 project.
It's no mystery that GReddy comes up in many conversations being one of the largest players in the tuning world and in the biz since 1977. Their applications list goes for miles as they continually branch out and try and reinvent themselves from being purely JDM compact. We had seen some of their entries into the Euro tuning world, but what was of particular interest is that this Lexus GS430 was a totally balanced build. This time around GReddy opted to roll out a full audio and video blitz in the car which as GReddy Marketing Director, Mike Chung explains "We understood a car like this has to have an ample amount of audio / video gear. It's what's hot in this type of VIP style vehicle today." And with that we started discussing with Mike what might be good to see in his Lex because for a car like this to get noticed, it can't roll with simply go-fast parts.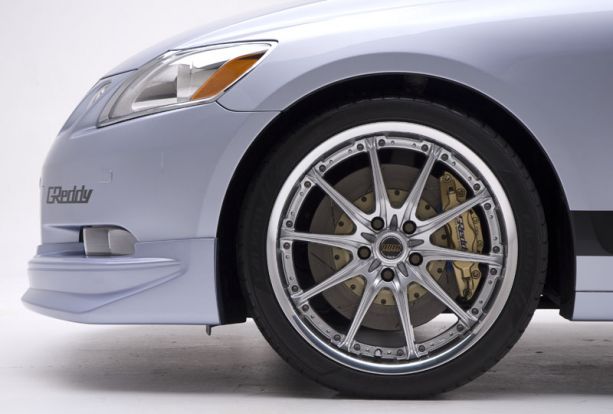 GReddy has built hundreds of demo cars but as Chung explains "none of them have ever had I.C.E. installed in them...ever!" So for us it not only made sense to showcase the car in the pages of PAS but point out GReddy being a leader that they define many future trends. It was a huge departure for GReddy, it was a big VIP sedan, powered by a V8 and featured complete multimedia.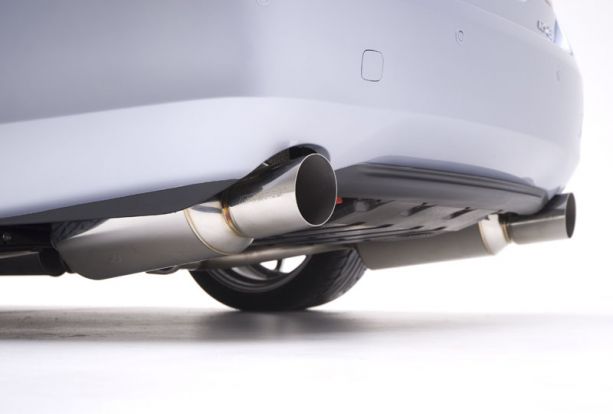 At the core of this whole project was GReddy's recently developed supercharger for the 4.3L V8 motor. Rolling off the line with 342hp and 340lb-ft of torque the car is already a powerful sedan. But the all-aluminum V8 was about to receive a shot in the arm from some forced induction. The roots-type Magnacharger sits atop a cast GReddy manifold to optimize airflow inside the chambers. Two banks of GReddy sub-compact injectors come with the kit to feed the fuel while the GReddy Pro Iridium plugs feed the fire. An AirNix filter hauls in the air that is channeled into high polished GReddy piping before compression and dumps out a GReddy EVO2 exhaust post-combustion.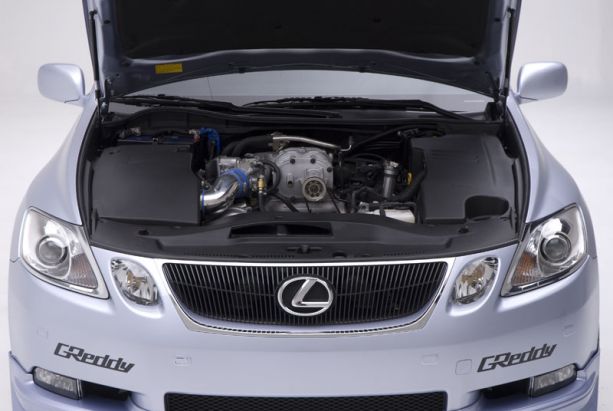 After some tweaking of the GReddy e-Manage Ultimate, the end result is a 340whp rocket that puts it around 400 at the crank when factoring in 15-percent loss. And we are talking usable power from very low RPM and plenty of grunt up until redline.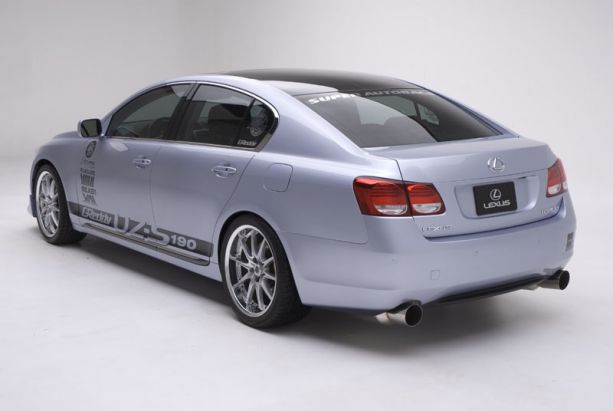 Exterior wise, Chung wanted to go fairly understated. The GReddy Gracer front lip had just been released in Japan and brought to the States to color match the car. The roof was hit with some black paint and the car was plastered in GReddy graphics by Vinyl Mayhem. The rollers selected were Rays Volk Racing GT-Fs finished in brilliant gold. Chung selected the Falken FK452 with 245/40ZR19 on the front and 275/35ZR19 in the back.
To bring the big Lex to life, Chung started plucking items from the GReddy Trust catalog. On the front wheels, Chung spec'ed out GReddy brakes to bring this 3836-pound sedan to a halt. With big 6-piston calipers clamping the two-piece 355mm rotors, the pedal feel improves and fade is almost non-existent. The lowering and stiffening of the car comes courtesy of GReddy Dow Max springs.
Step inside the GReddy GS and you step into a world that is both Lexus luxury and aftermarket finishing touches. Various interior pieces have been color-matched and others trimmed in tasteful suede accents done by Roadwire. Then moving onto the GReddy electronics side of the business, Chung added an OBDII Informeter that relays all types of engine data in real-time from the ECU.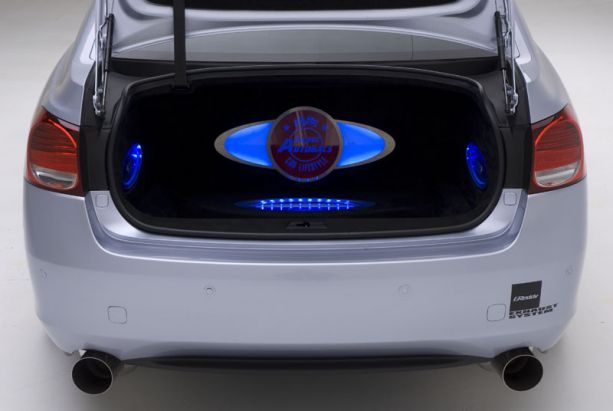 From there the crew at GReddy teamed up with Japanese Aftermarket retail powerhouse AutoBACS. This massive chain has spread out their operations to one location in the USA in Huntington Beach, CA. Known for performance parts, one of the areas of the business that shows huge potential is the multimedia and navigation sectors, so they offered to roll out an entire install to showcase their abilities. First, the interior of the car was completely Dynamat'ed for some tight sound and rattle free motoring like a Lexus should be. Up front, AutoBACS kept it clean with OE face plate and LCD but in the rear of the cabing they have installed twin 7-inch headrest monitors and a single 9-inch by Visualogic. The front of the cabin is filled with sound from two DLS 8-inch mid-bass speakers and DLS dome tweeter in the dash. In the rear doors are some 6.5-inch two ways rocking some highs and lows for the passengers. The trunk features a false wall with twin DLS 10-inch subs firing forward and able to punch lows through the ski-bag opening between the seats. The system is powered by three DLS 4-channel amps and a single mono power amp. And providing ample current is the industry leading Kinetik Power Cell.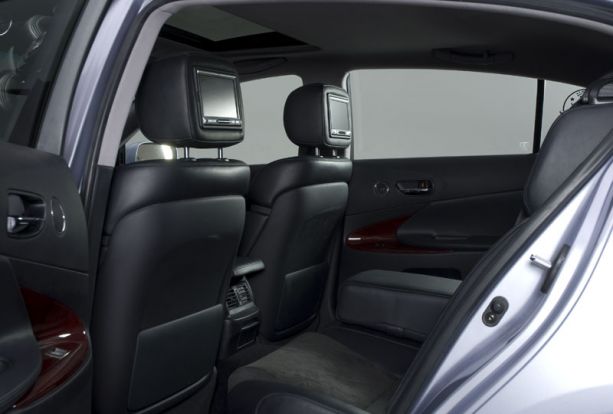 On parade at SEMA, the GReddy GS sat proudly in the main entrance to the South Hall. Their may have been cars with crazier styling around it but when it comes to proven performance, there was no other GS like it at the massive trade show. I personally must have passed this car 30 times while running around for meetings. Then again, I wouldn't want to wreck anyone's perception of what we actually accomplish at SEMA, so maybe I should stick with the story of just running to the bar nearby 30 times in between hitting on dozens of models while doing absolutely no work over the crazy week in Las Vegas that is SEMA.

THE ESSENTIALS
Owner: GReddy USA
Location: Irvine, CA
Vehicle: 2006 Lexus GS430
Power: 340whp

ENGINE / PERFORMANCE
GReddy Magnacharger kit
GReddy Intake Manifold
GReddy polished piping
GReddy exhaust manifold
GReddy EVO2 exhaust
GReddy AirNix filter
GReddi Pro Iridium plugs
GReddy e-Manage Ultimate

WHEELS, TIRES, BRAKES
Volk Racing 19-inch GT-Fs
Falken FK452
F: 245/40ZR19
R: 275/35ZR19
GReddy 6-piston calipers
GReddy 355mm 2-piece rotors

SUSPENSION
GReddy Down-Max springs

EXTERIOR
GReddy Gracer front lip
Black-painted roof

INTERIOR
GReddy Informeter
Suede accents by Roadwire

AUDIO / MULTIMEDIA
Custom install by AutoBACS USA
Dynamat'ed interior
OE LCD with adapters
Visualogic 7-inch headrest LCD x 2
Visualogic 9-inch overhead LCD
DLS 8-inch mid-bass x2
DLS dome tweeters x2
DLS 6.5-inch 2-ways x2
DLS 10-inch subs x2
DLS Ultimate A8 4-channel amps x3
DLS Ultimate A4 2-Channel 800W amp
Kinetik Power Cell