Written by Dave Pankew | 31 August 2008
Page 2 of 3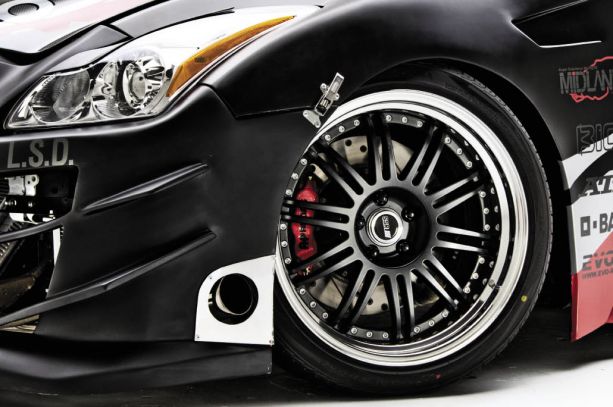 With the appearance dialed in, the focus turned to the wheel and tire package that had to make a statement. High End sponsor, SSR Wheels (owned by Tanabe) stepped up and offer a custom set of their SSR Professor VF1 wheels finished in a flat black with polished lip. Up front the 19x10-inch wheels are now wrapped in all new Nitto NT-05 ultra high performance tires sized 235/40R19, while the massive set of 19x12.5-inch wheels out back are wearing 305/30R19 Nitto tires. The stock Brembo brakes were relieved of duty by a set of beefy AP Racing 6-piston calipers with 380mm 2-piece rotors up front, which were joined by an AP Racing 4-piston rear set-up and 330mm combo.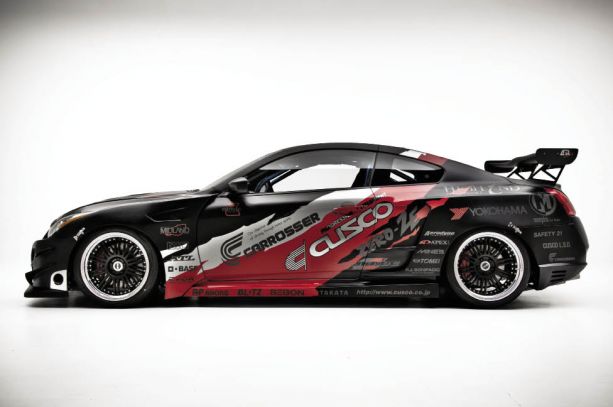 The low-slung stance of the car was achieved by the engineers at Cusco working with the crew at High End. A set of Cusco's 2e coilovers were bolted up to the coupe and an alignment given that would tuck the wheels as close to the bodywork as possible. The coilovers were also fitted with an in-cabin adjustable controller. The Cusco eCon allows the driver to adjust the dampening via the touch of a button, on-the-fly. Cusco is in the process of completing the R&D for all of the underbracing on this G37S. What is found underneath this car prototype and once their engineering process is complete these versions will be replaced with production pieces.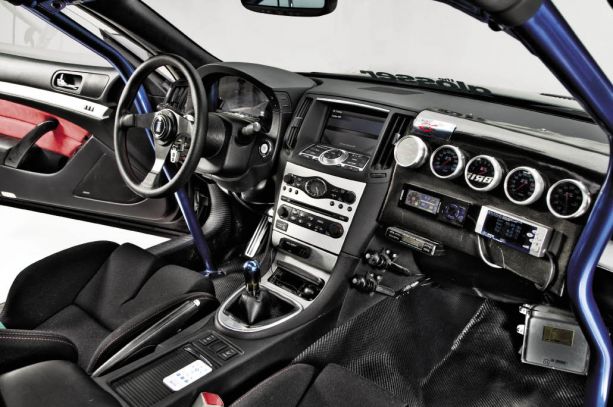 The focus of the project shifted to the interior where components had been completely reupholstered in Alcantara suede. The headliner and the the doors are a combination of red and black suede done by Gold Coast Upholstery in Ventura, CA. The carpeting has been re-laid in a carbon fiber look material that Abutin explains is very hard to find.
The stock seats were swapped out for a set of reupholstered Bride GIAS with the Mazora-finished shell. The steering column was replaced with a Splash hub and a Works Bell quick-release capped with a Nardi leather steering wheel. The shift knob, shift boot, and emergency brake handle were all upgraded to Nardi. A Blitz R-Vitz was added to relay engine vitals on LCD cluster. The entire package was then surrounded by a protective 6-point cage supplied by Cusco to finish off the cabin.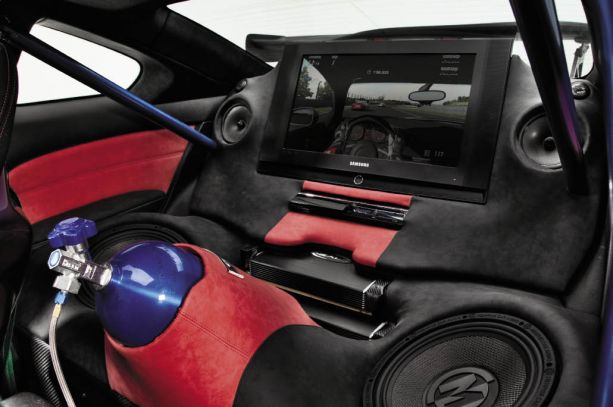 No project at SEMA is going to get the kind of notoriety the High End G37S received without a load of multimedia gadgetry. Memphis Car Audio stepped in to supply the gear for the project including Memphis Car Audio 12-inch subs, amps, capacitors and wiring. Then there is a 20-inch Samsung Television connected to a Sony PS3 and custom rearview camera. The headunit is by Pioneer, an AVIC-N3 that also integrates Nav, DVD and satellite radio.