Written by PAS Staff | 05 July 2010
How long have you been tuning cars?

My oldest brother was always into cars and always in the garage. He passed away when I was only eleven years old and to this day I think his influence is what has kept me interested and passionate about custom cars.
What was your first car?

My first car was actually the car my oldest brother worked on in my family's garage. Once he passed away and I was old enough to drive I drove his car. It was a 59 Chevy.
"All Show", "All Go" or both?

All Show! At 135+HP it's just fast enough to get out of the way. I'd like to improve this in the future, as
I keep an eye out for reputable parts, products and companies making performance parts for the Scion xD.
Owner: Carl & Lynda Spivey | Location: Wilmington, NC | Vehicle: 1992 Ford Thunderbird
Any Shout-outs?

Well my good buddy John Goff did some photography of my Scion on very short notice. He helped me out and without some of his nice pics i'd have had nothing to submit as a reader ride this month. Thanks man... i owe ya one!
---
What events have you attended?

I've entered multiple car shows and stereo competitions ranging from New Jersey, Indianapolis, Pennsylvania, Kentucky, Tennessee, Virginia, Georgia, Texas, Florida, South Carolina, to my home state of North Carolina, and most notably on display at SEMA 2008 in Las Vegas, Nevada
Any upcoming car audio upgrades?

I think it's time to bring the audio system up to date; it's been in there since 2003. so it's at least time for a new head unit and maybe a few more new items.
Any upcoming exterior?
upgrades? I'm planning to upgrade to 22's in the back for more "tuckage," I think that is a word? Also might do a black and white tattoo mural of a real life mermaid on the center of the hood. It should go well with the aquarium/underwater theme we have going on the inside and in the trunk.
Any Shout-outs?

I would like to give thanks to my wife Lynda, our sons William and Carlton, Jeff Cayton, Brandon Poirer, Daniel Krepps, Shane Clements, and all our friends and family who have helped and supported us on this 16 year endeavor.
---
Owner: Charlie Lewis
Location: McMinnville, OR
Vehicle: 2003 Dodge Neon
PASNATION Username: Chasillac
Car Club Affiliation: Team Excessive Speedz
What upgrades have you made to your car? The biggest task was sourcing and swapping my engine parts with upgraded SRT-4 and PT Cruiser turbo upgrades. All engine parts and transmission are swapped. Plus I've done a Dodge SRT-4 suspension and brake conversion. The whole car was converted into the SRT-4 model.
What events have you ATTENDED?

When I started going to car shows and winning 1st and 2nd place trophies, i was hooked. My very first car show attended was at Extreme AutoFest, where I took home the best domestic 1st place trophy. Since then, I have won this trophy 4 years in a row. I have placed at car shows like 2nd place Domestic at Tuner Bash After Dark, Best Domestic at Battle Of the Imports and I always take trophies at local shows too. Also won Best of show at 6 events so far. This Dodge Neon is the first show car project I have ever built. Not Bad for a domestic car competing against ore popular imports. I have won a total of 45 trophies over the past 5 Years.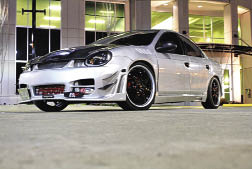 Any Shout-outs?

Special thanks to god for everything. To my wife for being there for me and helping support my hobby. All of my family and friends for being there to help with this project. My car club Xcessive Speedz. Mick Forlines photography, my dad for the great paint work, Mick's customs and Kaos Kustoms.
---
Owner: Erich Breitkreutz
Location: Seattle, WA
Vehicle: 2004 Subaru WRX
Car Club Affiliation: Project One
Tell us about your car club...

I'm a proud member of Project One. Our car club website is at www.prjct1.com The club is a collection of car show enthusiasts. While all members all have varying interests within automotive culture, we all come together to promote our creations at car shows and other events together as a team.
What events have you attended?

In the past few years, I've shown my car at Hot Import Nights, Battle of the Imports, Driven to Perform, Sport Compact Nights, Import Motion, Global Import Car Show, Bond of Bellevue and Show for a Cause – in short, most of the events that have taken place in the Northwest (Washington, Oregon and BC area) in the past 4-5 years.
Any Shout-outs?

Russell, Tex, Armin and The Foth for being there to discuss, support, dissuade and generally just feed the auto addiction! My parents for providing support and not forcing me to spend money on other things, Mike at Memphis Car Audio, Todd and Ryan at Audio Integrations for providing the final piece of my build, Jessica for being there nearly every step of the way, from purchase to today. Everyone else that's helped me along the way... many thanks.