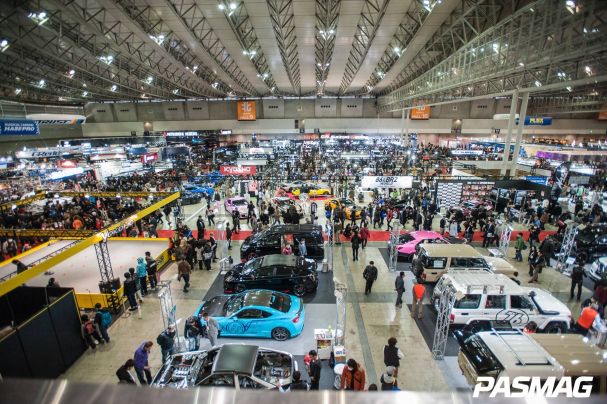 The Tokyo Auto Salon 2014 was, at least for me, a great weekend filled with all manners of entertainment and spectacle. Whether you enjoyed it or not came down to how you viewed the weekend or, more specifically, what you were looking for. In my case, as always, this meant going in with an open mind to uncover some of the gems the show was bound to hold. This also meant getting there before anyone else did, so I found myself prowling the halls on the Thursday set up, one night before the floodgates opened to the press and general public.
There was a lot to take interest in. Subaru, for example, took a chicken-and-egg approach by releasing the race version of its new WRX Nürburgring race car before taking the wraps off the production car in Detroit a few days later. Trust was unveiling its new R35X drift weapon, Liberty Walk was showing off some new machines, including its widebody 458 Italia and R35 and the big wheel brands were showing off a number of new shoes. Rocket Bunny (read Kei Miura) was everywhere – his over-fenders literally dominated the visual presence this year; I counted at least 30 cars wearing his designs.
But while Thursday was a good indicator of what to expect, nothing could have prepared me for what was to happen during the rest of the weekend. Friday began as it always has; press being given limited access during the morning with the crazed fans looking to spot some flesh of the female variety flooding the halls later that day. There was plenty to go around I suppose, but I have always wondered what the ratio of gear heads to girl seekers is. Probably heavily tilted towards the latter!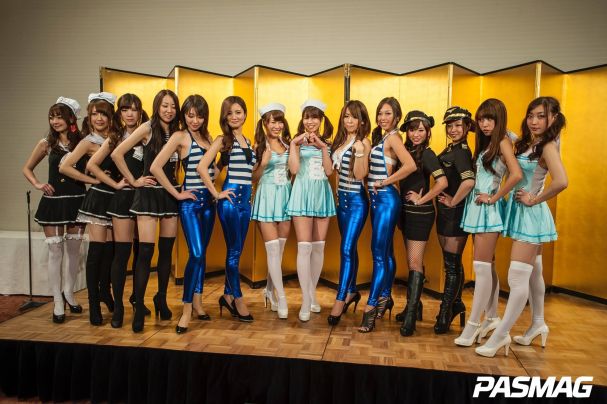 One car (actually a pair of them) that really impressed me was from a small company called Kuhl Racing. Their silver Toyota 86 (there were seemingly more of them this year than last) was an incredible machine. It was not wrapped in vinyl; rather it was painstakingly painted using perfectly positioned strips of tape under layer after layer of glossy coats; a process that took over two months to complete. Underneath there was no less detail, with acres of titanium covering the custom exhaust system. The Prius next to that was, actually, still a Prius, but still very impressive. One look at the interior and you got lost trying to find all the little details.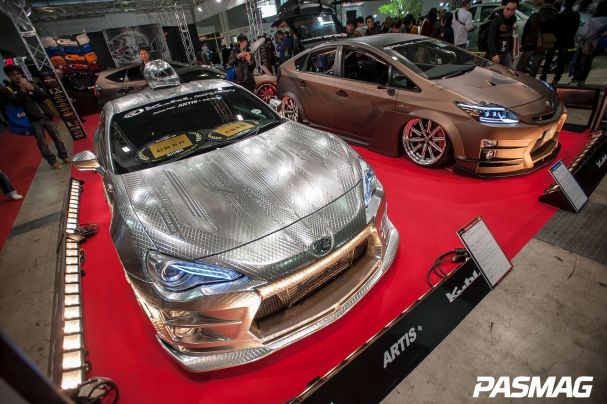 Top Secret brought its A-game this year fielding no less than eight cars, including a brace of R35s and, unusually, a R34 V-Spec II Nür and the infamous top speed V12 Supra. Some of you might not know, but Smoky Nagata can never go back to England ever again unless he is pardoned! He has been black listed because of the speeds he drove in that car. Incidentally, this is the last time we will see it at any shows;
The gathering came and went in a blur, but not before I later found myself (at Smoky's invitation again) on the 50th floor of the APA Hotel drinking with Daijiro Inada and the management of Trust, Neko corporation and Endless. To say that was a surreal experience would be an understatement. I had to pinch myself the next day to make sure I wasn't actually dreaming, but the drinks and conversation flowed easily. And boy, these guys drink as hard as they drive! As midnight approached, slightly inebriated, I went to take my leave as I had a lot of work still to go through, but Inada san turned and asked why I was leaving. "I have a lot of work to do," I told him, regrettably. "Hey! This is work!" he shot back. Indeed!
Saturday also flew by in a blur of shutter clicks and footsteps, but not before I checked out the selection put together by the Option group. Option magazine's senior editor had just finished his Kansai Service powered 1,000hp Supra - beautiful in every detail. A bit further over, many "WTF" moments were had. At first glance, I glossed over it because I have no interest in Volkswagen Beetles, but when I swung around and saw a Silvia badge I stopped in my tracks. With the bonnet popped, my jaw dropped. With a full Silvia chassis underneath, RWD conversion and SR20DET the engine bay, this was a big, unexpected surprise and proof again you can't judge a book by its cover.
Next to the "Bug" was the Bad Quality 180SX - wearing a nicely arranged blue and yellow paint job and Rocket Bunny over-fenders. These cars were all function over form.
Speaking of form, it was unbelievable how many cars had Rocket Bunny over-fenders this year. And not just one car; we're talking at least 10 different chassis, including almost all of the Liberty Walk cars. A lot of people still don't understand that Kei Miura who owns Rocket Bunny (TRA Kyoto) is the same guy who makes the over-fenders for Liberty Walk; mass produced for him by Trust (GReddy). He's going to be a very busy man this year.
Saturday night brought an even bigger surprise when I was handed an invitation to an exclusive RH9 party. "Here we go again!" I thought. And what a night that also turned out to be; the room was filled with legends of the tuning industry from all corners of the nation. Incidentally, this was the very first time ever where they could all be found in one room together – a very special experience indeed. And in a carbon copy of Friday, it was back up to the APA Hotel for another round of drinks.
I wasn't even planning to stay for Sunday, thinking that three days was going to be enough time to cover everything, but I was wrong. There was still a ton of legwork to do. This led me out into the arena for some drift action, where Toyo Tires was showcasing its best drivers, including D1 champion Kawabata.
Back inside the main halls, I stopped to visit Inoue san and Star Road who were showcasing the new Glow Star wheels; beautiful three-piece forged items produced for them by Work. They looked absolutely amazing on their classic S30Z. Not long after I decided to stop by Trust and take a closer look at the machines when I noticed a familiar face; Canadian Import model, Dannie Riel.
Photos don't do the Chinese/ French beauty any justice and she was pulling huge crowds as a guest model for Trust. At one point, I ended up taking her over to meet Smoky Nagata and, as she stood there posing next to the great man without a care in the world, I sensed Nagata's tenseness. I asked him if everything was okay and he replied, "Doki Doki," which means his heart was pounding. Oh the irony. Flying 217 mph (350 km/h) in a 1,200 horsepower monster is a walk in the park for him, but standing next to Dannie caused his hard exterior to crack! It was a great end to a truly hectic weekend.
| | |
| --- | --- |
| | |
I think I managed three hours of sleep a night between endless chain smoking, photo editing and enough booze to give me a mild case of alcohol poisoning. But that's what the Tokyo Auto Salon is about, isn't it? A weekend when you simply can't sleep because there's too much to see and do. Yes, the Japanese industry is still experiencing great difficulties in growth, but you don't feel that when you're amongst it under the lights and hustle and bustle.
As you'll see in my column, I have concerns regarding the current state of the industry, but the Tokyo Auto Salon is still the greatest car show in the world. And that gives me firm hope for the future.