10 July 2013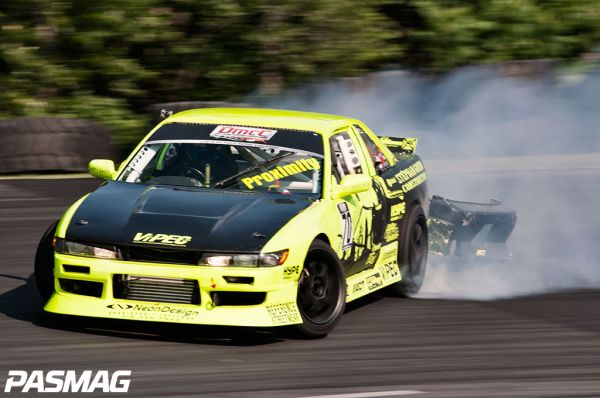 The third round of the DMCC series took place at the River Side Speedway located in STE-Croix, Quebec. The last time DMCC came to this track was back in 2009. Since then, it's had some major changes. Notably, the infield of the track has been paved to make a very high speed and exciting layout.

Round three was also the event where Pat Cyr was finally going to have his FR-S out for competition. A lot of people were very excited to see his car out on the track; so much so, a group gathered as he pulled the car out of the trailer.
Practice started off well as the track was fast and made for a lot of smoke. Maxime Lemoine, Dave Briggs, Mike Pollard and Paco, among others, were making crazy amount of smoke, it was impressive to see. After a few laps, Pat Cyr's FR-S started having problems. It might have been the fact that it was super-hot out, but the car started to lack power. His team were working hard to get it resolved.

During qualifications, Dave Briggs put down an impressive run locking him in the number one spot. Tom Tom was only a half second behind in the second spot. Kevin Morin qualified in third with Alex Michaud in fourth. After having issues with his car during practice, Marc Landreville used Pro-Am driver, Silvio Santo's S14, to qualify. With his first time out in the car, he was able to lock himself into the seveth spot, right off the bat. Pat Cyr's FR-S was still not running 100% and was not able to qualify. Mike Pollard also had car issues as his engine seized on the spot, ending his weekend.

With how the brackets lined up, two heavy hitters met up in the top 16, Jeff Laflamme and Francis Tasse. After an OMT battle, Jeff moved onto the 'Great 8' where he would face Dave Briggs. This was a controversial battle that ended up going to two OMT battles. Dave Briggs was awarded the win when Jeff spun on his chase run.

The top four came down to Dave Briggs, Maxime Lemoine, Alex Michaud and Marc Landreville. Marc Landreville's S14 suffered from a mechanical failure in his run versus Joe Thiffault. Dave Briggs took the win against Alex Michaud and with Marc unable to compete, Alex was awarded 3rd place. Main battle came down to Maxime Lemoine with his S10 and Dave Briggs. Dave Briggs was super-fast all weekend and was able to pull a good lead during his chase. On Max's lead run he made so much smoke that Dave had trouble chasing him but, was able to stay close enough and got the win!

Final Standings: Dave Briggs, Max Lemoine, Alex Michaud, Marc Landreville. After three rounds, Max is now in the running for the Championship. Next round will be a great one at Victoriaville; the one with the jump!

For more info check out dmccdrift.com.