13 May 2013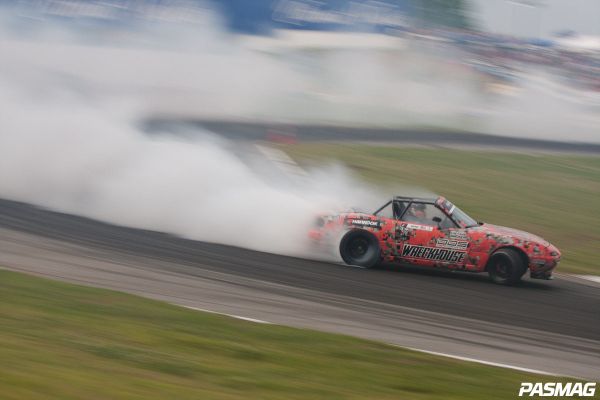 Celebrating the tenth year of competition, Formula D rolled into Atlanta for their second round of competition in 2013. Road Atlanta was home to the first ever Formula D competition back in April of 2004, and has returned to the same track every year since. The terraced Turn 10 complex is said to be one of the best venues on the FD circuit due to the extreme elevation change and rowdy-yet-knowledgeable spectators who have been attending drifting events for years.
Qualifying led to some familiar faces at the top of the grid, with Freddy Aasbo piloting his Hankook Scion tC to the top position. Mike Essa earned second qualifier in his GSR Autosports BMW M3, with Justin Pawlak's Falken Tire Ford Mustang, Chelsea Denofa's BC Racing BMW E46, and Daigo Saito's Achilles Tire Lexus SC430 filling out the third, fourth, and fifth qualifying positions respectively. Several of the top drivers including Ken Gushi, Tyler McQuarrie, and Tony Angelo failed to qualify, showing just how competitive the series has gotten.
In the initial Top 32 round of tandems, the championship standings would get an early shakeup as Long Beach champion Dai Yoshihara was taken out by Conrad Grunewald and Chelsea Denofa, fresh off of a fourth place finish in Long Beach, was eliminated by Joon Maeng. One of the most controversial runs came in the Top 8 round, when a collision between Vaughn Gittin Jr's Mustang and Aasbo's tC led to Gittin Jr's Mustang driving over the front end of Aasbo's tC. While the collision looked scary, no major parts were damaged on either car, and the showdown would result in a one-more-time round before Gittin was able to earn the win.
Gittin would go on to earn third place, his second career podium in Atlanta, the last one coming in 2010 when he won the championship. Gittin's only loss in tandem came at the hands of defending Formula D Champion Daigo Saito in the Final Four. Saito would go on to win the event in his Lexus SC430, defeating Falken Tire's Darren McNamara in the final round. Gittin earned third place over Mike Essa in the consolation round.
The win pushes Gittin Jr to the top of the Formula D championship standings, with Daigo Saito and Darren McNamara close behind. The series invades Palm Beach Raceway next on the schedule before closing out the East Coast swing in New Jersey shortly after.
Formula D 2013 Championship Standings:

1. Vaughn Gittin Jr. Monster Energy / Nitto Tire Ford Mustang 172 Points
2. Daigo Saito Achilles Tire / Bridges Racing Lexus SC430 161 Points
3. Darren McNamara Falken Tire Nissan S14 156 Points
5. Michael Essa GSR Autosport / Yokohama BMW M3 141 Points
5. Daijiro Yoshihara America's Tire / Falken Tire Nissan S13 137 Points
6. Fredric Aasbo Hankook Tire Scion Racing tC 136 Points
7. Chris Forsberg NOS Energy Drink / Hankook Nissan 370Z 135 Points
8. Ryan Tuerck Team Retaks Scion FR-S 125.5 Points
9. Kenny Moen Lutz Performance Nissan 350Z 120 Points
10. Matt Powers Nitto Tire / Fatlace Nissan S14 119 Points
11. Justin Pawlak Falken Tire Ford Mustang 116.5 Points
12. Aurimas"Odi" Bakchis Nexen Tire Nissan S14 112 Points
13. Chelsea DeNofa BC Racing BMW 3 Series 105 Points
14. Kyle Mohan Nexen Tire / Mazdatrix RX8 86 Points
15. Forrest Wang Get Nuts Labs Nissan S14 82 Points
16. Matt Field CX Racing / Blacktrax Nissan S14 81.5 Points

Tire Manufacturer Championship Standings:

1. Falken – 331 points
2. Nitto – 309 points
3. Hankook – 271 points
4. Achilles – 243 points
5. Nexen – 228.5 points
6. Yokohama – 220 points
7. Maxxis – 207 points
8. Kenda – 24.25 points

OEM Championship Standings:

1. Ford – 288.5 points
2. Scion – 261.5 points
3. Nissan – 255 points
4. BMW – 246 points
5. Lexus – 240 points
6. Toyota – 99 points
7. Mazda – 86 points
8. Chevy – 78.75 points
9. Subaru – 49 points
10. Hyundai – 24.25 points