04 October 2012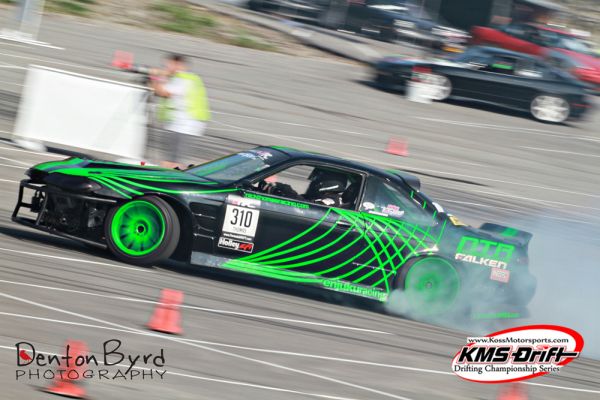 The bar has been raised for all competitors of the KMS Drift Series. Nashville, TN was the setting for Round 7 and it proved to be the best competition round year to date. 48 drivers from 5 States came out to compete and prove that drifting is alive and well in Nashville, TN. Special guest, Nick Thomas, Formula D Driver, put it all out for his fellow drivers and the 800+ spectators that came out to enjoy what KMS is all about… grass roots drifting & keeping it fun.
Thank you from KMS on the great driving and show!
MS Drift I Love Boobies T-Shirt and Sticker $20.00 or $15.00 for shirt and $5.00 for stickers, Proceeds from sales of these special edition breast cancer awareness shirts and stickers will go to www.cindyshopechest.org, whose mission is to support women battling breast cancer emotionally and financially. KMS will be presenting a check to this wonderful organization on October 21st. We invite any survivors to come out and celebrate their victory with us at the event that day.
Winners of the event:
Crowd Favorite- Barry Clapp
Driver Favorite- Tyson Schmidt
Most Smoke- Andrew Lewis
Best Ride Along- Jay Strobino
Hard Luck- Travis Davis (You owe me a Pole LOL)
Most Improved- Chris Green
KMS Pick/Kiss Ass- Scott Busby
Location Pick- Andrew Rodriguez
Best 2 Car Tandem- Tyson Schmidt & Andrew Lewis
Street: 1st- Scott Christopher 2nd- Andrew Rodriguez
3rd- Michael Montanti
Pro-AM:
1st- Tyson Schmidt 2nd- Andrew Lewis
3rd- Howard Smith
Those Missouri boys know how to drive!!
Only a few more Rounds before the KMS Drift Finals on November 25th at Atlanta Motor Speedway!!
10-7
Rockingham Dragway 2153 U.S. 1 Rockingham NC 28379
8 Round NC
10-21
Knights Stadium 2280 Deerfield DriveFort Mill, SC 29715
Driver Day
10-27
Joe Davis Stadium 3125 Leeman Ferry Rd. Huntsville, Alabama 35801
9 Round AL
11-3
Auto Plus Raceway 11211 N County Rd 225 Gainesville FL 32609
10 Round FL
11-10
Knights Stadium 2280 Deerfield DriveFort Mill, SC 29715
11 Round SC
Special Thanks to our sponsors: East10drift.com, SlideFaction.com, Denton Byrd Photography, Slide Life, Vibrant Performance, Monster, Illuminati Performance, Binkies Blessings Scholarship Fund, Full Tilt Boogie, NexGenRacing, Drift Warrior Fabrication, Pro Vinyl Shop
Media Coverage: SlideFaction.com, Denton Byrd Photography, Wesley Oaks, Coryat Photography