Written by and Photos by Jeremy Alan Glover | 18 June 2012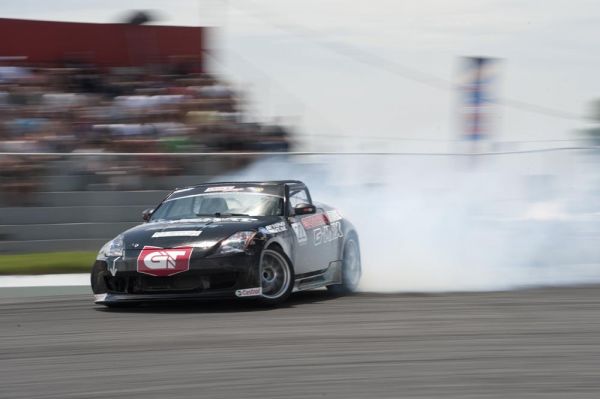 The sun was out RD2 of the DMCC series that took place at the Autodrome St-Eustache that is just outside Montreal. After all the rain that we received for round one everybody from the staff to the drivers were very happy that it was going to be a bright sunny event! For this event it was set up a little different then usual. It was a one day event where Pro and Pro Am drivers would practice, qualify and compete all in the one day. It was like a drift marathon where the action never stopped.

Practice started off really well with the Pro Am's out first. The layout of this track fairly high speed with the first corner being hit or miss..come in too fast and hit the wall..come in off line..and your probably going to hit the wall too. Because of this a few of the PRO Am drivers weekends were cut short. When the Pro drivers came out it was not much different as a number of them made friends with the outside wall. Rd1 winner Jeff Laflamme made it out with his new V8 powered IS 300 but right off the bat you could see he was struggling with the car. Every time he tried to make the switch back the car would just turn on its self. It will be awesome when his team gets the car dialed in! The rest of the practice session was intense as the drivers were pushing harder and harder. Some of the practice tandem runs were so tight that they could have competition runs.

Qualifications were amazing. Some of the drivers were putting down insane runs! Brad Carlton did not make it to RD1 but was out in force for RD2 with his S13 now running a V8. With some crazy wall tapping action he made it into the 3rd qualifying spot. Marc Landreville was probably putting down some of the smokiest runs and getting crazy angle..He got 2nd in qualification. The top Qualifying spot went to Pat Cyr who ripped the course with his little hatchi.



Before the Top 16 we had a driver get knocked out. Jeff Laflammes car did not even make it all the way to the driver introductions and had to be towed away. With a standing room only crowd the Top 16 battles were insane under the lights of the Autodrome. One by one the field was thinned down until we were left with the Final 4. Marc Landreville, Pat Cyr, Mike Pollard and last years Pro Am champion Tom Tom. Tom Tom did great all weekend despite even having a run in with the wall.. in his battle versus Marc his hood flew up into his windshield causing him to loose drift and give the win to Marc but even with his hood up he did finish drifting the entire track..was crazy to see. After loosing to Pat Cyr Mike Pollard faced Tom Tom for 3rd where he came out on top for his first DMCC Podium. The final battle should have been a epic one..Pat Cyr VS Marc Landreville..two of the most intense drivers in the series. But with contact between Marc and Pat on the first run making it go to one more time where on Marc's lead run he pushed a bit to hard and ended his weekend into the wall., Giving the win to Pat Cyr! Final order was Pat Cyr, Marc Landreville and Mike Pollard. Mike also won the NOS Fastest Speed entry contest for the second round in a row..

It was such an intense event where all the fans got their moneys worth. Next event is in just two week .. I cant wait!

For more info check out www.dmccdrift.com