Written by C17 Media. Photos by Giancarlo Pawelec (AutoMotoFoto.net) | 07 June 2012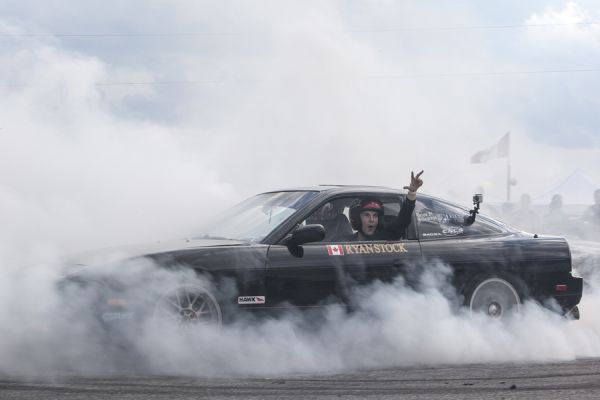 Each year the Canadian sport compact scene kicks off with the CSCS Season Opener at Toronto Motorsports Park, Cayuga. Despite chilly temperatures and scattered showers, hundreds of competitors and thousands of diehard fans poured through the gates to catch all the action. Presenting sponsor Scion Canada brought out a few FR-S's and let fans in on the ultimate Scion experience allowing spectators to drag race the cars down the strip or go for ride-alongs with professional drivers on the road course.
One of the most anticipated runs of the day in the Time Attack competition was that of Kimi Qin (2011 Shanghai Super Car Champion) with his Mines Racing R35 who set the fastest time of the day with a 1.16.991. Kimi also put on a good show in the pits with his umbrella girl models and two modified Ferraris in the JRP booth.
Other notable drivers in the Time Attack competition were Marco Botelho in the Defcon Racing Integra who smashed the FWD record by almost a second with a 1.17.061 and James Kutsche in the JRP RX-7 who also set a personal best of 1:17.825 and took home 1st in the Unlimited RWD class.
On the drag strip, Jeff Misra finished 1st in Street Warz while Clint McAdams edged David Knutson in the Bracket class. Due to the rain, the Super Street and Pure Street finals have been rescheduled for Round 2 at Grand Bend Motorplex.
The drift championship saw many new faces this year but the finals came down to two CSCS veterans as Anthony NuVisions of CoolKidsClub beat 2011 Drift Champion Ryan Stock to take home 1st place.
As always the Show & Shine competition drew a large crowd of spectators and competitors showcasing everything from imports, bikes, trucks and even featured a Stretch & Poke competition. Taking home top honours was Tom Franjic in his wild Dodge Charger, and with over 20 cars best team was awarded to the 2011 Team of the Year Toronto Tuner Syndicate.
Check out www.CSCS.ca or facebook.com/CSCSRacing for information about Canada's Biggest Sport Compact Racing Series.