Event
Title:

USDrift Round 3: Alton, VA

When:

19.08.2017

Where:

Alton, VA

Category:
Description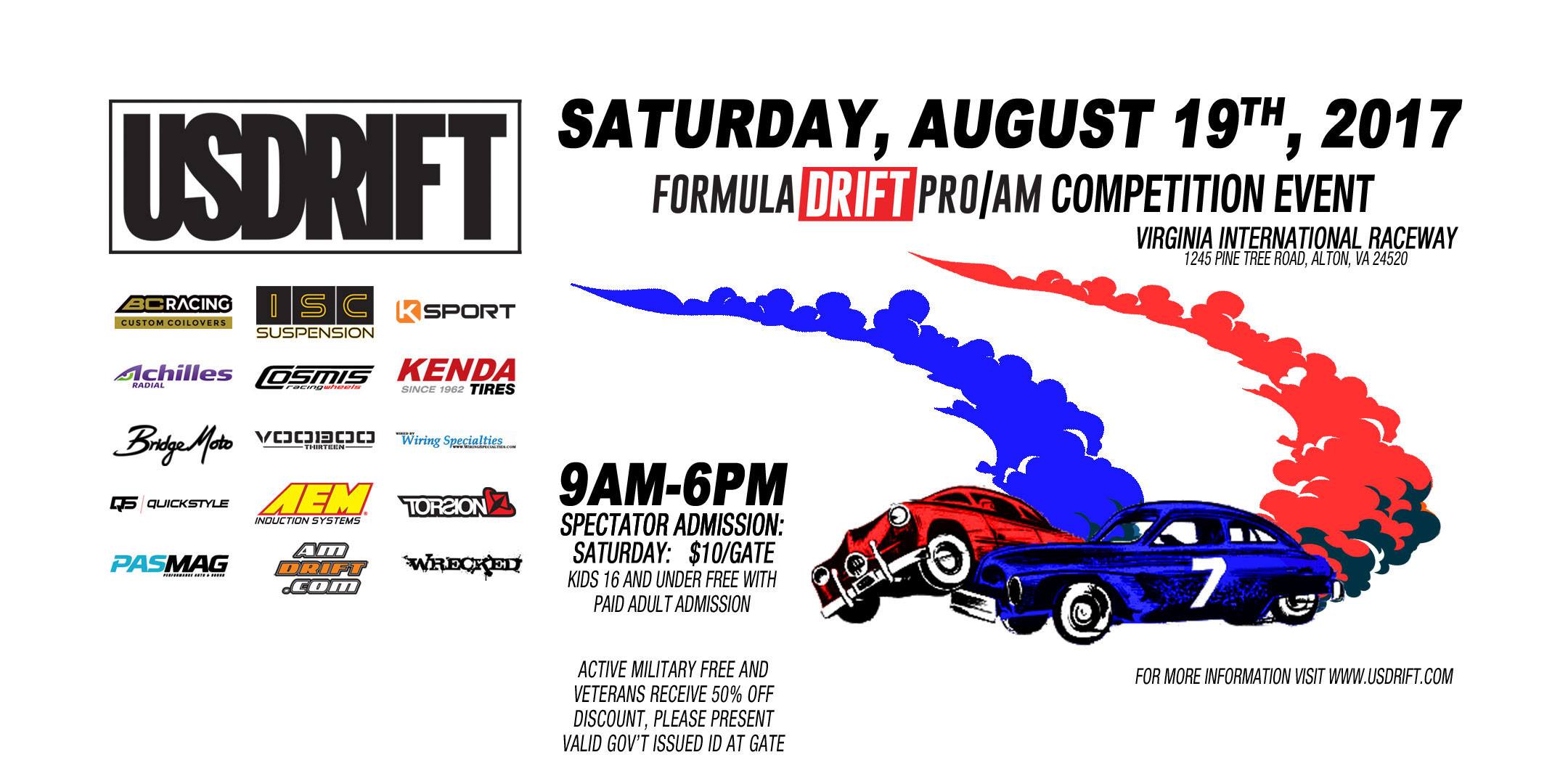 USDRIFT Formula DRIFT PRO/AM Round 3 is a one-day competition event taking place on Saturday, August 19th, 2017 on the Patriot Course at VIRginia International Raceway in Alton, VA. This competition portion of this event consists of a practice session, qualifying session, and top 16 tandem competition.
SPECTATORS:
Gate admission tickets for spectators or additional crew members may be purchased at the front gate on the day of event for $10. Kids 16 and under are free with a paid adult admission. Active military are free and veterans receive 50% discount. Please present a valid Government issued ID at the gate when purchasing tickets for discount. Parking is free.
COMPETITON EVENT:
Each paid USDrift PRO/AM Series participant registration includes two (2) gate admissions; one (1) for the driver and one (1) for a crew member. Additional gate admission tickets may be purchased at the front gate for $10.
SCHEDULE (tentative):
FRIDAY:
6:00PM | Load-in / Trailer Drop Off
SATURDAY:
7:00AM | Technical Inspections
8:30AM | Media Meeting
8:45AM | Driver Meeting
9:00AM | Practice
12:00PM | Driver Meeting / Lunch Break
1:00PM | Qualifying
2:45PM | Driver Meeting / Announce Top 16
3:00PM | Top 16 Tandem Practice
4:00PM | Top 16 Tandem Competition
6:00PM | Track Cold
6:05PM | Awards
RACER SUPPORT & CONTINGENCY PROGRAMS:
We have some great partners who are working with us to offer you some amazing deals on their great products and/or offer you the chance to earn cash, credit, or gift certificates by using their products on track. NOTE: Some of the Racer Support and Contingency Programs may require you to register for them prior to the event. Be sure to visit www.usdrift.com for complete details.
USDRIFT DRIVERS:
Eligible participants must be at least 18 years old (16 years old with parental consent*) and posess a valid state or government issued photo ID. Each paid driver registration includes 2 gate admissions; 1 for the driver and 1 for a crew member. Basic technical requirements are similar to an auto-x, which you can reference here. More advanced drivers who plan to run tandem will need to check the USDrift Competition Rules & Regulations (CRR) for additional safety requirments which can be found on the USDrift website at www.usdrift.com. Please ensure your car will pass the technical inspection. If your car does not pass the technical inspection, it will not be allowed on track and no refund will be given. Should you have any additional questions regarding tech, please contact This e-mail address is being protected from spambots. You need JavaScript enabled to view it .
*NOTE: A minor release form must be filled out and be on file with USD at every event for 16 and 17 year old participants. All minor participants should have at least one parent or legal guardian present at all times.
MEDIA:
Media individuals must be at least 18 years old and posess a valid state or government issued photo ID. There is a media opton in the ticketing section for this event on Eventbrite for media to apply. Media must check in during the media meeting in order to receive their credentials. Media must wear long pants and closed toed shoes. Please bring a valid state or government issued ID with you to the media meeting in order to check out a USDrift issued media vest. NOTE: Only USDrift issued media vests will be allowed in Hot Areas on track.
For more information visit www.usdrift.com.
Venue
Venue:

City:

Alton, VA

Country:
Description
Sorry, no description available