Written by Micky Slinger | 15 September 2017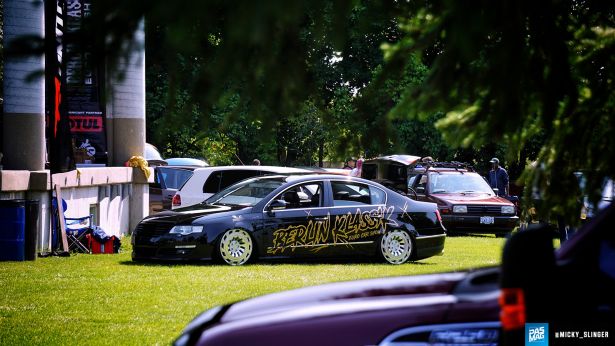 Give a quick thought to how you entered any car shows you attended this year. It's almost usually through a front door to a convention center, or if it was an outdoor event, up to a ticket booth, which then gets you access to the grounds. In response to some crazy wait times from the past year's show, Berlin Klassik tackled things a little differently this time around.
Instead of having registered show cars and attendees coming in through the only entrance to the Guelph Lake Conservation Area and ending up in one line, show organizers booked an open field nearby for show goer parking. It's still a bit of a hike, so there was transportation provided to get attendees around the registration line and into the show: tractor rides. That's right, I rode into Berlin Klassik 2017 on a freakin' tractor. Good start.
If you go back and read my coverage of last year's event - the first year of the "Island Tour" rendition of Berlin Klassik - you'll know I called it my favorite show of 2016. It really is a perfect season ender. It's at the beginning of September, where the weather in Ontario, Canada, hasn't taken a turn for the chilly, and no one's thought about putting their cars away just yet. Nice forecast, good light for photos, and plenty of the cleanest European cars you've ever seen.
Did I mention that Berlin Klassik takes place on an "island"? There is a land bridge that leads out to the grounds, but the rest of it is surrounded by a lake. The result is a unique environment for a car event, as you're completely cut off from outside influence in a spanning park with plenty of tree cover. You may as well be on a remote European island whose inhabitants just happen to have fantastic car culture.
After disembarking the tractor, I walked down the hill and across the land bridge, which was already full of cars registering for spots. It was a great way to get a feel for what was going to be seen on the island. Before I actually did see what was parked up on the showgrounds, I passed through the paid parking area. If tractor rides aren't your thing, and you'd rather park up with your car club, you could pay a fee and park just in front of the start of the show, which, with a lot full of goodness from all kinds of enthusiast groups, functioned as a kind of preshow.
Once I made my way into the grounds, I made my rounds of each area sectioned off by make. Not surprisingly, VAG made up a vast part of the show presence. From the center, by the stage where the DJ played all day, all the way back to the edge of the property on one side was VW and Audi, with the most highly-customized near the stage. A definite standout here was Jason Bos' widebody MK4 Golf. As a fabricator, he's built this car from the ground up himself. From the on-of-a-kind three-piece Enkei RPF1s to the custom aero additions, this car is something to behold.
Just behind VW was the BMW presence, and here one thing was made very apparent: Bimmer enthusiasts still love their E30s. Compared to any other year of the show, Berlin Klassik 2017 must have had the most E30s show up, and in every shape and style. LS-swapped and ready for track work, aired out and showing off, or just tastefully OEM-plus, E30 owners absolutely stole the show in this area.
Moving past the large vendor area, with names such as Unitronic, Motul, and Chopshop housing some fantastic builds, like Jeff Reia's RWB Kitchener Porsche 964, there was an alcove where Mercedes-Benz and Porsche owners were parked up beside a small swap meet area. This part of the show was smaller and a little more cutoff, but the offerings here were astonishing. The shape and rarity of parts on some of the older E Class MBs and vintage Porsches was great to see. These are more than likely the next platforms to shoot up to collector status.
There really is something for everyone at the show, from pristine classic examples to wild re-imaginings, and everything in between. Berlin Klassik is a family friendly show as well, which meant there was a lot of the next generation ogling at wheel fitment and pulling their parent's hand towards their favorite build - something that's always smile inducing. It's a different kind of car show. Things run a little slower and the vibe is nice and laid back, which is unfortunately uncharacteristic of most car shows nowadays. Is my favorite show of 2016 also my favorite of 2017? Yes, and I'm already excited for what next year's event will bring. See you there. http://berlinklassik.ca