18 August 2015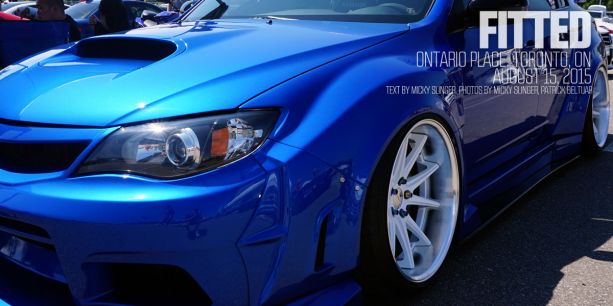 For the first time, Fitted has hosted two events within the Greater Toronto Area. The second, the largest Fitted event ever, was hosted at Ontario Place and took over one of their massive parking lots. For fans of the usual Brampton Fairgrounds show, this was a bit of a change in atmosphere. Instead of show inside and meet outside, this was an outdoor show and shine only, but that didn't mean it didn't hit hard. Bringing out some of the craziest rides in recent memory from around the GTA and over the border, this was one to remember.
If you've seen any kind of media from the event, you'll have seen the most talked about car there, the aptly named "JDM 458" Liberty Walk widebody Ferrari 458 Italia. In striking white with the right amount of JDM twist on the Italian power pony and wearing golden AVD.1 horseshoes, it was a sight to behold.
Other notable mentions go out to Liberty VIP's Ty Pertab and his Lexus GS making the trip — red carpet and all — as well as the crew from Chicago, like Morris Jamlang's "Egg" and Raymond Leung's FR-S, which was actually a top contender in our PASMAG Tuner Battlegrounds #TBGLIVE competition.
The rest of the #TBGLIVE contenders included Jas Bajwa (1973 Datsun 240Z), Mike Howe (2012 Nissan 370Z) and Leyon Motiram (2006 Mazdaspeed6). Coming out of this solid lineup with the W was Bajwa's Datsun with 52 percent of the popular vote. Well deserved!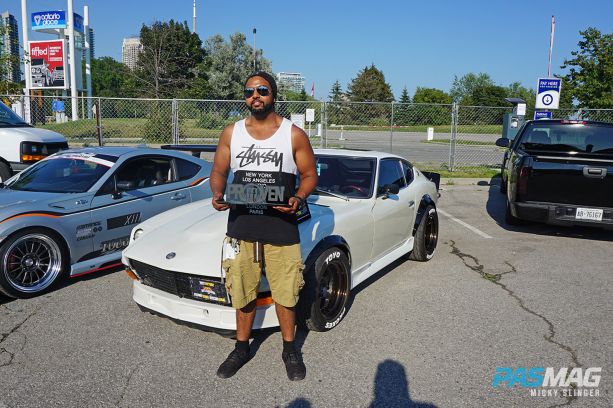 JAS BAJWA | #TBGLIVE WINNER WITH 52% OF THE POPULAR VOTE
There really was something for everyone. Whether you're after JDM, Euro, cambered, track-ready, etc. – as long as it's low and has some nice wheels, it's at Fitted. Even the modified Ruckus squad from Mini Moto Lab came to hang out.
So, if you couldn't make it out this year, you should be planning to get out here for the next. Nice cars, awesome people, Beavertails and poutine – how could you say no?
For more information on Fitted Lifestyle, visit www.fittedlifestyle.com.