Written by Brian Eggert. Photos by FlimFlam Media | 29 June 2015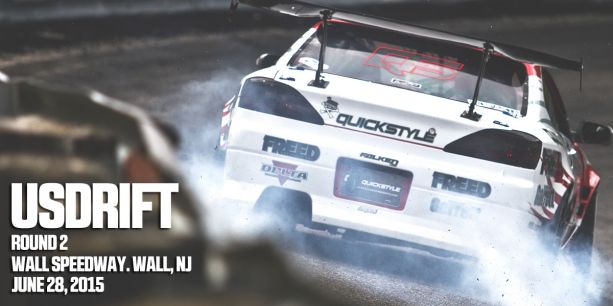 USDrift Round 2; Miro Ovcharik Stops by Wall and Makes Waves.
USDrift returned to Wall Stadium Speedway to continue their season with the second round of the 2015 USDrift PRO/AM Series. This year the event took place the day after Formula DRIFT's Round 4, allowing driver's to watch the premier series drivers compete the day prior and on the exact same course. New Jersey's own Miro Ovcharik in his Falken Tire / MT Fabrication Nissan 240SX took the top honors at the event after qualifying 1st earlier in the day.
Wall Stadium Speedway is situated about 20 minutes away from the Jersey shore and has been hosting drifting events at their track since 2004. This event marked the second consecutive year the USDrift PRO/AM Series has held an event there.
Round 2 got off to a sloppy start due to torrential rainfall all night long that left the infield with about 2-3 feet of water in some spots. Luckily the drains were cleaned out after sunrise and the track only contained a few small puddles by the time practice started. A light mist would continue to fall from the cloud cover until about 1PM, when it finally lifted and the sun was able to come out and dry up the track. As a result, majority of practice was wasted in wet conditions, as the track was almost completely dry for qualifying and perfect for the Top 16 competition.
Twenty-seven drivers were registered to make the event, however the bad weather kept some from attending. At the start of practice, the event would wind up with twenty-two competitors, with some making the trek from as far as Florida. Miro Ovcharik missed Round 1 at VIR back in May, but that didn't stop him from making a grand entrance at Round 2 by earning the number one qualifying spot and going on to win the event.
Austin Meeks from South Carolina wound up in second place in his V8 powered 1996 Nissan 240SX. Meeks also won the Quickstyle Motorsports Most Impactful Entry during qualifying.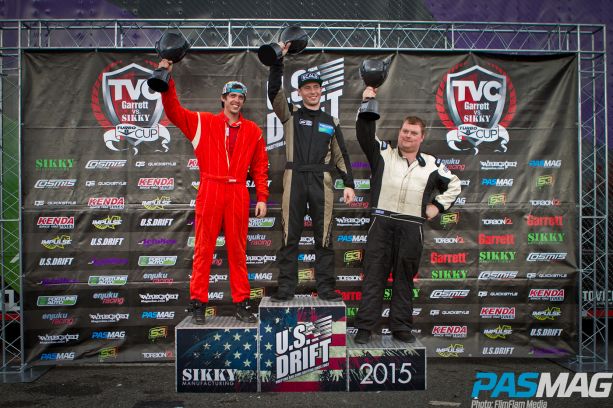 Rounding out the podium was Fred Keogh, from New York in his LS3 powered 350Z who finished up in third after North Carolina native Jonathan Nerren in his LS3 powered 1995 Magnuson Superchargers Nissan 240SX running on Zenna Tires had to bow out due to transmission issues he faced during the Top 4 battle against Meeks.
"Wall Stadium Speedway continued to prove why it is one of the seven stops on the Formula DRIFT schedule. This track is unique and challenging, yet our guys did an amazing job this weekend, especially considering the wet conditions that started the day", said Brian Eggert, Event Director of USDrift. "The driving keeps getting better here and we can't wait to come back next year."
The 2015 USDrift PRO/AM Series next stop will be Round 3 at Shenandoah Speedway in Shenandoah, VA on Saturday, August 15th. For more information please visit: www.usdrift.com. You can also find USDrift on popular social media outlets such as:
Facebook: www.facebook.com/usdrift
Instagram: www.instagram.com/usdrift
Twitter: www.twitter.com/usdrift
USDrift RD2 RESULTS
1. Miro Ovcharik [NJ] – 116pts
2. Austin Meeks [SC] – 104pts
3. Fred Keogh [NY] – 94pts
USDrift 2015 Standings After One Round:
1. Jonathan Nerren [NC] – 203pts
2. Austin Meeks [SC] – 177pts
3. Fred Keogh [NY] – 176pts
4. Troy Manners [PA] – 153pts
5. David Bellomo [VA] – 133pts
6. Thomas Palmerino [MD] – 120pts
7. Miro Ovcharik [NJ] – 116pts
8. Mike Feiock [IN] – 92pts
9. Chris Cotrupi [NC] -89pts
10. Gorka Arrieta [VA] – 86pts
Contributors: Brian Eggert, FlimFlam Media.
For more information please contact:
USDrift/Lookout, LLC
10307 West Broad Street, #186
Glen Allen, VA 23060
804-65-PROAM (7-7626)
This e-mail address is being protected from spambots. You need JavaScript enabled to view it