Written by Brian Eggert | 14 May 2015
May 3rd, 2015 - USDrift Round 1; Jonathan Nerren takes the lead at VIR.
Text by Brian Eggert. Photos by Flim Flam Media
USDrift returned to one of the most scenic and challenging racetracks in the country this past weekend for the first round of the 2015 USDrift PRO/AM Series. The event took place on the 1.1-Mile Patriot Course that sits nestled inside the famous 3.27-Mile Full Course. Jonathan Nerren from Concord, NC and his LS3 powered 1995 Magnuson Superchargers Nissan 240SX running on Achilles Radial tires took the top spot on the podium after qualifying second earlier in the day.
VIRginia International Raceway is located in Alton, VA just outside of Danville on the VA/NC border and was opened back in 1957. After the fuel crisis in the 1970's, the track fell on hard times and reverted back to farmland for the next 25 years. In 1998, investors purchased the track restoring it to its original beauty and reopened it in 2000. The Patriot Course, in which the competition took place, was opened in the fall of 2003 in which USDrift was fortunate enough to perform a drifting demo during its opening weekend.
Round 1 completed an action packed weekend that kicked off on Friday afternoon with the newly relocated HyperFest event that was partnered up with the Street Driven Tour. Between the bash-style event, drifting games, and three car tandem Slide-alongsTM performed by Formula DRIFT drivers Chris Forsberg, Vaughn Gittin, Jr, and Ryan Tuerck, there was definitely no shortage of drifting going on at VIR this past weekend.
Thirty-eight drivers made the trek from 13 states to battle it out and take home the newly created carbon fiber trophies offered by USDrift at Round 1. The number one qualifying spot would be awarded to first time VIR visitor Fred Keogh, from New York in his LS3 powered 350Z. Keogh would eventually get taken out in the Top 8 by Pennsylvanian native Troy Manners in his 1JZ powered Impulse Design Company iConcepts 1992 Nissan 240SX. Manners would continue his fight to the finals where he wound up losing to Nerren, Mike Feiock from Indianapolis, IN was driving amazing all day and ended up finding the third place spot on the podium in his 2009 Mazda RX8.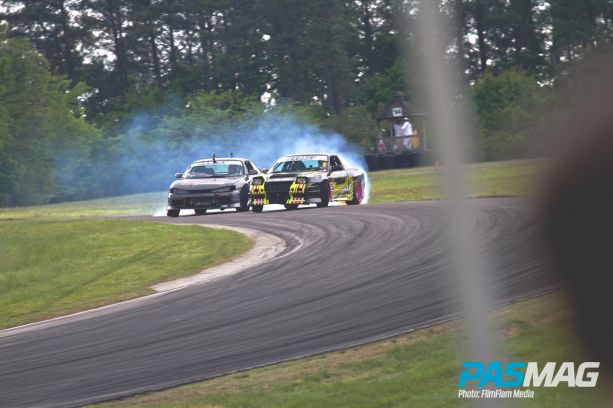 "VIRginia International Raceway is such an amazing place. Being able to relocate HyperFest here, combine it with Street Driven, and hold the first round of the 2015 USDrift PRO/AM Series all in the same weekend made for a fun and exciting event" said Brian Eggert, Event Director of USDrift. "Everyone that has already driven here before knew what to expect, but seeing the smiles on all the first time drivers this past weekend was an added treat. Between both days, over 60 drivers were able to drift around the Patriot Course and have a blast with their friends."
The 2015 USDrift PRO/AM Series next stop will be Round 2 at Wall Stadium Speedway on Sunday, June 28th. For more information please visit: www.usdrift.com. You can also find USDrift on popular social media outlets such as: Facebook, Instagram, and Twitter.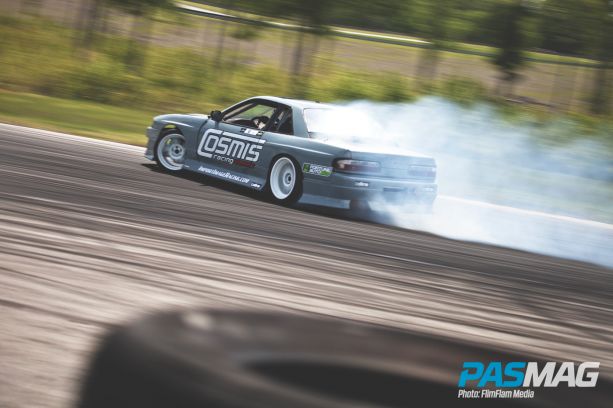 USDrift RD1 Results:
1. Jonathan Nerren [Concord, NC] – 115pts
2. Troy Manners [Punxsutawney, PA] – 99pts
3. Mike Feiock [Indianapolis, IN] – 92 pts
USDrift 2015 Standings After One Round:
1. Jonathan Nerren [NC] – 115pts
2. Troy Manners [PA] – 99pts
3. Mike Feiock [IN] – 92pts
4. Gorka Arrieta [VA] – 86pts
5. Fred Keogh [NY] – 82pts
6. Austin Meeks [SC] – 73pts
7. David Bellomo [VA] – 64pts
8. Sal DiPompo [NJ] – 55pts
9. Cody Doyle [NC] – 53pts
10. Chris Cotrupi [NC] – 47pts
For more information please contact:
USDrift/Lookout, LLC
10307 West Broad Street, #186. Glen Allen, VA 23060
804-65-PROAM (7-7626)
This e-mail address is being protected from spambots. You need JavaScript enabled to view it
www.usdrift.com