22 July 2013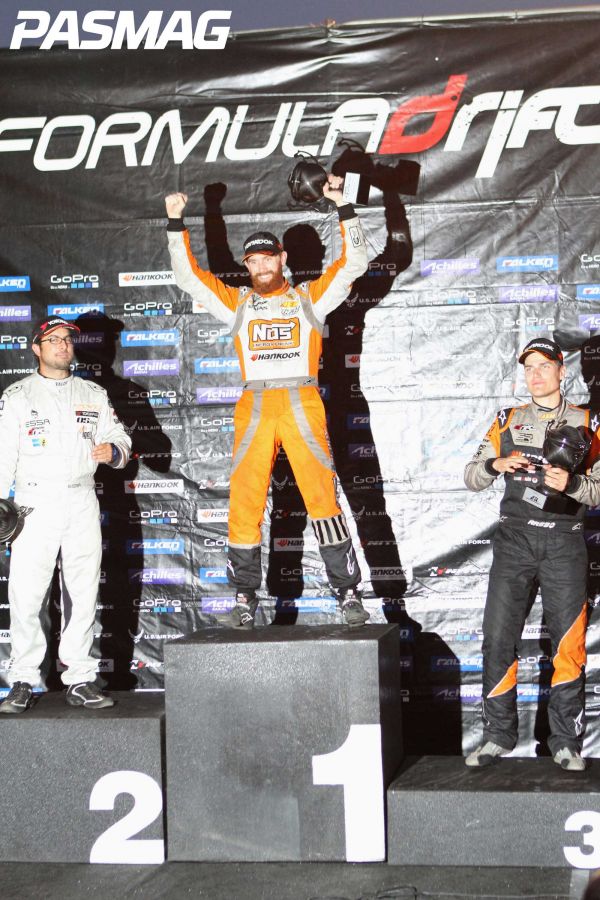 Formula D threw down in Seattle, Washington for the fifth stop on the 2013 tour to perfect weather and a sold-out crowd. The Evergreen Speedway track has been on the schedule since 2006, and has provided some of the most dramatic finishes over the past several years. This year would be no different as there were several major shakeups in the championship point's standings.
Friday's qualifying was topped by Darren McNamara, piloting his Falken Tire S14 to the top position with a qualify score of 97.5, one of the best so far this season. Fredric Aasbo slid into second in his Hankook Tire Scion tC with a score of 95, while Matt Field piloted his Vortech-supercharged Blacktrax Performance S14 into third place. Daigo Saito, who led the championship entering the round, had a crash midway through the bank on his first qualifying run, guaranteeing he would not qualify any higher than 17th. His Achilles Tire / Bridges Racing team was able to get the car back together for his second run, where he earned a meager 26th position.
Tandem eliminations on Saturday opened to a relatively uneventful top 32 round, with only two major upsets of note. First up, Toshiki Yoshioka's Subaru BR-Z took out the points leader Saito in his matchup due to a few small mistakes from Saito. While Yoshioka's win wasn't technically an upset as he qualified higher than Saito, the guaranteed shakeup in the points was a surprise to many. The only driver who qualified in the top 16 but failed to move on past the first round was Dai Yoshihara, who was taken out by Saito's Achilles Tire teammate Robbie Nishida.
McNamara quickly moved into the top 8 with a win against Ken Gushi's Scion FR-S, but was stopped in the round of 8 by Mike Essa's GSR Autosport E46 M3. Championship contender Vaughn Gittin Jr also lost in the round of 8 to Odi Bakchis when he mis-shifted in his Monster Energy Ford Mustang RTR rounding the final corner of his chase run on a one-more-time battle. On the other side of the bracket, Aasbo moved into the final four when Justin Pawlak crashed his Falken Tire Ford Mustang midway through the bank, while Chris Forsberg had a narrow battle with Nishida where he narrowly earned the win.
The final four brought some drama as a debeaded tire prevented Odi Bakchis from a trip to the final round, and a second debeaded tire caused him to lose his consolation battle with Aasbo. Aasbo found himself in the consolation round after a misshift caused a collision with Forsberg which he was deemed to be at-fault for and he was unable to fix his car within the 5-minute competition time out. Aasbo's car was repaired for the consolation battle with Bakchis where he earned his second career podium at the same track that provided him with his first career podium just two years ago. In the final, Essa had a few minor mistakes against Forsberg which cost him the win, but still provided him with his second podium of the season.
Entering the sixth round in Texas, the championship points are tighter than any of the nine previous years after five rounds with less than 3 points separating the top three drivers. Both the OEM championship and Tire Manufacturer championship have also gotten tighter, providing for an exciting finish to the tenth season of Formula Drift.
Round 5: Throwdown Event Results

1. Chris Forsberg | NOS Energy Drink / Hankook Nissan 370Z | Winner
2. Michael Essa | GSR Autosport / Yokohama BMW M3 | Second Place
3. Fredric Aasbo | Hankook Tire Scion Racing tC | Third Place
Championship Standings after 4 rounds:
Driver | Car | Point Total

1. Chris Forsberg | NOS Energy Drink / Hankook Nissan 370Z | 388 Points
2. Michael Essa | GSR Autosport / Yokohama BMW M3 | 386.5 Points
3. Daigo Saito | Achilles Tire / Bridges Racing Lexus SC430 | 385.25 Points
4. Vaughn Gittin Jr | Monster Energy / Nitto Tire Ford Mustang RTR | 367 Points
5. Fredric Aasbo | Hankook Tire Scion Racing tC | 354.50 Points
6. Justin Pawlak | Falken Tire Ford Mustang | 345.50 Points
7. Darren McNamara | Falken Tire Nissan S14 | 332.50 Points
8. Aurimas "Odi" Bakchis | Nexen Tire Nissan S14 | 294 Points
9. Matt Field | CX Racing / Blacktrax Nissan 240SX | 261 Points
10. Robbie Nishida | Bridges Racing / Achilles Tire Lexus SC300 | 253 Points
11. Daijiro Yoshihara | Discount Tire / Falken Tire Nissan S13 | 244.25 Points
12. Kenneth Moen | Lutz Performance / Nexen Tire Nissan 240SX | 234.5 Points
13. Conrad Grunewald | Hankook Tire / Megan Racing Chevy Camaro SS | 230.50 Points
14. Ryan Tuerck | Team Retaks / Maxxis Scion Racing FR-S | 229.5 Points
15. Chelsea Denofa | BC Racing BMW 3 Series | 210.50 Points
16. Matt Powers | Fatlace / Nitto Tire Nissan S14 | 201.50 Points
Manufacturers Championship Standings After Five Rounds

1. Ford | 712.5 Points
2. Nissan | 683.5 Points
3. Lexus | 668.25 Points
4. Scion | 645.5 Points
5. BMW | 597.5 Points
6. Chevy | 429 Points
7. Toyota | 201.75 Points
8. Mazda | 160.5 Points
9. Subaru | 106 Points
10. Hyundai | 79.25 Points
11. Dodge | 49.25 Points
Tire Championship Standings After Five Rounds

1. Falken | 776 Points
2. Hankook | 742.5 Points
3. Achilles | 671.25 Points
4. Nitto | 645 Points
5. Yokohama | 522.5 Points
6. Nexen | 517.75 Points
7. Maxxis | 490.5 Points
8. Kenda | 79.25 Points