01 August 2012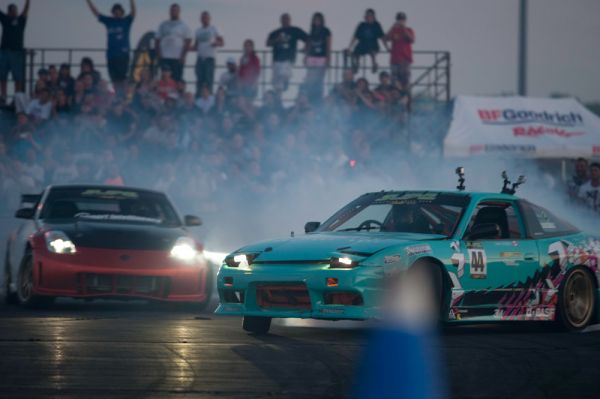 Over the weekend one of the biggest events in Canadian drifting took place. The Slide Canadian Drift Open was held at the Icar circuit in Mirabel that's just north of Montreal. The event combined all the top drivers from the DMCC series and American series as well. With a 1st place winner take all prize of 10 grand plus a track layout that is set to be the fastest drift course in Canada, it was going to be an insane event.
Right off the bat the action was crazy. With a crazy high speed entry followed by some tight sweepers the tandem action was already intense and it was just practice. Just as crazy was the amount of cars that were breaking down. Before the first practice session was even over there were 5 cars out of the event due to mechanical problems from clutch issues to complete engine failures.
Qualification saw some of the craziest runs. 2 time DMCC champ Matt Waldin took top honors with Pat Cyr qualifying in the 2nd spot and Mike Pollard take 3rd. The top 16 battles started as the sun was going down. One of the craziest battles was between Mike Pollard and Jeff Laflamme. It was a no holds bar tandem that had action on every run, including tones of contact. After more times than I could count, Mike Pollard moved into the final four. After a bunch of the top drivers got knocked out early, the final four came down to Mike Pollard, Marc Landreville, Alex Michaud and Simon Shaffner.
Mike beat Alex and Marc beat Simon leaving the Final tandem down to Mike and Marc. The battle for third was just as intense. Both these drivers were super impressive and drove so hard it was insane! After both runs, Simon Shaffner claimed the 3rd spot on the podium. It was then time for the main battle. Both Mike and Marc are hard core when it comes to tandem. As luck would have it Marc's car started to have some issues of its own and a tranny slip almost cost him the battle right off the start. On the second run Mike was on point and sealed the deal and the big check!
As a first ever event I was very impressed by the Slide Canadian drift open. It is one more awesome drift event that we have here in Canada and I am already exited for next year's event.