04 July 2012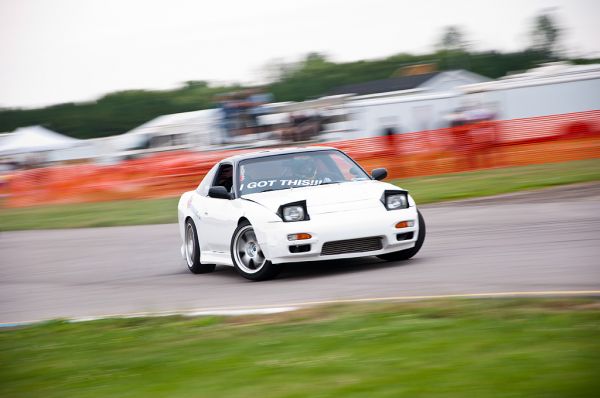 Round 2 of Canadian Sport Compact Series saw the championship on Ontario's West Coast at Grand Bend Motorplex for the first time since the development of a brand new road circuit perfect for all the CSCS Championships. Despite the distance, thousands of fans showed up to see the action as competitors and sponsors made a weekend out of it by enjoying the beach and learning the new track layout in the days leading up to the event. Presenting sponsor Versace Parfums was out in full force giving out samples to spectators and taking care of road circuit competitors with their eye-catching trailer and awning setup.
The new road circuit at Grand Bend is both technical and fast. Team CSCS managed to make the most of it by setting up a dual configuration allowing for the CSCS Time Attack and Drift Championships to run simultaneously all day long giving both competitors and spectators as much track action as they could handle. Scion let fans experience the track first-hand with test drives down the drag strip and ride-alongs on the road circuit in the brand new rear wheel drive Scion FR-S.
In the Time Attack field, everyone who won their class from Street to Unlimited set a new track record as the benchmark for Grand Bend Motorplex. Fasted time of the day went to a Subaru piloted by Dov Aronoff in the Unlimited AWD class with a time of 54.038, one second faster than anyone else! James Houghton's Integra edged out Mark Botelho's Defcon Racing Integra by less than a second to win the Unlimited FWD class and newcomer Andrew Cassidy surprised everyone when he beat the JRP Rx-7 to win Unlimited RWD.
CSCS Drifting had drivers pushing their limits with the highest entry speeds we have ever seen as drivers hit over 100km/h going into corner one. This really did a number on the veteran drifters and allowed for many of the up and coming young talent to truly shine. Marin Guilbault was no exception; the young gun from Drifter's Anonymous slid past Alex Derus to take his first ever CSCS Drift victory putting him in the lead for the championship. With the next event at Mosport DDT be sure to keep your eyes peeled as elevation and a new layout is sure to keep things interesting.
Grand Bend's usual crowd could be found in no other place than the drag strip. Known as one of the stickiest tracks in Canada, competitors repeatedly
rag about setting their fastest ET's on this track. Super Street saw Mark Gentile race past Jason Velenosi to take 1st, and the highly competitive Pure Street class ended with veteran Clint McAdams out-driving Mattew W. A true crowd-pleaser, Paul Bhawan accepted a grudge match involving prize money put up by CSCS which saw his Sunfire run against run against a domestic car who came to stir things up from the United States. Bhawan treed him off the line and beat him with a time of 8.53.
Apart from all the track action, the Show & Shine crowd took full of advantage of the warm weather to come hang out and draw a crowd. Best in Show was awarded to Tom Franjic with his attention grabbing Dodge Charger. The prestigious Judges Favourite award went to Tyler Oillette who brought out two stretched Honda Ruckus bikes that had everyone intrigued. Street Impressions took home the bragging rights and trophy for largest club at CSCS Beach Burnout.
CSCS would like to thank all of their sponsors, volunteers, competitors and fans who make the event possible. Be sure to prove it at the track at CSCS Round 3, Sunday July 15th @ Mosport DDT.