Written by Mike Bonnani // Photos By: www.redlinetimeattack.com | 19 November 2010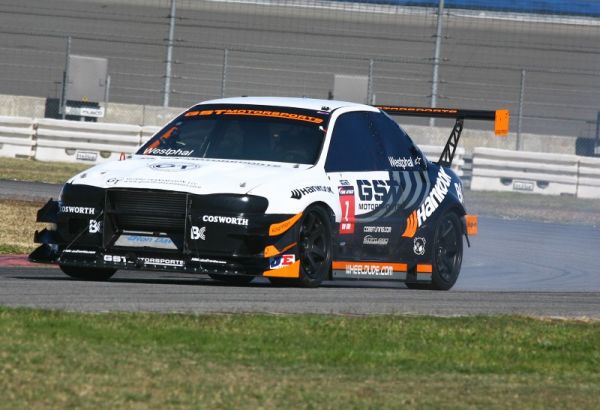 The 2010 Redline Time Attack season is officially in the books and the season finale event at Auto Club Speedway was nothing short of spectacular.  With the long off-season looming in the near future, teams went for broke aiming for records, wins, and championships.  Many teams broke in the process, but some teams shined with the opportunity.  One team that has impressed us for years did so again at a track they're no stranger to dominating.  GST Motorsports and driver Jeff Westphal (aka G-Stig) yet again took the event by storm breaking the previous overall track record set by Billy Johnson and the FXMD Acura NSX last year.  The GST Motorsports Subaru Impreza L showed up late Saturday night and in dramatic fashion turned a 1:35.548 lap in the first session!  There was only one other car that dipped into the one minute, thirty second range and it too is no stranger to dominating events.  The COBB Motorsports GTR driven by Brian Lock ran a 1:37.548 on Super Modified class tires taking 2nd overall. Third place overall went to Trent Choi in the Insane Speed Mitsubishi Evo with a 1:40.020.
The Super Modified AWD class provided the three fastest times of the event; Jeff Westphal in the GST Motorsports Subaru Impreza L for 1st, Brian Lock in the COBB Motorsports Nissan GTR for 2nd, and Trent Choi in the Insane Speed Mitsubishi Evo for 3rd.  The Super Modified RWD class saw the return of Mike Cronin Jr. and the Fontana Nissan 350Z who took the class win with a very fast 1:41.369 being the fastest naturally aspirated car at the event.  Roger Rodas made a great showing in his AE Performance Porsche GT3 Cup car taking 2nd in Super Modified RWD with a 1:42.815.  Rounding out the Super Modified RWD podium was Paul Brown in the gorgeous K&N Infiniti G35 with a 1:43.707.  Super Modified FWD was un-represented.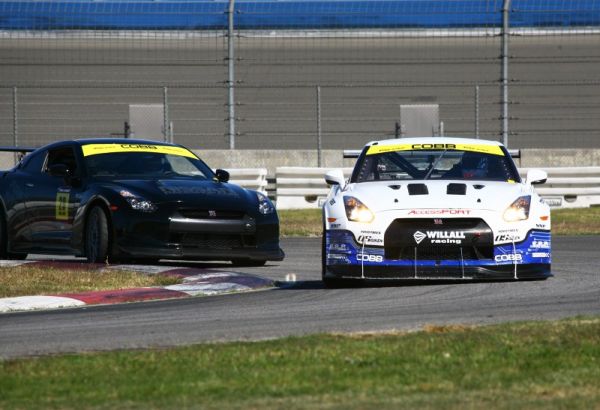 The Modified Class was once again dominated by Brian Lock in the COBB Motorsports Nissan GTR, who ran two classes at the event.  The blue & white widebody GTR has impressed us all season long and did so again shattering his own Overall Modified and Modified AWD track record by nearly three seconds with a 1:40.395.  Mike Cronin Jr. in the Fontana Nissan GTR also broke Lock's old record, but settled for 2nd in Modified AWD with a 1:42.738.  James Elterman in the Takata Time Attack/LIC Motorsports Subaru STI finished 3rd with a 1:44.327.  Jeremy Renshaw in the AFI Turbo Honda S2000 came within a few tenths of a second off of the current Modified RWD class record, taking the win with a 1:45.696 followed by Charles Espenlaub in the Sparco Mazda MX-5 with a 1:47.202 for 2nd.  Rounding out the Modified RWD podium was Carl Rydquist who once again competed in the class on Hankook RS-3 Street Tire Class legal tires running a 1:47.812 for 3rd place.  The Modified FWD class was won by Tetsu Fukui in the Inline4 Honda Civic with a 1:53.909 followed by Oscar Jackson's Honda Civic in 2nd with a 1:54.541 and Jeremy Hugee with a 2:07.036 for 3rd.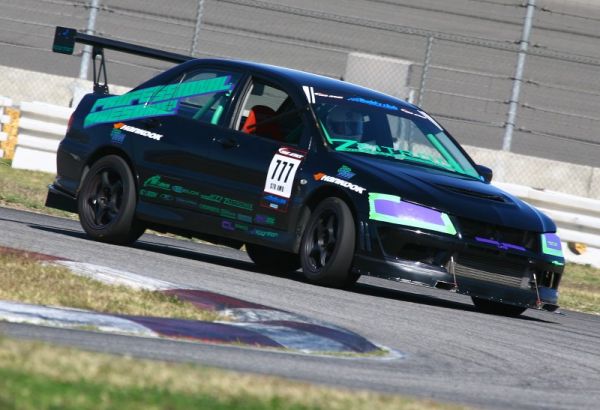 The Street Tire Class is usually filled with consistent and reliable cars; however at this event the Street Tire class saw a lot of casualties.  Godspeed Project lost two motors over the weekend, one in their time attack car, and another in their back up car.  Berk Technology also sat on the sidelines with electrical issues in their BMW 135i, and Dave Lemon packed up early with motor problems in his Mazdatrix RX8.  One team who did not have any issues was Professional Awesome, coming all the way from Indianapolis with their 2010 Redline Time Attack East Coast Championship winning Mitsubishi Evo 7.  Professional Awesome driver Dan O'Donnell piloted the Evo 7 to an overall Street Tire Class and Street Tire AWD class win, breaking the track record set by Jeremy Toye back in 2009 with a 1:46.674.  Steve Ruiz and his StopTech Mitsubishi Evo X had their fair share of mechanical troubles this weekend, but pulled through with a 2nd place finish, also breaking the old record with a 1:47.657.  Finishing 3rd in Street Tire AWD was Jon Drenas in the HB Speed Mitsubishi Evo X with a 1:48.406.
In the Street Tire RWD class, Rich Taylor dominated the field in the AE Performance BMW M3 normally driven by Paul Walker.  Rich set a new Street Tire RWD track record with a 1:50.177 over 5 seconds ahead of 2nd place.  Wen Lai drove his S2000 to a 1:55.610 for that second spot on the podium followed by Chris Lock in a Nismo 350Z for third with a 1:57.487.
The Street Tire FWD class was won by none other than Clint Boisdeau in the ABF Motoring MINI Cooper S.  Clint ran a perfect season, finishing 1st in class at every West Coast event in 2010, taking this one with a 1:55.017.  Eric Emmerson is also no stranger to the Street Tire FWD podium and came home with another 2nd place in his Acura Integra, running a 2:01.247.  Anthony Weller finished the Street Tire FWD podium with a 2:07.582 in his Acura Integra.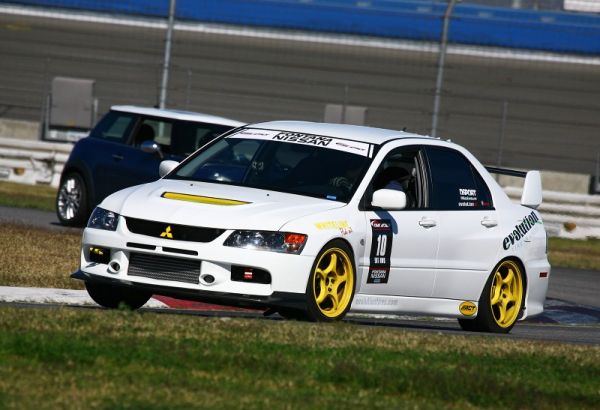 Roger Hocking has been a dominant force in the Enthusiast class at many of the events he attends and this round was no difference.  He piloted his Evo IX to a 1:50.598 which was good for 1st place overall in the Enthusiast Class as well as 1st place in Enthusiast AWD and a new track record for both!  David Duong drove his Evo IX to a 2nd place finish in Enthusiast AWD with a 1:55.637 while John Hernandez picked up 3rd with a 1:59.232 in his Subaru STI.
Aside from missing one event, Paul Dentice in the AE Performance 370Z has dominated the Enthusiast RWD class at all West Coast rounds this year.  Dentice did so again running a blistering 1:52.505 shattering his own record for the class by three seconds.  Dustin Boyko also represented the AE Performance camp in his BMW M3 running a 1:57.110 for 2nd followed by Jason Nathan in 3rd with a 1:58.386 in his Nismo 350Z.
The youngest man in time attack, Chris Billedo found himself on another Enthusiast FWD podium, this time on top with a 2:00.097 for the win, just one half of a second off of the track record for the class.  Roger Miller in the Paladin Advanced Automotive Ford Focus had a big encounter with the tire wall back at Spring Mountain two months ago, but got his car back up and running finishing 2nd with a 2:06.767.  The face of MotoIQ.com, Mike Kojima ran his ABF Motoring MINI Cooper S to a 3rd place finish with a 2:11.377.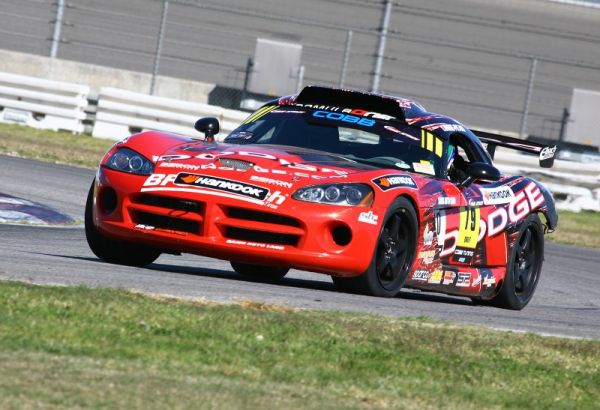 The Drift Class saw a closely contested battle between three top drifters.  Taking top honors would be Conrad Gruenwald who drove the MOPAR Dodge Viper driven originally by Samuel Hubinette in the Formula Drift series.  Gruenwald piloted the Viper to a 1:51.660 for the drift class win.  Adam Knapik and Kyle Mohan battled it out all day long but in the end Knapik claimed 2nd place in his Nissan 240SX with a 1:52.266 over Kyle Mohan in the Nexen Tire/Spyder Energy Mazda RX7 with a 1:52.766 for 3rd.
Being the season finale, the 2010 Redline Time Attack west coast champions have now been crowned and we would like to congratulate the following drivers and teams who pulled together a fantastic season taking championships in their respective classes:

Super Modified AWD Champion
Jeff Westphal aka G-Stig – GST Motorsports Subaru Impreza L
Super Modified RWD Champion
Andrie Hartanto – N1 Concepts Honda S2000
Super Modified FWD
Dez Ballard – ABF Motoring MINI Cooper S
Modified AWD
Brian Lock – COBB Motorsports Nissan R35 GTR
Modified RWD
Carl Rydquist – City Tire/AE Performance/Hankook Nissan 350Z
Modified FWD
Tetsu Fukui – Inline4 Racing Honda Civic
Street Tire AWD
Cameron Benner – COBB Motorsports Subaru STI
Street Tire RWD
Mike Bonanni – Berk Technology BMW 135i
Street Tire FWD
Clint Boisdeau – ABF Motoring MINI Cooper S
Enthusiast AWD
Roger Hocking – Mitsubishi Evolution IX
Enthusiast RWD
Paul Dentice – AE Performance Nissan 370Z
Enthusiast FWD
Chris Billedo – SpeedZone Motorsports Honda Civic Si
Drift Class
Kyle Mohan – Nexen Tire/Spyder Energy Mazda RX-7

There were also a few surprise awards given out at the end of the season that none of the drivers or teams knew about.  The first was Rookie of the Year which went to Enthusiast FWD champion Chris Billedo, driver of the SpeedZone Motorsports Honda Civic Si.  The second award was for Driver of the Year which went to Super Modified AWD champion Jeff Westphal, driver of the GST Motorsports Subaru Impreza L.  The third and final award was for Team of the Year which went to COBB Motorsports who took home both the Modified AWD and Street Tire AWD championships.
The 2010 Redline Time Attack season has come to an end, providing a large number of new track records, crazy action, and everything in between.  We look forward to 2011 as Redline Time Attack will once again re-invent the sport rolling out new series like the Redline Time Attack Pro-Am by Speed Ventures, MotoIQ.com Pacific Tuner Car Championship, Redline Pro Time Attack, and the star of the show, the Redline Pro Track Challenge!  The 2011 season kicks off at Willow Springs International Raceway in March so check mark your calendars for another epic year of time attack competition!
{yoogallery src=[/images/phocagallery/RTA_Finals_2010] title=[Redline Time Attack 2010 Finals] width=[150]}