Written by Dave Pankew // Photos By: Jacob "Vanilla Face" Leveton | 19 November 2009
Formula D Finals
House of Drift
Irwindale, CA
Oct 17-18 2009
With an explosive ending to an exciting 2009 season, Formula D drivers, crew and fans could not help but be overshadowed with the tragic loss of Shaun Carlson. The legendary drag racer and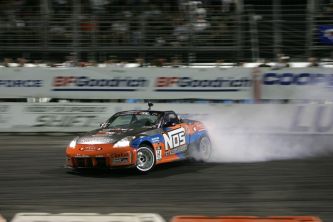 mastermind behind NuFormz racing had been one of the most influential figures in Sport Compact motorsports. It seemed at every turn there was a memorial of some sort for Carlson who passed away suddenly from natural causes.
When it came time for qualifying, the drivers brought it on with run after run of outrageous maneuvers. Qualifying no.1 was Justin Pawlak in the Nitto Mazda RX-8 with Ryan Tuerck in the Gardella/Mobil1 Solstice and former champion Tanner Foust in the Rockstar / Hankook Scion rounding out the top three. Current points leader Chris Forsberg in the NOS Energy Drink/MAXXIS 350Z held his ground by qualifying 7th. With some heavyweights like Vaughn Gittin Jr., and Tyler McQuarrie not in the top 10, Forsberg was hoping they would not be a factor but the real threat would come from Tueck. There were a few different scenarios that could play out steal the championship from Forsberg and it came much closer than he would have liked.
The Top 32 commenced and there were a few notable upsets in the first round. Alex Pfeiffer in the Tanaka Racing Vette was able to best Gittin in the Falken Tires Mustang in an all AmericanV8 battle. Then there was privateer Matt Powers in his Nissan S14 who charged past Eric O'Sullivan in the Team Falken Z and Kyle Mohan in the Cooper Tires / Mazdatrix RX-8 in valiant underdog fashion. If that trend continued on with the privateer Doug Van Den Brink's D'Vanz Ford Mustang versus points leader Forsberg, he could kiss his championship goodbye with a first round loss. The Forsberg versus Van Den Bring tandems were so close, it was too close to call and a One More Time was requested. Forsberg gathered up enough nerve for a convincing second run to seal the 2009 title and he must have run out of steam considering he caved during his run with Robbie Nishida driving the Hankook Tires 350Z.
In the semi-finals, it would be McQuarrie versus the rookie Powers on one side of the tree and Tuerck versus two-time champion Tanner Foust on the other. In a battle of Nissan supremacy, McQuarrie's V8-powered 350Z would outgun the tired KA truck motor and let Powers fight for third. Tuerck was still very hungry and although first place could not be attained, he was going to make it a convincing runner-up after eliminating Foust. The battle for third saw Foust completely make a meal out of the Powers' Nissan in his highly modified Scion tC.
The final round would be a match of a turbocharged-4 in the Solstice of Tuerck versus the NA V8 in the 350Z Roadster of McQuarrie. In an anti-climatic battle, McQuarrie tapped the wall and spun out essentially giving him zero for the second run and gift-wrapping the win for Tuerck. The results were very telling with Tuerck nailing second in the final standings and McQaurrie right behind him for a personal best of third.
However, this day was all about Chris Forsberg. One of the most recognizable and genuine people in the series, Forsberg has been grinding away for years and finally has been recognized as a Formula D Champion. Forsberg is also the first champion who has only participated in drifting his whole career (former champs raced elsewhere) and for the second time now Forsberg won the Tires.com Triple Crown Challenge. Hats off to you Chris, go kill it in 2010.