Written by Dave Pankew | 19 November 2009

Written by Dave Pankew | Photos by Alan Shek (www.kensairacing.com)
Everyone has their limits. Most of us have a sense of self preservation and no other race track in Ontario evokes these feelings more than Mosport International Raceway. They just don't make tracks like this anymore. A former Grand Prix circuit, it is complex and intimidating but makes for an excellent venue to hone your skills behind the wheel because if you are fast here, you can excel anywhere. At the same time, you don't want to dive in before testing the waters, so professional race car driver Aaron Povoledo offered PASMAG the chance to take his Driver Training course held during the Kensai Racing Days. Aaron's course guarantees a faster approach to the track and helps newcomers keep it off the wall.
To date, I had only driven Mosport in press vehicles on street tires. While some of these cars were impressive, they were not remotely comparable to the our Skyline GT-R. A 400 horsepower car with plenty of grip afforded by the 275/35R18 Toyo Proxes R888 R-Compounds that promised to be plenty fast on all areas of the course. But if there was any trouble, the Rotora 6-piston / 4-piston brake combo would scrub off speed in a hurry. CAN-Alignment had aligned and corner-balanced the GT-R so the settings were geared to Mosport but also dialed back for some street driving too. Suffice to say, the GT-R was ready to do sub 1:30 runs at Mosport but was the driver?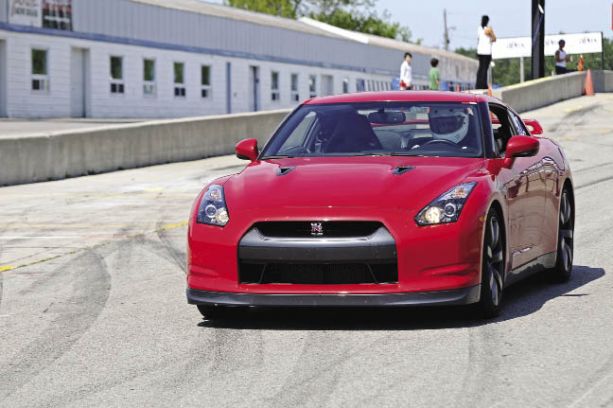 No, of course not and that is why we enrolled in Povoledo's course covering everything from a track walk to a video dissection of important corners. First order of business was to cover the track before the action started, where Povoledo ran though braking points, apexes and racing lines. He identified potential hazards or common mistakes by pointing to scars on the menacing walls around Mosport. He also mentioned where track surfaces might be less than stellar and a couple of tricky off camber turns that can possibly throw your car into a dangerous oversteer condition without warning.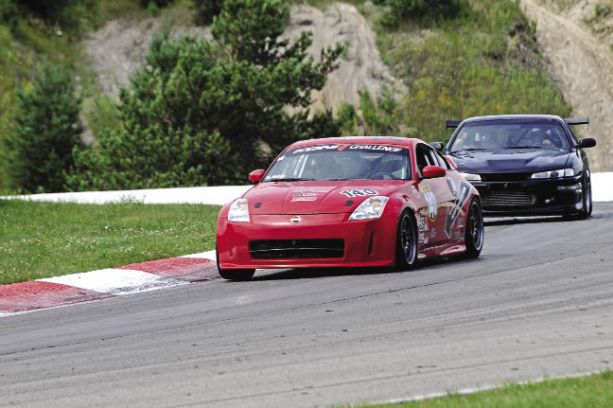 The course structure was set up such that students are entered in the Intermediate Sessions for 20 minutes and then critiqued during the Advanced Sessions. After several laps, the students reconnected with Povoledo at home base to go review the video and diagrams he had gathered. In the first session, he identified that I was approaching Turn 2 all wrong. No surprise there since Turn 2 is the most dangerous part of Mosport. "You are paying for all of the track, you might as well use it." Povoledo laughed. He meant to extend to the furthest point on the right before diving into the blind downhill left. With that correction made, Povoledo repositioned himself at new turns to identify where we could pick up some more time.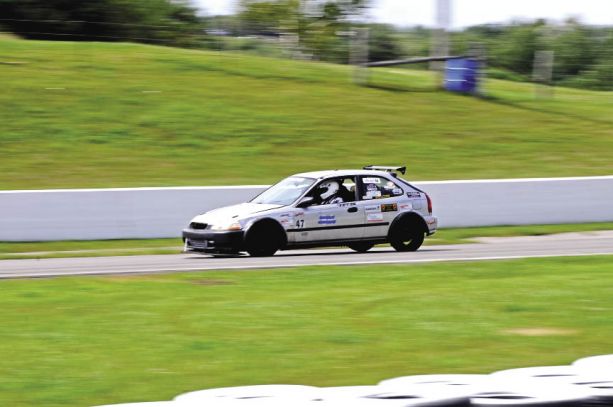 During the next set of observations, Povoledo pointed out that before some turns we were not ideally positioned for corner entry. More specifically, it was turn 4 and 5b where he said that we shouldn't come to a peak with our line but rather be parallel with the rumble strips. He even indicated that we might want to slow down to achieve this as we would be faster out of the corner and gain more speed up the straight. With that, we concentrated on keeping the parallel position he requested and diving into the turn with less load on the front wheels. He also indicated that we needed to get on the throttle earlier and roll out farther exiting turn 3, that would carry plenty of speed into a fast turn 4. Surprisingly, Povoledo thought my techniques were otherwise okay and it was only those few pointers that required more work.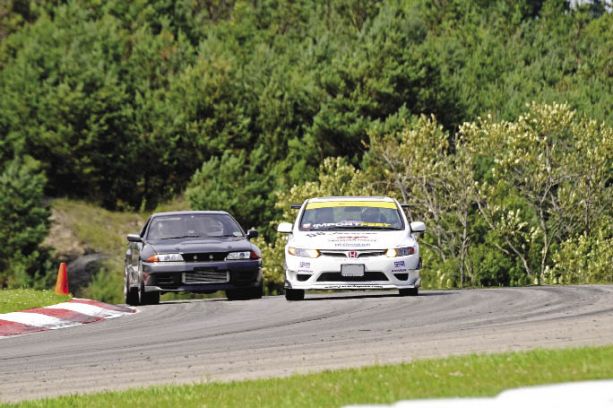 From our perspective, there was one area of the track that was difficult to decode. Turn 8 is at the end of a mile-long straight and is a challenge to gauge where to apply the brakes and how much speed can be carried through the turn. As the day went on, the straight-line speeds got faster and faster to the point where 240km/h (150mph) was reached. Even though there was more speed left in the GT-R, I let off prior to the crest at the end of the straight since it was uncertain what the car would do with the lack of aerodynamics. Would it have front end lift? Would the rear get squirrely? For now, that speed was enough of an adventure especially without the piece of mind offered by a proper cage, racing seat or harness.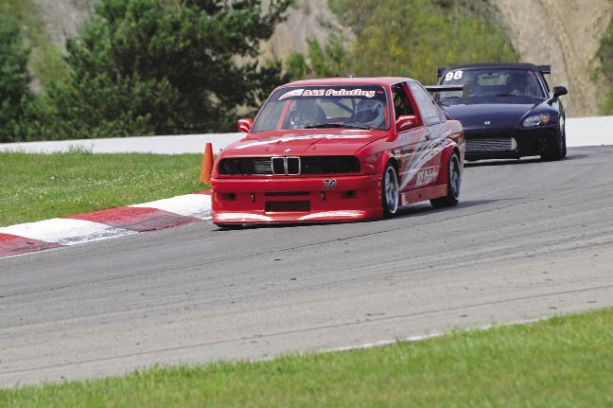 Before the final exercise, Povoledo walked us through proper seating position and visibility before letting us loose. The seating position in the GT-R got a failing grade and he showed how it could be improved. He indicated that the driver should position the seat to have their wrist curl over the top of the steering wheel with a foot touching the floor beneath the brake pedal. Povoledo also noted that we only use about 5-degrees of the 180-degrees of vision humans are blessed with. We need to rely on peripheral and keep our focal point on where we want to go, not where we are at. The brain is hardwired to coordinate with the hands to go where we are staring and that isn't the fastest way around the track. It is imperative to look up ahead and not pay attention to other drivers or obstacles in the foreground.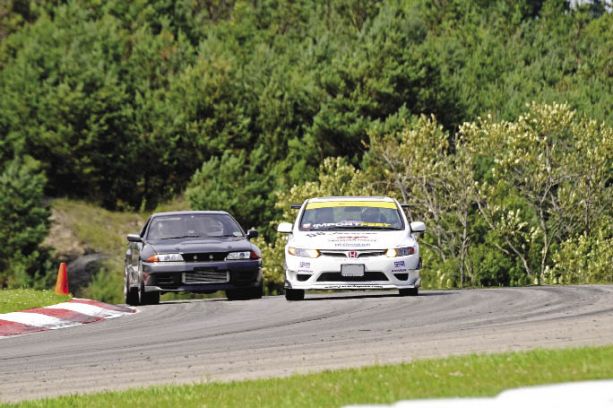 Later on, we were placed in with the Advanced group. These drivers have race licences and even some full race cars. It is like being thrown in with a pit of lions wearing a meat suit. Then it was time for Povoledo to do some lead-follow in a new BMW M3. The 420hp coupe however was no match for the GT-R and was left lagging in the distance after only half a lap. Since Povoledo didn't observe much of the cornering technique, he was brief about the critique. "It is pretty clear you have the track figured out and the GT-R is very capable because you walked away from a very powerful car." Povoledo said "You definitely have the balls to approach corners very fast and are ready for the Advanced group next time."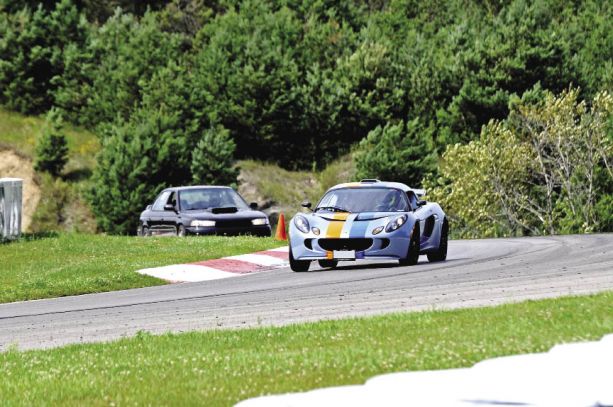 It was an honour to receive those compliments from a pro driver like Povoledo and a personal milestone to get over apprehension associated with Canada's most technical track. Kensai Racing Days attract some serious hardware there in the form of some Grand-Am Koni Challenge cars, Castrol Touring cars and all kinds of vintage and purpose-built race cars. Not to mention some hot street machines like Ferrari 360s, and several Porsche GT3s, one of which we were able to dog so much through turns 3-5 they had to pull over to let the GT-R pass.
The GT-R is undergoing a few more modifications to increase the wheel horsepower to upwards of 600, along with a limited slip differential, which should improve lap times. Since our GPS lap timer didn't work, we had to resort to more archaic methods which put the car in the low 1:30s. Not bad for a street car, that is full weight, retains A/C and power steering as well as a full Alpine audio system!