Written by Garry Springgay | 10 January 2017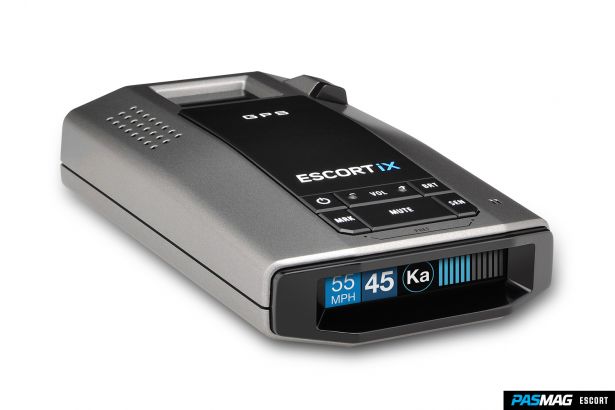 Regular readers of PASMAG will recall my proclivity to never drive anywhere without a good radar detector. Over the years, I have developed an affinity for Escort-branded detectors, and for good reason. Until recently, my go-to detector has been the brilliant Passport 9500ix, however, after testing the new Escort iX for the last month or so in daily driving, as well as cross country trips, the 9500ix has finally met its replacement.
The new iX is brimming with features and functionality. Its GPS location based intelligence automatically locks out false alarms and provides warnings of alert locations via Escort's Defender Database, which is touted as the most accurate photo enforcement database in North America. The unit is equipped with Bluetooth, enabling your smartphone (iOS or Android) to communicate with the Escort Live app for real-time ticket protection, as well as other alerts and local speed limit data. Escort's patented AutoLearn Technology enables the iX to block out known false alert locations, identified by the exact frequency and location. To keep all of the information up to date, the Escort Tools program (available for both Windows and Apple computers) makes updates simple and easy.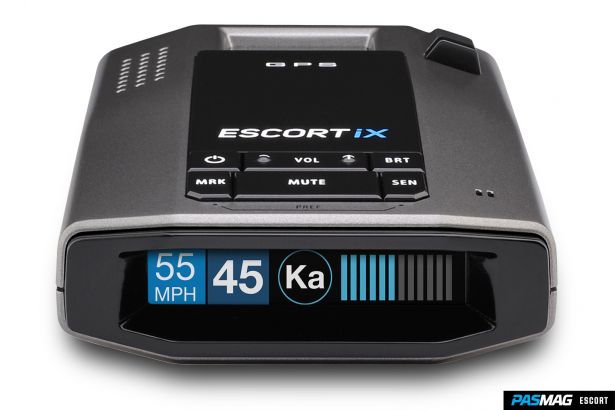 A new OLED-type color display provides graphical information about alerts and warnings. It's easy to read and the graphics make it really quick to comprehend. This allows you to understand the warning with only a quick glance, while keeping your attention on the road. My only complaint is that the display can be difficult to read in direct bright sunlight.
The new Escort iX is impressive right out of the box. The unit has a solid, high quality feel about it, and the buttons have a precise, tactile feel. Maybe the single most impressive part of the new design is the fantastic EZ Mag Mount magnetic attachment method for the suction cup windshield mount. The magnetic mount is located on the top forward section of the iX, and when connected is very solid. Even a brief off-road desert excursion in my Tacoma failed to dislodge the detector from its mount. When and if you need to remove it though, it comes off quickly and very easily. This may be the best mount I have ever seen for a windshield-mounted detector!
And the improvements don't stop there. Escort has seen fit to include the SmartCord USB in the box, allowing you to power up your smartphone without the need for an additional USB port. The SmartCord USB can control mute functions for an alert, or be used to report a verified alert when connected via Escort Live. The voice quality has also been improved over the 9500ix, as the alerts have better clarity and a less synthesized sounding voice. Overall alert volume is excellent as well, and almost infinitely adjustable. If you speak Spanish, the Escort iX can do that too!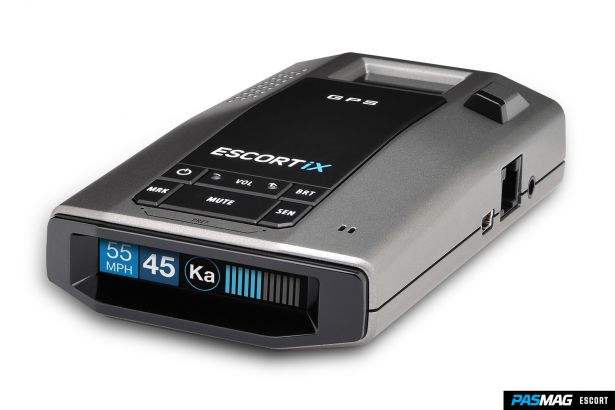 In side by side comparisons with the 9500ix, the Escort iX proved to outperform the older unit every time. It alerted sooner, and the distance to the alert was easier to ascertain because the alert sounds were smoother and more gradual. GPS performance has been improved significantly, with quicker position acquisition and it seems to work better under canopies or heavy tree cover.
One of my biggest complaints with the 9500ix was its propensity to false alert because of modern cars collision avoidance systems. Filtering out these K-band signals is done via something Escort calls "IVT filtering," and while I don't pretend to understand how it works, I can report that is very effective. The Escort iX did not get fooled by a nearby Mercedes or Lexus.
You may have figured out by now that I really like the new Escort iX. So much so in fact, that it is now my go-to detector, and the standard that I will now judge all others by.
Visit https://www.escortradar.com for more information. #pasmag