Written by Garry Springgay | 16 November 2016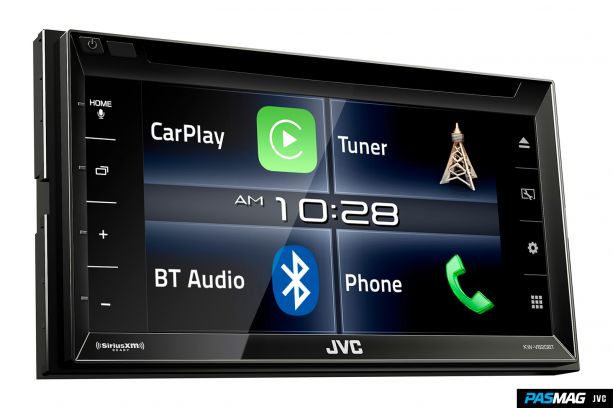 If you are a dedicated iPhone user, the JVC KW-V820BT should be right up your alley. The new receiver from JVC includes Apple CarPlay so you can control most of your iPhone's functions directly from the unit's 6.8-inch TFT screen.
FEATURES AND FUNCTIONS
The KW-V820BT is a double-DIN chassis DVD receiver with all of the expected bells and whistles. The design of the receiver is very smooth and, with the exception of a power button, there no hard buttons or bright chrome trim that scream "steal me." When powered off, the unit non-descriptly blends into the dash. With the power on, the left side of the touchscreen has four vertically stacked touch control keys for frequently used functions like volume, home screen and previous screen. The remaining 6.2 inches of screen displays information, video content, maps, or whatever else you may need to see. The touchscreen has excellent clarity, and can be set to a dizzying array of background colors. JVC's new large-format GUI makes it very easy to find and select your choice of sources or menu items. There are also gesture enabled controls to make the unit even easier to use while keeping your eyes on the road.
Of course, full Bluetooth (version 3.0) hands-free integration, and iPod/iPhone control is also built right in. When paired to an iPhone with Siri via Bluetooth, the KW-V820BT can access Siri through its touchscreen controls and external microphone. Simply press the "phone command" button on the screen to engage Siri and speak. Siri's voice will be heard through your vehicle's speakers, while all of Siri's functions, including hands-free calling, music search, setting reminders, text messaging, audible navigation and more, can be done through the unit and the included microphone. You can even ask Siri to get directions to a destination and get turn-by-turn instructions through your vehicle's speakers, while the on-screen map still displays on your iPhone.
The JVC KW-V820BT's rear-panel USB port consists of a proprietary connector and a 39-inch proprietary USB cable terminated by two female USB connectors. These USB ports can be used for connection and control of portable USB mass-storage devices; such as thumb drives or portable digital music players. The USB ports enable playback of a variety of compressed and high-resolution audio files, plus video and photo files loaded onto a USB device. USB portable audio devices can be charged at 1.5 amps via USB whenever the unit is turned on. The JVC is Sirius/XM ready as well for fans of the extraterrestrial radio. A couple of points worth noting however: the unit will not support video playback from an Apple device, nor is it compatible with an Android device via USB.
Fans of high resolution audio will be delighted by the KW-V820BT's compatibility with 96-kHz/24-bit audio files, and will make full use of the built-in MOSFET amplifier or the three pairs of four-volt pre-outs. While we're on the subject of improved sound quality, JVC has a technology they call "K2." It is a method of expanding the bitrate and frequency range of any source, including CD. For example, K2 will expand typical CDs from 44.1 kHz/16 bit to 48 kHz/24 bit, thereby extending the high frequency range.
As I mentioned, the KW-V820BT is equipped with a four-channel power amplifier, and front, rear and sub pre-outs. The amplifier is rated at 22 watts per channel, and the output voltage of the pre-outs is advertised at four volts. For those who like to do a little fine tuning, the built-in 13-band EQ with adjustable filter Q is sure to provide all the adjustment you need. Other signal shaping comes in the form of adjustable high- and low-pass filters, with 13 available frequencies and four selectable filter slopes. You also have the ability to adjust the gain filter region for even greater fine tuning performance.
LISTENING
I connected the KW-V820BT in my reference system, using the front pre-outs to drive my reference amplifier, and the subwoofer outputs to drive a separate amp for the two 10-inch subwoofers. After a bit of basic level setting and ensuring everything was set flat, I got serious about listening. Beginning with CDs, then moving to my iPod, and finally to some high resolution tracks on a thumb drive, the JVC player sounds very good. The unit has low noise, plenty of output, and excellent stereo separation. On one of my favorite test tracks, the Cowboy Junkies Sweet Jane (Fun Fact: it was recorded in the Church of the Holy Trinity in Toronto), all the space and reverb in the room was easily apparent. The various crossover adjustments and 13-band EQ will come in very handy for any desired additional tuning.
ON THE BENCH
Back on the bench, with the unit connected to my Audio Precision analyzer, I ran a battery of tests and the results were very good. The internal amplifier makes the same power as all the other high quality headunits (that use the same MOSFET IC) and signal-to-noise confirmed a very low noise floor. Frequency response, crosstalk and THD also measured very well. Pre-out voltages did not quite meet the published spec at 3.85 volts. Output impedance is decent at 220 ohms.
MEASURED SPECIFICATIONS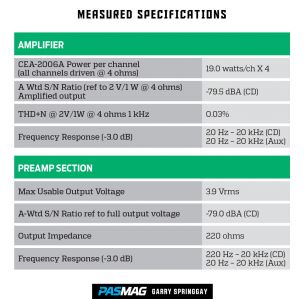 CONCLUSION
If you are a hardcore iPhone user, or even if you only want to get the most from the functionality your iPhone provides, the JVC KW-V820BT is a great choice. People who care about their music will appreciate the excellent sound quality and tuning capabilities, while just about everyone will enjoy the ability to customize the look and layout. So if you'd like a source unit that allows you to take full advantage of the convenience and functionality of Apple CarPlay, pay a visit to your local JVC dealer and check out what the KW-V820BT can do for you. #pasmag
Website | Twitter | Instagram | Facebook | YouTube
Contributor: Garry Springgay