Written by Garry Springgay | 10 August 2016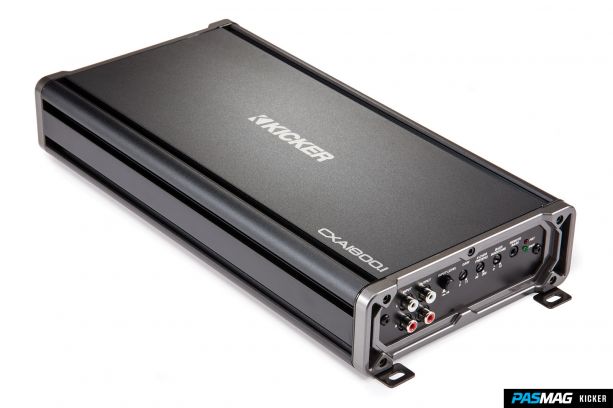 The Kicker CX series of amplifiers have been designed to provide not just the legendary power that Kicker is known for, but these amplifiers also offer several innovative and useful features that set them apart from the rest of the pack. This time, we're going to have an in-depth look at the big dog in the line, the CXA1800.1 subwoofer amplifier.
FEATURES
The Kicker CXA1800.1 is the most powerful amplifier in the CX series lineup, but with a full retail price of only $499.95 it's still affordable to pretty much anyone interested in some serious bass power. It has power ratings of 900 watts into four ohms, and a whopping 1,800 watts into two ohms. The CX series are some of Kicker's smallest chassis, and have optimized layouts to make use of the existing PCB area, and allow smaller heat sinks. To that end, the CXA1800.1 is certainly smaller in physical size than you'd expect for an 1,800-watt piece, measuring just over 14 x 6.75 x 2.25 inches.
The unit has understated cosmetics with a satin-finish black powdercoated heatsink, and gray silk screening. All of the speaker and power connections live on one end of the amp, and these seriously robust terminals leave no doubt this amp means business. The power connections will accept 1/0-gauge cables, and the convenient dual mono speaker terminals are large enough for eight-gauge cable.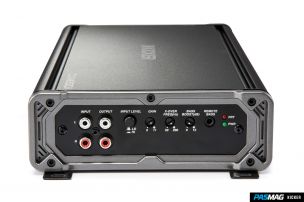 The opposite end of the amp is home to the RCA input connections, and the signal control adjustments. Three potentiometers are provided for gain, a 50- to 200-Hz low-pass crossover, and a bass boost of up to 12 dB. There is also a permanent fourth order subsonic filter set at 25 Hz to prevent unwanted subwoofer excursion at high power levels. The amplifier is mounted via sturdy metal brackets, with additional brackets supplied to allow the amp to mount vertically on a horizontal surface. This allows an installer to mount several of these amplifiers one in front of the other in a minimum of space, as well as accommodate other imaginative installation ideas.
To further enhance installation flexibility, the Kicker amp boasts Kicker's F.I.T. (Failsafe Integration Technology) allowing compatibility with virtually any OEM or aftermarket source. Part of the F.I.T. system is a dual mode turn-on circuit that allows you to use either the usual 12-volt trigger, or DC sensing on the input circuitry when signal is coming from an OEM headunit.
Inside the CXA1800.1 I found high quality components, combined with top notch construction and attention to detail. Four TO- 220 case-size MOSFETs are used as power supply switchers, and another four are used for output devices. Capacitance for the power supply is handled by four 2,200-μF high temperature 35-volt caps, and eight 2,200-μF 100-volt caps are in the secondary to supply the output rails. No big surprises here, but the internals are top quality and the amp looks very well made.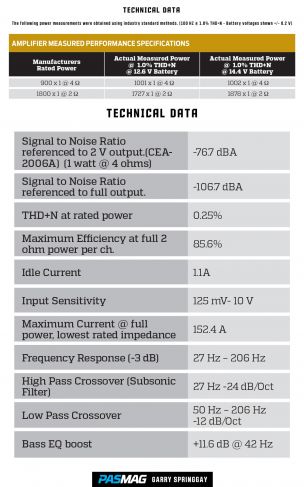 LISTENING
Putting the amp back together, I connected it into my reference system for some critical listening. The CXA1800.1 was connected to a pair of 12-inch woofers for a final impedance of two ohms. I should mention something here that I don't think Kicker gets enough credit for: this and all other Kicker sub amps are designed for a minimum of two-ohm loads. Kicker believes (and I agree with them) that the trade-offs involved for one-ohm operation are simply not worth it. Two-ohm amps draw less current, run cooler, and as shown by this amp, can deliver all the power you'll ever need. This is smart engineering and it's in the end-user's best long term interests. These guys understand high quality sound, and what it takes to get it.
With the amp set at about 100 Hz on the low-pass filter and the boost left flat, I began with some Joni Mitchell featuring the late, great Jaco Pastorius on bass. The CXA1800.1 did a great job of producing his amazing musicianship in detail, and because I like to hear his stuff loud, there was definitely plenty of steam for when things got "enthusiastic." Switching to The Getaway People's Mister E the Kicker amp proved it could handle tight bass and retain a warm, natural timbre.
Considering the amp's musicality, I felt it only fitting to pull out some of Booker T's Green Onions, and for good measure threw in some Issac Hayes and Otis Redding. The amp didn't care what I played, it just continued to pump out clean, tight bass at any volume I wanted. Over the next couple of hours I listened to a lot of different music from heavy rock and metal to classical and country. At the end of the session, there were two comments that I found repeated in my notes. The first one was the amp's seemingly effortless power. I played some of those tunes at levels that my ears would only handle for short periods, and never seemed to find the amp's power limits. The amp had zero turn-on or turn-off noise, and even though I had beat on it pretty good for a couple of hours, it was just warm to the touch.
PERFORMANCE / BENCH MEASUREMENTS
On the bench, the Kicker powerhouse exceeded all of its published specs for power, signal-to-noise and distortion. I measure well over 100 amps a year, and this amp is in the top 10 for overall performance and power efficiency. Nowadays it seems so many amps just barely squeak by in this regard, so it was nice to see that there are still some brands that believe in delivering more than they promise.
I completed my full battery of tests and measurements, confirming the low-pass crossover worked as expected, as did the bass boost. Efficiency was excellent, and the amplifier protected properly when I tried to over and under voltage it, or when I dead shorted the outputs. The red protection indicated a protection circuit had been engaged, but there was no drama; just a quick reset of the power and all was back to normal and working perfectly.
CONCLUSION
The Kicker CXA1800.1 is a serious amplifier for anyone who wants big power and great musicality. Combining exemplary audio performance with innovative features, installation flexibility and a very reasonable price, the CXA1800.1 will give you a hard time justifying anything else. #pasmag
For more info, visit www.kicker.com, Twitter, Instagram, Facebook, YouTube.