Written by and Measurements by Garry Springgay
Page 1 of 2
If you are into SPL or follow the exploits of any of the top competitors in the various SPL contests, you're probably very familiar with the name American Bass. Established back in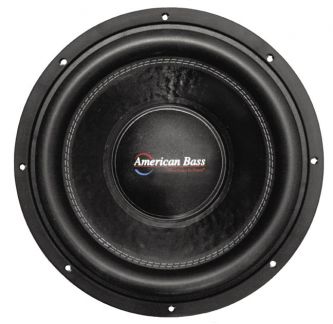 1991, and based in Maple Heights Ohio, the folks at American Bass are no strangers to the SPL contest winners circles having set records in dB Drag Racing, USACi, and MECA competitions.
We recently got our hands on one of their rugged XFL series woofers, specifically the XFL1244. With a reputation for producing low and loud bass, and the ability to handle extreme amounts of power, I was looking forward to putting it to the test here in the lab.
Features and Construction

Before we even got this subwoofer out of the box, I'd realized the American Bass XFL1244 is a very serious woofer indeed. Weighing in at just over 35 pounds, you can tell just by picking it up that American Bass wasn't fooling around when they designed this bad boy. And then when I saw that it sells in the USA for only $249 bucks, ($299 in Canada) I was really curious to see just how well it would do when I began to test and abuse it.
The American Bass XFL1244 is a 12-inch dual 4-ohm voice coil subwoofer with a continuous power rating of 1,000 watts. It uses a cast aluminum basket for strength and rigidity, and the motor assembly alone weighs over 14 pounds! Inside the magnetic assembly is a 3-inch copper voice coil, which is wound on a black anodized former for improved heat dissipation and maximum reliability. The top plate and bumped bottom plate of the motor assembly are also black anodized to aid in heat dissipation. The aluminum voice coil former connects to the suspension via a three layer progressive type spider, which is made from black Nomex and incorporates the voice coil tinsel leads between the layers. The triple spiders outer diameters are anchored to the woofers frame by a special synthetic spider landing. It would appear that the American Bass XFL1244 is built to take some real hard hitting abuse!
The cone of the woofer takes an old-school, but tried and true approach, with a black, non-pressed paper cone and a convex dustcap. The low compliance foam surround is an extra tall design to accommodate large excursion travel. The surround is attached to the cone with both adhesives and stitching, again to maximize durability under extreme conditions.
Electrical connections are made via the ubiquitous, but convenient spring loaded binding posts, but in this case, they are spaced too far apart to accept a traditional double banana plug. However, they will certainly accept up to 8 gauge cable, or spade terminals if you prefer. The backside of the woofer is all business but looks good, with that monster of a motor wrapped in a black rubber bumper. As you would expect, the pole piece is vented, as is the area under the spider to promote voice coil cooling.
When I first unpacked the woofer, I was examining it and I gave a little press on the cone to see how compliant the suspension was. It didn't move. At all. I pressed harder and it moved maybe a millimeter or two. Then I pressed on it with both hands, and I could maybe move the cone assembly a quarter inch! This American Bass subwoofer has an extremely stiff suspension, which makes sense since it is specifically designed to work in vented enclosures and handle really high power levels.
Read on for Full Results