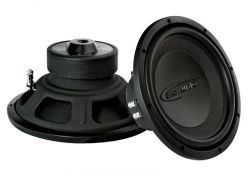 ARC Audio
XDi Series Subwoofers
$129 to 159 | arcaudio.com

With sound quality and performance as its top priority, XDi subwoofers are designed with a lightweight pulp fiber non-pressed treated cone, progressive Nomex spider and reinforced dust cap. Making sure your bass stays strong and supportive, XDi subwoofers use dedicated Y30 motor structures, reinforced stamped steel baskets and tuned motor venting. Available in 10- and 12-inch with either dual- or 4-ohm configurations.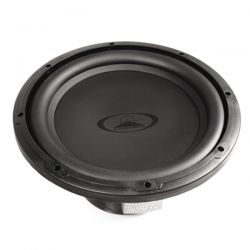 Audiomobile
EVO Subwoofer
Contact for pricing | audiomobile.net

Audiomobile EVO Subwoofers utilize an array of unique performance technologies, including low-profile SLX cast alloy frame, proprietary Shaped-Manifold-
Gap ("SMG") compact motor, which is fully machined with multi-layer DVC design. Rated at 500 watts RMS, the Evo 2410 delivers over 16 mm of one-way linear Xmax, making it the longest excursion subwoofer available.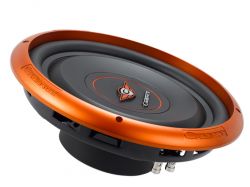 Cadence
SLW10 Subwoofer
$116.00 | cadencesound.com

Saving space and making bass, the SLW10 10-inch shallow-mount subwoofer requires a mounting depth of only 3.625-inches, while having an XMAX of 9 mm. With a polypropylene-coated paper cone, rubber surround and available in 2- or 4-ohm impedance; the 10-inch sub handles 250 watts RMS power.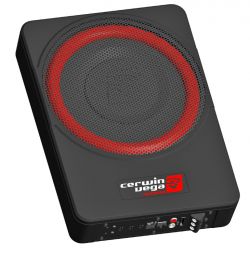 Cerwin-Vega
VPAS10 Vega Powered Active Subwoofer
$299.99 to $349.99 | cerwinvegamobile.com

The VPAS10 consists of an active 10-inch subwoofer amplified for extreme output. Encased in a solid, cast-aluminum body frame for superior heat dissipation, the
VPAS10 measures in at approximately 13.6 x 9.6 x 2.6-inches (L x W x H) for easy installation. Power comes from a PWM MOSFET power supply with an integrated thermal protection circuit and rated at 200-watts RMS at 2 ohms, 400-watts MAX.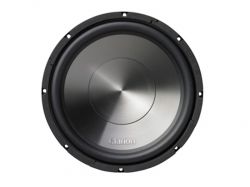 Clarion
WG3020D Subwoofer
$119.99 | clarion.com

The WG3020D is a 12-inch dual voice coil 4-ohm subwoofer. It features a thundering 1,000-watt max rating with support from rock solid components, such as a fiber-reinforced cone, nitrile butadiene rubber high-excursion surround, and a powder-coated steel chassis. Requiring only 1.5 cubic feet in ported enclosures and 1 cubic foot in sealed enclosures makes it an extremely versatile subwoofer.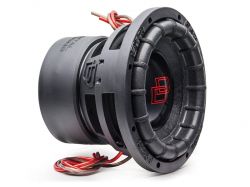 DD Audio
SW2508 Subwoofer
$439 | ddaudio.com

DD Audio's SW2508 is loaded with state of the art ESP features, making it the most technologically advanced subwoofer in it's class. It's custom Sframe, V-ROM surround, True Size CFB cone, and 7.5-inch tuned composite spider system combine for a groundbreaking 8-inch subwoofer you have to hear to believe.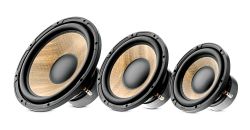 Focal
FLAX Subwoofers
$299 to $399 | focal.com

FLAX cone is a new signature of FOCAL cone technology. The choice of this ecotextile cone brings a unique product never available before in the subwoofer market. The affordability of a Made In France product inspired by the luxury sandwich cone, Focal brings with this new technology 3 subwoofers: the P20F (8-inch), the P25F (10-inch) and the P30F (12-inch).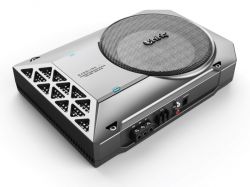 Infinity
BassLink SM Subwoofer
$249 | infinityspeakers.com

The Infinity BassLink SM is designed for car owners looking to upgrade the low-end bass performance in their car from good to exceptional. This compact, long excursion, 8-inch subwoofer provides a tactile punch and low-end bass while fitting directly underneath or behind a car's seat for stealth install. Class D 80W amplification is included.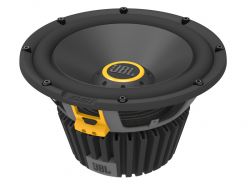 JBL
Series III Subwoofers
$179.95 to $199.99 | jbl.com

The Series III subwoofers are built for those who desire visceral performance. By leveraging HARMAN's exclusive pro-audio voice coil technology, these subwoofers play cooler allowing them to play deeper, louder and longer than conventional subwoofer designs. The exclusive SSITM technology allows for simple system building; start with one sub today and add a second when the budget allows. Available in 10 and 12-inch dual 4 ohm.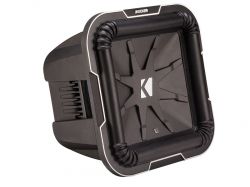 KICKER
L7 Subwoofer
$499.95 to 799.95 | kicker.com

Better than ever, the L7's ultra-rigid, injection-molded square cone was a 12-volt first, and it represents more surface area than a similarly sized round cone, pushing more air than its counterpart, assuring louder volume and the most bass. Not to mention, L7 came away with a subwoofer award from CES 2015. Available in 8- to 15-inch sizes.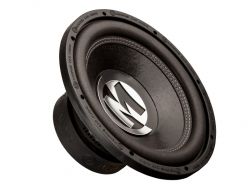 Memphis
PRX Subwoofers
$115.95 to $170.95 | memphiscaraudio.com

The Power Reference line has always stood for affordable high quality subs with great sound. Memphis gave the line a facelift in 2015, producing a stylish woofer that delivers the booming bass you expect from the Power Reference line. Available in 10-, 12- and 15-inch single and dual voice coil versions.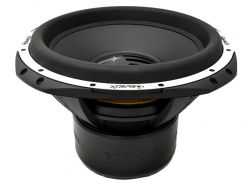 Orion
XTR PRO 154D Subwoofer
$368.10 | orioncaraudio.com

The 15-inch XTR PRO dual 4-ohm subwoofer handles 1,000 watts peak and 500 watts RMS. The polypropylene dust cap and paper cone are moisture and UV resistant and the nitrile-butadiene rubber surround enhances the linear excursion. Other features include a dual interlaced conex spider with stitched and looped tinsel leads, a custom cast aluminum frame and 87 dB of sensitivity from double-stacked ceramic magnets.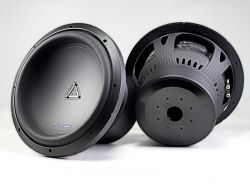 Phoenix Gold
Elite212d4 Subwoofer
$700.00 | phoenixgold.com

Elite2 subwoofers are engineered with extreme precision, high-temp 3-inch voice coils from Japan for increased power handling and reliability, a larger triple-stacked 230-oz motor and radial venting allows for 30% better heat dissipation. These subs are optimized for both sealed and vented enclosures to produce accurate sound quality and massive SPL performance.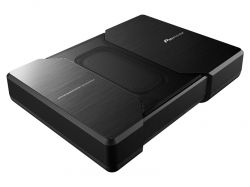 Pioneer
TS-WH500 Subwoofer
$300 | pioneerelectronics.com

The TS-WH500 uses HVT technology, which allows the dual motor structure to be positioned horizontally to the left and the right of the dual speaker diaphragms. Measuring 13.4 x 9.9 x 2.4 inches, the subwoofer can be installed in many small, tight areas. The TS-WH500A is a fully amplified with a wideband, high-current 50 watt RMS amplifier (150 watt max).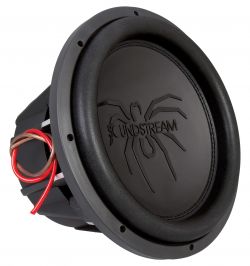 Soundstream
T5 Subwoofers
$249.95 to $304.95 | soundstream.com

An overcompensating motor structure for increased magnetic strength, non-magnetic and non-resonating die-cast aluminum frame, 3-inch 4-layer voice coil, non-transfer spruce pulp cone with chemical and UV protection, stitched and glued surround and cone joints, and dual poly-cotton suspension make up the T5 subwoofers. Available in 12- or 15-inch, dual 2-ohm configurations with 2,000 and 2,600 watt max ratings, respectively.