Page 2 of 3
---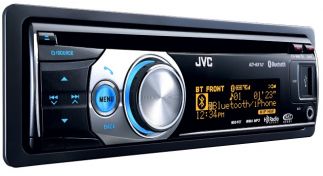 JVC KD-R810
The JVC KD-R810 is a single DIN CD receiver with dual USB ports and Bluetooth Wireless Technology. The Bluetooth function is compatible with iPhone and supports the Phone Book Access Profile (PBAP). Other features include Separated Variable-Color, user-friendly search functions for phone book and audio files, and detachable control panel.
USA - www.mobile.jvc.com
CAN - www.jvc.ca
---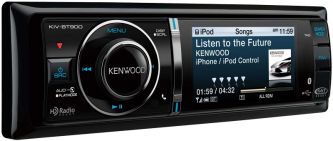 Kenwood KIV-BT900
The new KIV-BT900 from Kenwood is a unique in-dash receiver designed specifically for the iPod/iPhone user. It features a 3-inch display that shows cover art and video from an iPod/iPhone as well as video formats such as MPEG4, WMV and H.264 from a USB mass storage device. The same images that are displayed on the receiver can be output to rear seat monitors via the A/V output of the receiver. An on-board 512MB flash memory allows you to rip external content through the USB input; this feature supports a wide range of audio, video and picture files (visit the Kenwood website for details). Additional features include built-in Bluetooth (by hands-free technology leader Parrot), HD Radio Ready and Satellite Radio Ready and finally, three 4 Volt preamp outputs with built-in digital sound processing make this receiver a true audio performer.
USA - www.kenwoodusa.com
CAN - www.kenwood.ca
---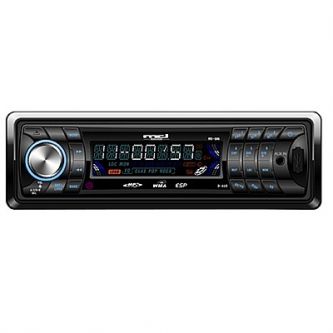 MD Sound I223MD-506
Take your tunes on the road with MD Sound's I223MD-506 receiver. This new single-DIN head unit comes packed with music playback options. Whether you've got an MP3 player, USB memory stick or SD card, the 506 will take them all, with a front-mounted 1/8-inch Aux in and USB port.  Fold down the face to pop in your SD card. Pick up the best of your local stations with an integrated AM/FM/MPX tuner. And if you're a shiny disc lover, the CD slot will take your store-bought favorites and home-made mixes as well as WMA files. The I223MD-506 gets style points as well: Change the display to match your car, your mood, whatever. The I223MD-506 puts out 4x50 watts to beef up factory or aftermarket speakers.
---

Pioneer MVH-P8200BT
The single-DIN Pioneer MVH-P8200 was designed to work best with Apple's iPhone and iPod, but also play back MP3, WMA, and iTunes AAC music files via USB and SD memory card. The USB port is located directly on the front face of the receiver and the SD memory card slot is located behind the removable front face. The P8200BT offers A2DP Bluetooth stereo audio-streaming and hands-free calling as audio sources. Users can browse their media libraries on the P8200's 3-inch color TFT display using Pioneer's seven-way rotary encoder, which is a knob-joystick-button combo. A MOSFET50 four-channel internal amplifier, an array of audio processing technologies, an 8-band graphic equalizer, and a trio of 4-volt preamp outputs each do their part to ensure that your digital audio sounds as good as it can, while allowing future system building.
Read on for More Products