---
Alpine CDA-117 CD/MP3/WMA/AAC Receiver
New for 2010, Alpine's CDA-117 is engineered for top-quality sound, making it the ideal head unit for the car audio enthusiast and enabling consumers to create a high-quality system that fits their entertainment desires. The unit's crossover, time correction, equalization and built-in 18W RMS x 4 amplifier optimize the sound output, while a 24-bit Burr-Brown DAC ensures all digital sources are converted accurately. The CDA-117 also offers full support for access and control of iPod or iPhone music from the head unit, and can display iPod song information on its 156x38 resolution BioLite screen. The unique Percentage Search function takes the iPod music library and divides it evenly into six groups to match the six present buttons for quick, easy file navigation. It can also connect to HD Radio with multicasting and iTunes Tagging, satellite radio and Bluetooth wireless technology connectivity. (Separate tuners/adapters/subscriptions required)
---

Boss Audio Systems 840UBI
The feature packed Boss Audio 840UBI is top of the line for 2010. It is a single-DIN sized unit with a fully detachable front panel featuring "Touch Sensitive Controls" with an oversized "Active Black Mask Display.' The unit includes built-in Bluetooth to enable a cell phone interface for hands free calling and offers "Full iPod Control" and is also charging capable with an optional integration cable. The 840UBI has USB and SD memory ports along with a 3.5mm Aux input located on the front panel. The ESP anti-skip mechanism plays CD and MP3. Other features include 24AM/FM presets, switchable USA / Europe radio frequencies, 5 volt preamp output, 4 x 80 watts high power, Quartz digital clock, dual RCA outputs (front and rear), equalizer adjustments and a slim line full function wireless remote control.
---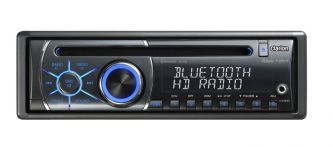 Clarion CZ500
Clarion's entire CD line-up offers premium cosmetics with lustrous blue illumination and a unique starburst button configuration. The Clarion CZ500 is the most advanced of the single DIN CD source unit group offering a 2-line display and unmatched connectivity to the music and devices you use most. The CZ500 offers simple connection and integration of your iPod or iPhone, built-in Bluetooth for hands-free calling and stereo audio streaming, USB and AUX connections to access music on portable devices. To top it off, the CZ500 even throws in a separate visor microphone to give Clarion owners, and callers, a clear and smooth hands-free calling experience. The CZ500 and CZ300 both are HD Radio Ready (optional THD300) with the iTunes tagging feature and are XM Satellite Radio Ready.  They offer superior sound quality with subwoofer volume control and advanced sound technology.
---

Dual XDMA6355

Dual's latest 200-watt AM/FM/CD/MP3/WMA receiver - XDMA6355 offers Bluetooth capabilities supporting hands-free and streaming audio with playback controls to focus on driver safety. Sit back and enjoy the convenience of a front panel direct USB iPod connection, wireless remote control and steering wheel interface input and enhance your listening experience with the MOSFET powered amplifier. The Dual XDMA6330BT includes the Bluetooth module (BTM60); the BTM60 can be added separately to the XDMA6355.
Read on for More Products
---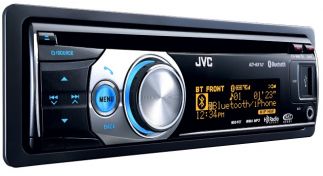 JVC KD-R810
The JVC KD-R810 is a single DIN CD receiver with dual USB ports and Bluetooth Wireless Technology. The Bluetooth function is compatible with iPhone and supports the Phone Book Access Profile (PBAP). Other features include Separated Variable-Color, user-friendly search functions for phone book and audio files, and detachable control panel.
USA - www.mobile.jvc.com
CAN - www.jvc.ca
---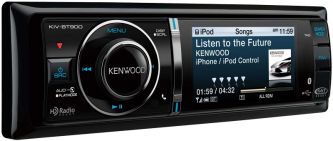 Kenwood KIV-BT900
The new KIV-BT900 from Kenwood is a unique in-dash receiver designed specifically for the iPod/iPhone user. It features a 3-inch display that shows cover art and video from an iPod/iPhone as well as video formats such as MPEG4, WMV and H.264 from a USB mass storage device. The same images that are displayed on the receiver can be output to rear seat monitors via the A/V output of the receiver. An on-board 512MB flash memory allows you to rip external content through the USB input; this feature supports a wide range of audio, video and picture files (visit the Kenwood website for details). Additional features include built-in Bluetooth (by hands-free technology leader Parrot), HD Radio Ready and Satellite Radio Ready and finally, three 4 Volt preamp outputs with built-in digital sound processing make this receiver a true audio performer.
USA - www.kenwoodusa.com
CAN - www.kenwood.ca
---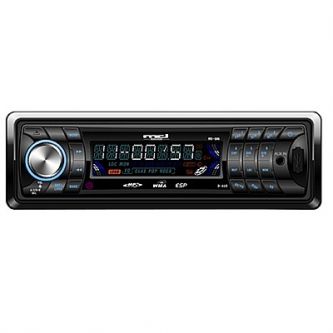 MD Sound I223MD-506
Take your tunes on the road with MD Sound's I223MD-506 receiver. This new single-DIN head unit comes packed with music playback options. Whether you've got an MP3 player, USB memory stick or SD card, the 506 will take them all, with a front-mounted 1/8-inch Aux in and USB port.  Fold down the face to pop in your SD card. Pick up the best of your local stations with an integrated AM/FM/MPX tuner. And if you're a shiny disc lover, the CD slot will take your store-bought favorites and home-made mixes as well as WMA files. The I223MD-506 gets style points as well: Change the display to match your car, your mood, whatever. The I223MD-506 puts out 4x50 watts to beef up factory or aftermarket speakers.
---

Pioneer MVH-P8200BT
The single-DIN Pioneer MVH-P8200 was designed to work best with Apple's iPhone and iPod, but also play back MP3, WMA, and iTunes AAC music files via USB and SD memory card. The USB port is located directly on the front face of the receiver and the SD memory card slot is located behind the removable front face. The P8200BT offers A2DP Bluetooth stereo audio-streaming and hands-free calling as audio sources. Users can browse their media libraries on the P8200's 3-inch color TFT display using Pioneer's seven-way rotary encoder, which is a knob-joystick-button combo. A MOSFET50 four-channel internal amplifier, an array of audio processing technologies, an 8-band graphic equalizer, and a trio of 4-volt preamp outputs each do their part to ensure that your digital audio sounds as good as it can, while allowing future system building.
Read on for More Products
---

Planet Audio P375UA
The first component in a 12 volt music chain is the head unit, and Planet Audio is proud to introduce two, new, value priced units for 2010. Often referred to simply as a radio, the P375UA and its entry level brother, P370MA have evolved to provide much more than the ability to just tune stations. The P375UA is an iPod, MP3 compatible in dash 2 band AM and 3 band FM, CD receiver. The P375UA also affords you several options to interface your audio system with USB, SD memory card ports, and a front panel auxiliary input. All this plus a fully detachable front panel anti-theft feature, built-in equalizer, anti skip mechanism and wireless remote control.
---

Sony DSX-S100
Sony just announced the DSX-S100 head unit, which eliminates the need to have visible unsightly wires inside the car. The head unit has a sleek faceplate that flips down and outputs an integrated tune tray compartment featuring an iPod adapter, for quick connection to iPod or other digital media players. Your iPod and connector are secured inside the flip-down compartment of the receiver, away from view. Once connected to a device, the stereo flips back up and maintains all standard functions. The DSX-S100 features Sony's latest audio technologies, including DM+ Advanced, ZAPPIN and Quick-BrowZer. This model is both satellite and HD Radio ready, and features a large, informative two line LCD display.
USA - www.xplodsony.com
CAN - www.sonystyle.ca/xplod
---

SoundStormLab ML33USA
The engineers at SSL recognize that the end of the CD is rapidly approaching and have subsequently developed the mechanism-less ML33USA. This solid state AM/FM receiver with 30 station presets was specifically designed for those who enjoy their music on the go.
Boasting a 3.5mm auxiliary input compatible with the audio outputs of the iPod® and other MP3 players, as well as both USB and SD/MMC Card ports, the ML33USA provides numerous media playback options. The absence of a CD mechanism makes the ML33USA the ideal head unit for marine and off-road vehicle applications. Where waves or bumps in the road would typically disrupt the performance of a CD, your portable media device, working through the ML33USA, will keep on rocking without interruption.
This unit comes standard with a detachable front panel, RCA outputs, and a quartz digital clock.