Page 2 of 2
---
---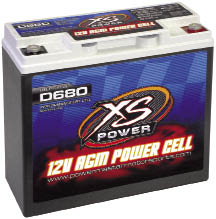 XS Power D680 / D3100
XS Power Batteries utilize the perfect blend of quick discharge power and long lasting performance, making them a perfect fit into the car audio market. With ultra-low internal resistance, and more power per square inch than any one user will ever need, these batteries, utilizing a unique AGM (Absorbed Glass Mat) technology have XS batteries have what it takes to get the job done. Distinguished by their gray cases with white tops, XS Power Batteries like the D680 are the perfect reinforcement for your audio system. Then there's the also XS Power offers the very powerful D3100 for installs which need big power. All XS Power Batteries have passed rigorous vibration tests allowing them to be by Air or Ground and are fully charged and ready out of the box.
www.powermastermotorsports.com
---
Odyssey PC680MJT-A
The Odyssey PC680MJT-A is a drycell battery utilizes a unique thin-plate-pure-lead (TPPL) technology that allows a single battery configuration to provide maximum cranking power and true 400 deep cycles to 80% depth of discharge. PC680MJT-A battery weighs 16 pounds, yet it's capable of starting a 5.7-liter, V-8 engine. These batteries provide superior deep cycle capabilities and charging ability to provide repeatable power for hydraulics, air compressor air lift suspensions, and long service life. Odyssey Batteries include SAE tin-plated brass automotive posts and GM side terminals, allowing for multiple battery and accessory cable mounting. Additionally, Odyssey Batteries are safe enough to mount inside passenger compartments and in any orientation except inverted.
---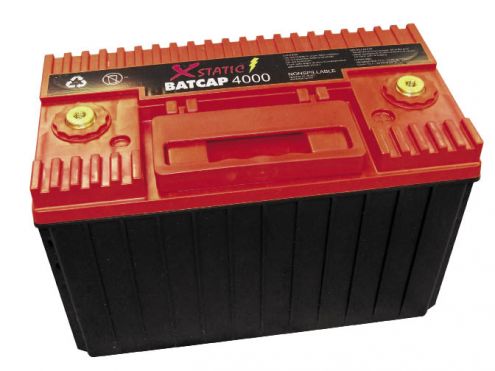 Xstatic BatCap 4000 Battery
In development for over 2 years, the new Xstatic BatCap 4000 battery provides double the amount of energy as their very popular model 2000 BatCap. It has incredible energy reserves, and measured ESR at just under 1 milliohm! Performance like this will ensure your amplifiers work as intended, and dimming lights will be a thing of the past. The battery is among the highest energy storage devices tested, and at just under 80 pounds, you know it's a serious piece the first time you pick it up! Measuring 13 inches long, 6.75 inches wide and 8.7 inches tall, the BatCap 4000 comes with convenient and heavy duty top terminals, and the design is non-spillable which allows mounting in any position.
---
Shuriken Batteries
Shuriken Batteries are engineered to provide all the power needed for today's car audio systems. By using Absorbed Glass Matt (AGM) technology, Shuriken rechargeable batteries can be mounted in any position needed and won't spill. Shuriken Batteries also have extreme resistance to excessive heat and strong vibration. With super low ESR and closely packed pure lead plates, each power cell will pack a punch.