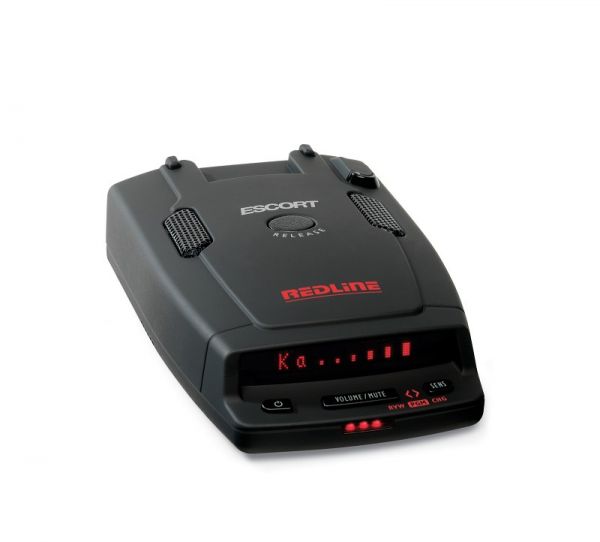 When you are a leader in your field, chances are you didn't get that way by resting on your laurels. And when it comes to radar detection, the Escort products stand with the very best, but the company is continually looking for ways to improve their already excellent products. Recently the engineers at Escort have been hard at work on building what is the most sensitive radar/laser detector they have ever built. The new Redline detector includes full X, K, Superwide Ka, and Safety Warning System capability, with front and rear laser detection.
The Redline is based on a dual antennae design with VTO (Varactor Tuned) microwave receiver and digital signal processing for incredible range without annoying false alarms. In independent tests, the $499 Redline reliably and repeatedly detected radar signals from over nine miles away! In one test, it consistently alerted on a radar signal that was thirteen miles distant! Considering most tickets are issued with speed guns less than ½ mile away, the ultra sensitive Escort Redline will provide maximum advance warning for any situation.
The Redline also employs Escorts exclusive "TotalShield Technology" which makes the detector undetectable even by the latest radar detector detectors in field use. And the added bells and whistles found in the Redline detector add value and convenience to your daily drive, with useful features like a Programmable Alert Lamp, over or under vehicle voltage warnings, AutoMode logic to reduce false alarms, plus Escort's exclusive TSR signal ranking software that can be turned on to further reduce false alarms from erroneous sources. There's an ultra bright text display that's easy to read even in direct sunlight, and a handy mute button right on the power plug. The housing of the Redline is made of lightweight but extremely durable magnesium. Just holding it in your hand gives you the distinct impression of quality and that they built this baby to last.
The Redline detector is incredibly easy to install, and it comes with a windshield quick mount and a pair of replacement suction cups. Once the bracket is mounted, it can remain in place, and you can simply slide the Redline off the bracket with a push of the top mounted release button. Power is provided by a rugged cigarette lighter style plug, and that's it you're ready to go. To make the Redline display and alert you exactly how you want it to, you can customize 8 different preferences for the display characteristics and the audible alerts. The Redline will provide voice alerts for any radar, laser or safety signals it receives. Additionally, there are distinctly different alarm tones for the various types of radar signals, providing even more information about the type and importance of the radar signal. After an alert, the units AutoMute function with automatically reduce the volume of the alert to a lower level. If you prefer, the auto mute function can be disabled for full volume alerts for the duration of the signal. For experienced users, the Redline also includes an ExpertMeter mode, that will simultaneously track up to 8 radar signals, and provide detailed information on each of the various signals it is detecting. It can also display the actual frequency of the radar signal being received.
I own and use several very good radar detectors on a daily basis, and when placed side by side in my vehicle, the Redline provided alerts much sooner than any of my other premium detectors. In one case I was alerted to radar over a hill several miles distant that my other high end detector didn't pick up at all until I crested the hill and the radar source was then only a few hundred yards away. If you are looking for a top quality, easy to live with radar/laser detector with unbelievable range and a minimum of false alarms, the Escort Redline was designed just for you.
Source:
Beltronics
Redline Radar Detector
www.beltronics.com