On the eastern edge of the great Los Angeles basin lies the quiet suburb of Chino, California. Traditionally, Chino has been an area rich in agriculture. Providing a great deal of the
dairy products for Southern Californian supermarkets, you would expect a quiet, pastoral place, where cows graze and housewives hang out clean laundry to dry. Well, not if the folks from PowerBass have anything to do with it!
With the slogan "Pounding Heads Since 2001", the guys at PowerBass are doing their best to wake up their community and the rest of the country, with their selection of amplifiers, loudspeakers and subwoofers. This time we're going to take a look at one of their "middle child" series of woofers, the 12" dual voice coil M-124D, which sells here in the U.S. for around 150 bucks. The M series of woofers underwent a drastic series of changes and improvements for 2009, and according to Jay Kent at PowerBass, it's one of the best sounding woofers they've ever built. 
Features

The PowerBass M series of woofers use large-roll Santoprene surrounds, non-pressed paper cones, and stamped steel baskets. Taking a close look at the M-124D, I found the woofer to be well made, and nicely finished. The basket is coated in
a high gloss black powdercoat, with small chrome-plated vents placed radially around the basket and under the spider to assist in voice coil cooling. Even the edge of the magnet is painted black, for a nice cosmetic touch. At the bottom of the woofer is
a vented and domed backplate, which is also coated in a black finish to aid in cooling. The assembly is extended to allow high amounts of excursion without bottoming. The magnetic motor structure of the woofer is a traditional ceramic ferrite material, measuring 1" tall and almost 6" in diameter. The magnet itself weighs in at a hefty 61oz.
Moving upward, the motors magnetic energy is focused on dual, 4 ohm, 1.5-inch long, four layer voice coils, which are wound on a 2-inch diameter aluminum former. Aluminum is used to aid in heat dissipation, and reduce voice coil temperatures, which translates into increased power handling and reliability. Connecting the former assembly to the basket on the lower end is a black poly-cotton progressive compliance flat spider,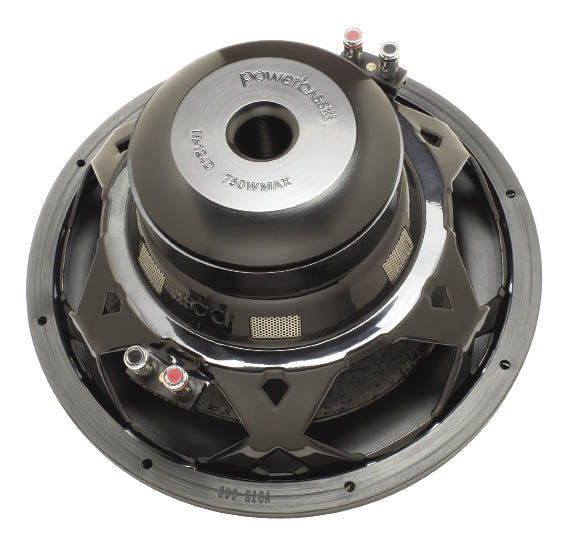 the outer edge of which attaches directly to the basket landing. Tinsel leads for both voice coils are woven into the spider to eliminate the chance of lead slap or damage from over excursion. Speaker wires are connected via 2 pairs of chrome plated spring terminals which will accept 10 gauge wire. Unlike some other woofers, these terminals are very solid, and don't bend when you depress them. The cone material is a more traditional paper material, which some dismiss as "old school" but if you listen to as many woofers as I do, you may notice that many paper cone woofers simply have a rounder, fatter sound than their modern polypropylene brethren. I actually sometimes prefer the sonics of a paper cone, and since I first saw this woofer, I have been looking forward to hearing it. A fairly conventional injection molded poly dustcap with the PowerBass logo tops the cone, and a rubber gasket promotes sealing and hides all but four of the woofers eight mounting screws. The M series woofers come with a 1 year warranty.
Listening

After the usual exercise period, I wired the dual 4 ohm coils in parallel, and for a change I decided to use a 1.5 cubic foot vented enclosure tuned to about 30Hz, which was one of the enclosures Jay at PowerBass had strongly recommended. The manual mentioned a preference for sealed enclosures, but Jay's a hands-on sort of guy, and I'll take advice like that any time. With the signal to the woofer crossed over at 100Hz, at a rate of -24dB per octave, and a subsonic filter set at 25Hz, I loaded up the CD player with a few high energy bass tracks, and
a few other favorites.
Christina Aguilera, Pink, Mya, and Lil' Kim's version of LaBelle's "Lady Marmalade" sounded hot, with deep driving rhythms that would have made engineer Dave Pensado proud. A little 50 Cent, and a bump on the volume knob, and it sounded like we could have indeed been "In Da Club". The output was strong and authoritative, and deep bass like the synth notes in Avril Lavigne's "Sk8ter Boi" were reproduced well, and even though these notes were a bit below the enclosures tuned frequency, and excursion was definitely up there, the M-124D handled it easily without complaint. As I had hoped, the PowerBass woofer rewarded my proclivity for paper cones with deep full and rich sounding bass, and even in the vented enclosure articulation was quite good, and the sound never got muddy or boomy. On tunes like Thomas Dolby's "Key to Her Ferrari" and Thom Rotella's "Friends", the M-124D provided all the bottom end I wanted and retained a tight and articulate sound. During my listening, I probably exceeded the woofers 325 watt power rating more than a few times, but the PowerBass woofer handled everything I threw at it without complaint or signs of reaching its mechanical limits. The overall output was impressive, and you do not need a huge amp to get serious output from this woofer.
Read on for the results