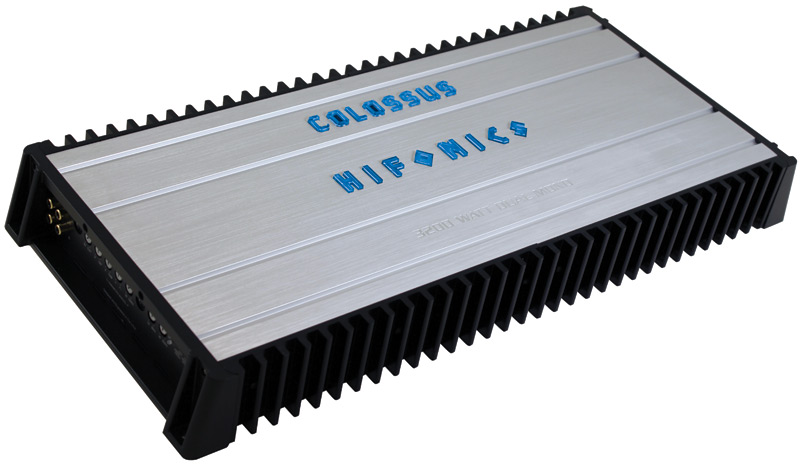 For almost a quarter century, the Hifonics name has stood for large, powerful and reliable amps and woofers. Recently a very large and heavy carton arrived here at the lab from the good folks at Maxxsonics, and inside was a new Hifonics Colossus amplifier. But rather than the usual big monoblock amplifier, the Colossus provides a new twist to the formula, in that it's actually two mono amplifiers in a single chassis which can be used separately like the left and right channels on a stereo amplifier, or can be bridged together for maximum power on a single channel. Either way, with a 1600 watt per channel rating into 1 ohm or 3200 watts when bridged into 2 ohms, this amp certainly maintains the large and powerful traditions!
One look at the Hifonics Colossus amplifier is all it takes to know this is a serious piece of kit. Measuring 23.8" x 10.8" x 2.7" and weighing in at over twenty pounds, the Colossus lives up to its name. The amp looks good, with a brushed natural color aluminum top, surrounded by a meaningful black extruded aluminum heatsink which uses vertically oriented fins to improve natural convection cooling. Upping the bling factor even further, the Hifonics and Colossus names light up in a bright blue whenever the amp is turned on. But it's not only big, heavy and powerful, it's also loaded with features that you'd expect from a high performance subwoofer amplifier. On the signal input and control end of the amp you'll find the usual RCA inputs and outputs, as well as a DIN-style balanced input. Useful controls are plentiful; there are pots for gain, phase adjustment, subsonic filter, and low pass crossover, as well as a parametric EQ with adjustable boost, frequency and filter Q.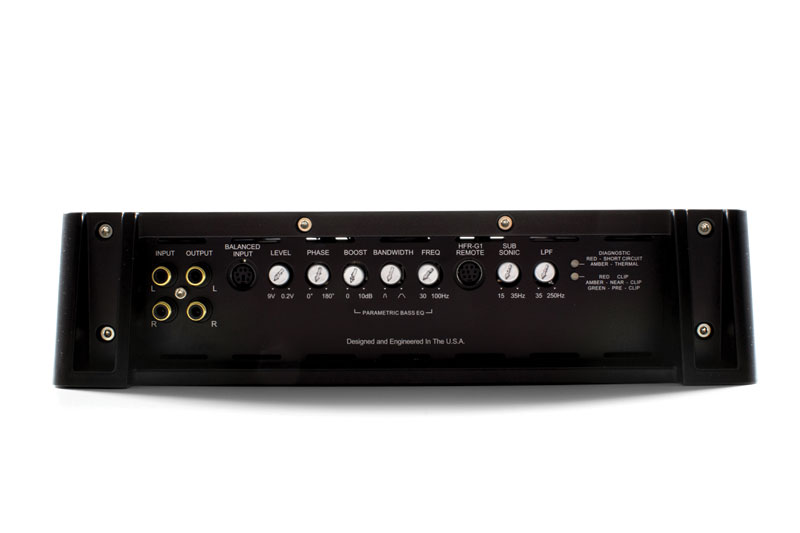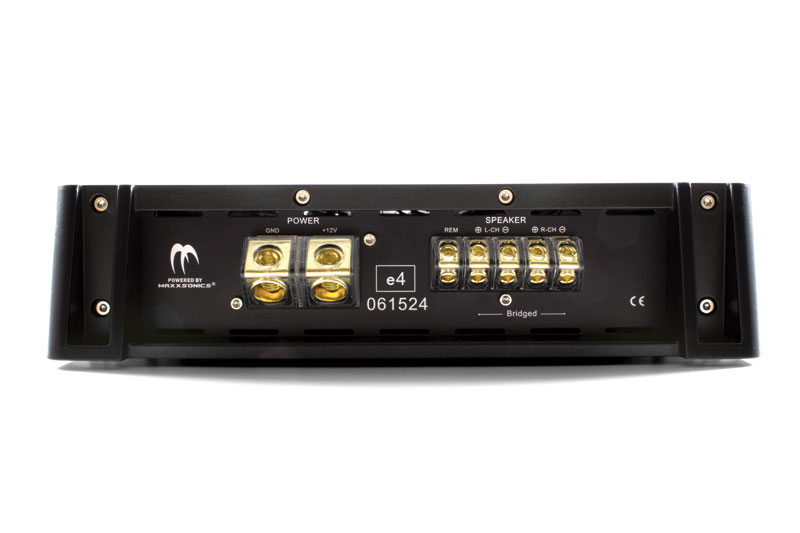 On the opposite side of the Colossus are the power and speaker connections, with 1/0 gauge connections for the battery and ground cables, and heavy duty speaker terminals that will easily accept 10 gauge speaker wire. A built in system diagnostics monitoring circuit provides the user with important operational information regarding thermal protection, short circuits, as well as a three-stage clipping indicator.
Inside the Colossus I found what can fundamentally be considered as two separate mono amplifiers, each with its own dedicated pair of power supply toroids, MOSFET switchers, and output devices. The amp is designed so that the dual amplifiers share a common ground output, and by internally inverting the phase of one channel, the design became bridgeable. For those of you who crave technical details, the Colossus uses a total of sixteen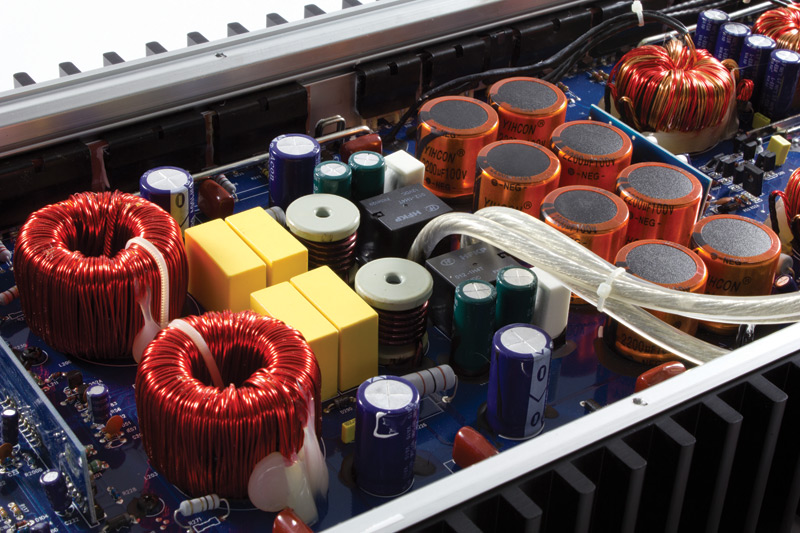 1,200µF high temp capacitors for the power supply, and there are eight 2,200µF caps to store energy for the output section. The dual power supplies implement a total of 16 high current MOSFET devices, while each channel's output comes from six more MOSFETS, for a total of twelve output devices. The double-sided glass epoxy PCB is a stout affair, with a hybrid mixture of both surface mount and through-hole parts used. Output filtering is also robust and was obviously designed for the high current output (in excess of 50A to the speaker) the amp was meant to deliver. There are also output relays used to prevent unwanted turn on or turn off noises.
Amplifiers like this require more than mere mortal woofers, and I was fortunate enough to have four very high power handling pro audio woofers on hand that I decided would be a good choice to really give the amp a workout for the sonic evaluation. With each of my four 15" woofers loaded in separate sealed enclosures of 4.5 cubic feet each, the listening room resembled a concert PA system! These woofers are 2 ohms each, so I paralleled two of them to each channel of the Colossus, which would allow me to exploit the full power potential of the amplifier. This is where the dual mono design showed its merit – if it had been a conventional single channel mono amplifier I would have had to resort to a higher load impedance, or change to 4 ohm woofers. But with the dual channel design, the woofer impedance was easy to deal with, and the connections were simple and easy. After connecting the amp into my system and getting the crossover adjusted, I began listening to a few of my favorite bass tracks. If you've never experienced a subwoofer system with what seems like almost unlimited power, you should. To have so much authority and output available on the lower registers brings a whole new level of excitement and enjoyment to listening to music. For example, one of the tracks I played was the intro track on the 1990 IASCA test disc. This track is the opening to the "Phantom of the Opera" by Erich Kunzel and the Cincinnati Pops Orchestra. The track begins with some every realistic sounding thunderclaps, and after playing the track, I had my neighbors running outside to see why it was thundering…while the desert sun was shining brightly! Yeah, it was that real. Real fun, that is!! On tracks with deep bass, like the BTO classic "Not Fragile", the bass sounded probably better than it did back when that track was recorded in 1974. With this much power available, getting strong, deep powerful bass is effortless, and you begin to understand just how much energy there is in the lower registers. To say the least, the power the Colossus delivered was inspiring and a whole lot of fun! There is one note of caution, however. Amplifiers with 3 kilowatts of output power require a serious woofer system to properly handle the massive amounts of power (and heat) that they generate. I'd suggest a woofer system with a continuous power handling rating of at least 4,000 watts to properly and reliably handle an amp as powerful as the Colossus.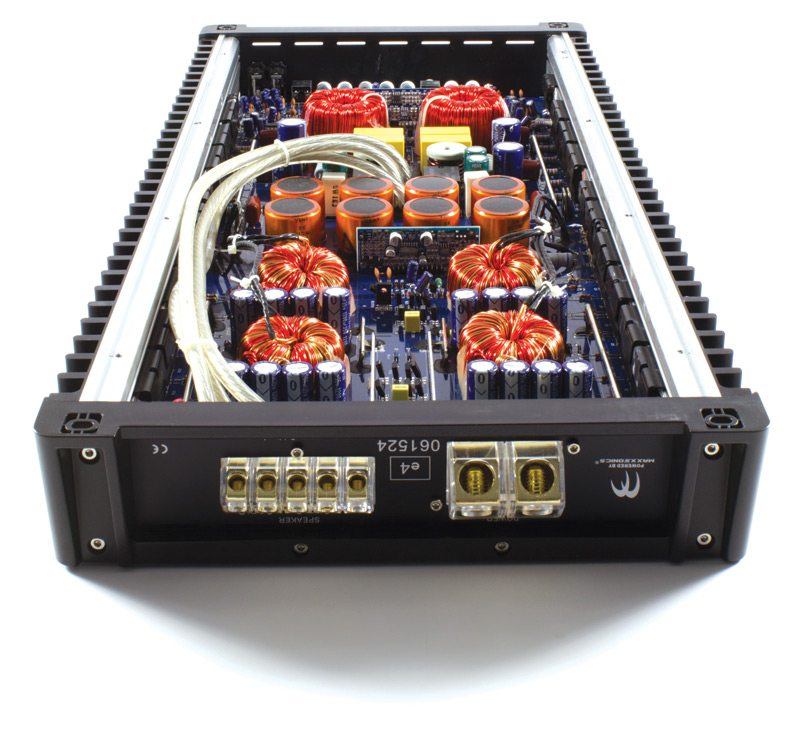 Performance/Bench Measurements
On the bench, the Colossus amplifier provided some pretty potent numbers, although in some cases it did fall just slightly short of the actual advertised power levels. But when you have an amplifier that can honestly deliver over 3,100 watts of clean power, does it really matter if it was rated to do 0.1dB more? I don't think so. The amp measured quite well in all respects, with very respectable full-power efficiency numbers, and all the filters worked precisely as expected. I did note that when you set the filter Q of the built-in parametric EQ to the widest setting, it covers such a wide frequency band that it becomes more like a gain control than an EQ. But when you tighten up the Q, the variable boost and frequency adjustments can be very useful in getting things tuned to suit your particular installation. With an amplifier capable of this much current, making sure things like the short circuit protection works properly is a lot more critical than it would be with a smaller amp. I mustered up some courage, and with the amp putting out over 1,000 watts, I dead shorted the outputs. Instantly, the amp went into protection, with no drama and no crazy current draw. One the short was removed, the amp simply went back to doing its thing, as if to say, 'Hmmph…is that all you got?' Nice.
If you are thinking about getting what many would consider to be the ultimate power source for your subwoofer system, the Hifonics Colossus should be on your amplifier shopping list. With an incredible amount of power, the convenience and flexibility of the dual-channel design, and all the built-in tuning and control features, it's a strong candidate to be the cornerstone in a serious system. And if a 3,000 watt subwoofer amplifier hadn't really crossed your mind, you probably have never heard what that kind of power can do. You'll only need to experience it once to form a lasting memory of what real bass performance is all about.
Manufacturers
Rated Power
600x2 @ 4 ?
1100x2 @ 2 ?
1600x2 @ 1 ?
2200x1 @ 4 ?
3200x1 @ 2 ?
Actual Measured Power
@ 1.0% THD+N
@ 12.6V Battery
555 x 2 @ 4 ?
1017 x 2 @ 2 ?
1566 x 2 @ 1 ?
1440x1 @ 4 ?
2381x1 @ 2 ?
Actual Measured Power
@ 1.0% THD+N
@ 14.4V Battery
555 x 2 @ 4 ?
1017 x 2 @ 2 ?
1566 x 2 @ 1 ?
2052x1 @ 4 ?
3130x1 @ 2 ?
Signal to Noise Ratio referenced to 2V output. (CEA-2006A)
(1 watt @ 4 ohms)

-61.7dBA

Signal to Noise Ratio referenced to full 4 ohm output.

-89.1dBA

THD+N at rated power (2? Bridged)

0.75%

CEA-2006A rated 4 ohm Power (minimum power per channel developed over the entire intended audio bandwidth)

502 watts

Maximum Efficiency at full 2 ohm power per ch.

86.1%

Idle Current

2.0A

Input Sensitivity

231mV- 10.3V

Maximum Current @ full power, lowest rated impedance

276A

Frequency Response (-3dB)

14Hz – 263Hz

Low Pass Crossover

35Hz – 250Hz

-24dB/oct

Bass EQ boost

Variable Boost

Variable Freq

Variable Q