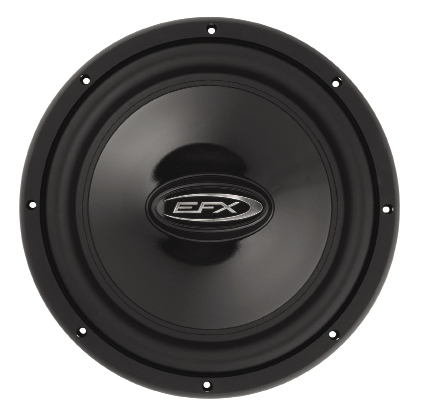 Scosche's EFX Competition line of subwoofers have been redesigned and upgraded for 2010. According to the folks at Scosche, there are improvements in both power handling and output, and the EFX subwoofers are also now better optimized for smaller enclosures. The woofers are good looking and appear ruggedly built, so we figured it would be a good idea to take a closer look at one of the most popular models the $219.00 (US), EFX C124D.
Features and Construction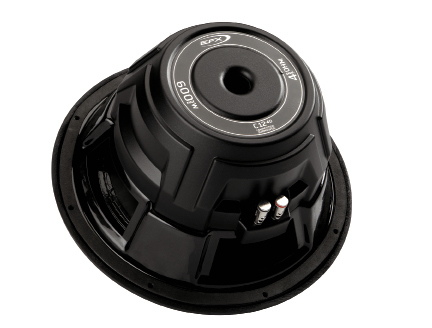 The EFX C124D is a 12-inch dual voice coil subwoofer, featuring a one piece injection molded polypropylene cone. The high gloss black cone is bonded to a wide rubber surround by high-tech adhesives as well as good old fashioned stitching for maximum reliability at full excursion. The cone is connected to the voice coil former assembly via a clever intermediate cone which is fully vented to improve cooling and maintain proper mechanical compliance. The 2.5-inch voice coils are wound on a heat resistant Kapton former, centered around a vented pole piece, and held in place concentrically by a linear type Nomex spider. Electrical connections are made via ubiquitous spring loaded terminals which will accept 10 gauge wire, and the heavy duty tinsel leads are woven into the spider. The magnetic motor assembly uses double stacked ferrite magnets, and is covered by a plastic trim housing for a clean finished appearance. Supporting the whole assembly is a stamped steel basket, finished in matching high gloss black powdercoat. A rubber gasket that is actually integrated into the surround, includes eight mounting screw holes and trims out the basket. A thoughtfully pre-applied gasket on the mounting surface provides an airtight seal to the enclosure.
Read on for Full Results