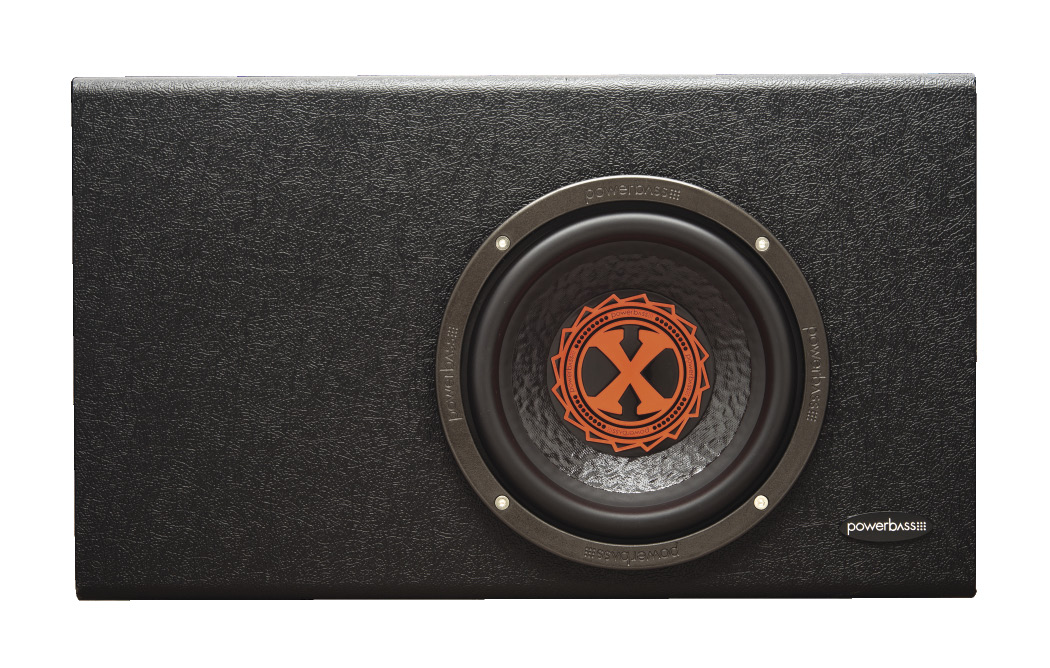 If you're into big bass but your ride is tight on space, the folks at Powerbass have developed an ultra compact subwoofer system that will fit virtually any vehicle. The system is called the XL-WB8 and utilizes the highly-regarded XL-84 eight-inch woofer. Providing a very impressive amount of bottom end while taking up a minimal amount of room, the system is priced affordably at just under $200 U.S.
Features
The XL-WB8 system uses a specially designed vented enclosure and the aforementioned XL-84 woofer. Overall build quality is better than one would expect for the price; this is a well-made product with a very nice finish. Wrapped in aviation-grade textured black vinyl, the ruggedly constructed enclosure is manufactured of ¾-inch MDF and lined with polyfill. The woofer attaches with eight screws, hidden by a trim ring. Wiring connections are handled by spring-loaded terminals, capable for up to ten-gauge wire in a flush-mounted cup on the side of the enclosure. The vent has an effective area of about 4.5 square inches, and is tuned to approximately 30 Hz.
The Powerbass XL-84 woofer is the heart and soul of the system and is built around a polycarbonate and glass fiber basket. To ensure proper cooling and maximize power handling, the woofer employs generous venting between the spider and the top plate.
The cone of the XL-84 is a non-pressed pulp blend for excellent tonality, and the dust cap is an injection molded, inverted style decorated with a red logo. Connecting the outer perimeter of the cone to the basket is a Santoprene surround, while the lower side of the moving mass utilizes a linear Conex material spider. Powering the woofer is a large, single-stacked 42-ounce ferrite magnet, driving a two-inch voice coil wound on a BASV former.
The woofer is fully cosmetically finished rather than a stripped-down version that some brands use when sold in a loaded enclosure.
Listening
For a system that measures roughly eleven inches tall, nineteen inches wide and less than six inches deep, it produces bigger sound than you'd expect. With my amp crossover set to 100 Hz at -24 dB per octave, the little system produced deep musical bass, and frankly sounded like a much larger woofer. Power handling was great right up to its two-hundred-watt limit and I appreciated the natural sounding timbre of the system. Low bass passages were reproduced with surprising authority and the system maintained good attack and decay. While I was listening, a friend stopped by, I asked him to turn around and tell me how big he thought the woofer was. After 30 seconds of listening to Thomas Dolby's Key to My Ferrari, he said "That's a twelve!" In his defense I wasn't surprised, because this little system can rock! Over the next couple of hours we listened to all kinds of music and both came away suitably impressed.
On The Bench
From a measurement perspective, the system produced data that correlated closely with the listening tests. Frequency response measured much lower than you'd expect from an eight-inch system, thanks to the well-chosen tuning frequency of the enclosure.
Quick Tech Specs
Power Handling 20-200 watts Continuous
Frequency Range 35 - 250 Hz
Driver Sensitivity 83 dB/SPL @ 1.0 W
Nominal Impedance 4 ohms
Conclusion
If a small, inexpensive woofer system is what you need to put some bass in your ride, the Powerbass XL-WB8 should be on your short list of products to consider. Whether you listen to 50 Cent or Zac Brown, the Powerbass XL-WB8 will provide you with great-sounding bottom end, at a price almost anyone can afford.