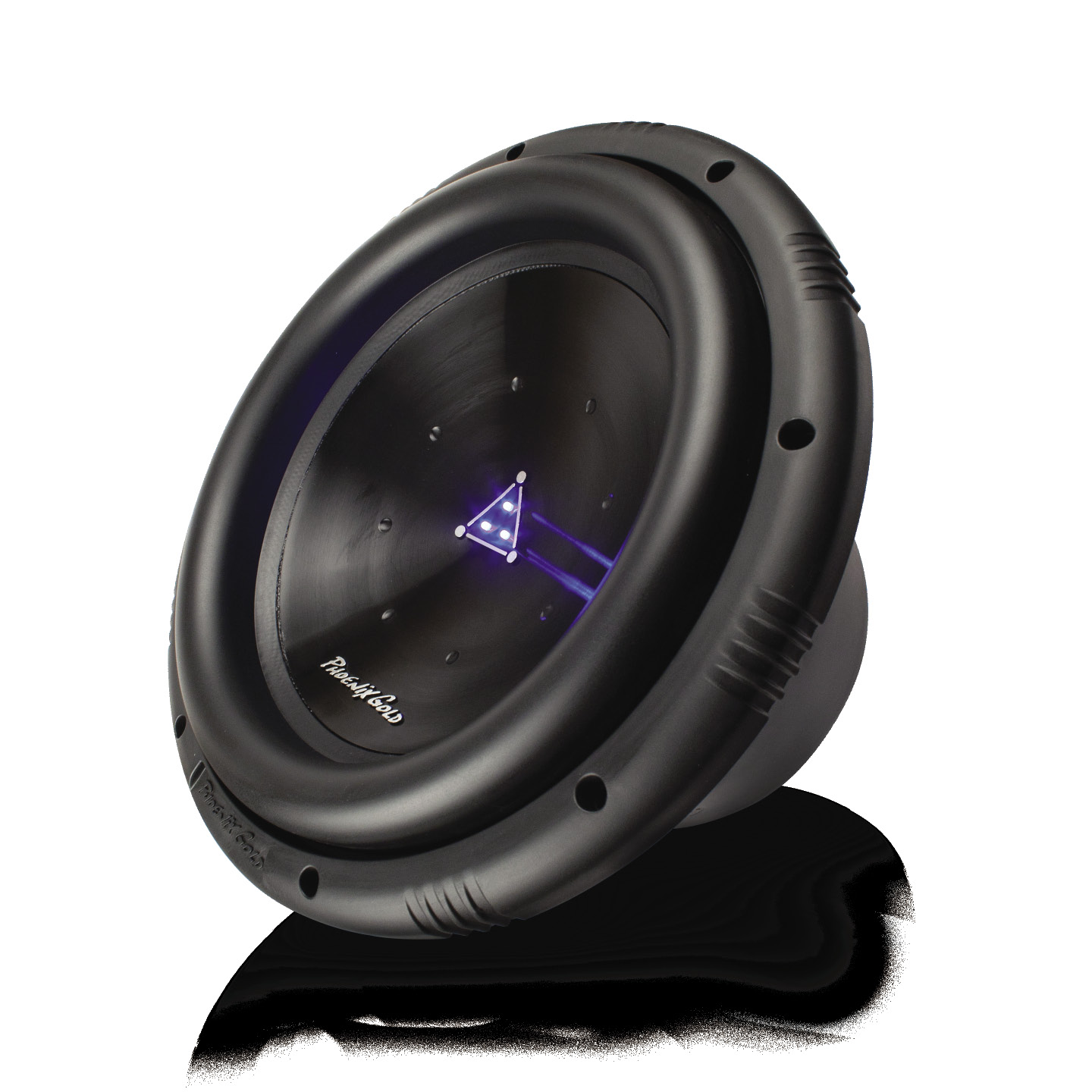 When it came time to build a flagship subwoofer, the folks at Phoenix Gold wanted a woofer that could do it all. It would have to have extreme power handling, be capable of moving a ton of air (to keep the SPL crowd happy) and still sound good enough to satisfy serious audiophiles. Plus, it would have to look as good as it sounds.
I've been involved in the product development of all kinds of audio products for almost 20 years now. Believe me, building one woofer that can do it all is a pretty tall order! But, that's the kind of product the design team at Phoenix Gold was looking for when it developed the Elite series of subwoofers. In this review, we're taking a closer look at the Elite.12D to see how close they've come to that goal.
FEATURES
Just getting it out of the box and looking at it, the 25-pound, 1,600-watt rated Phoenix Gold Elite.12D subwoofer has a serious, no nonsense attitude about it. It' a good looking woofer with a gloss black dustcap enhanced by three small blue LEDs in a triangle shape in the center of the assembly. A tooled PVC black mounting gasket also serves as a trim ring.
The top of the line 12-inch woofer is built on a heavy duty cast aluminum basket finished in textured black powder coat. Almost half of this woofer's weight comes courtesy of a massive 194-ounce ferrite motor assembly, which provides the focused magnetic energy required to drive the cone through its 60 mm of peak-to-peak excursion. With a one-way linear excursion of 18 mm, it' obvious this 12-inch woofer is designed to move a ton of air.
Dual long-throw progressive-type spiders are used to control compliance while a special spacer between the spiders and around the former ensures proper coil positioning and linear movement. To keep the outer edge of the cone assembly located properly, the Elite.12D employs a tall "high roll" rubber surround that's designed to allow maximum excursion without unwanted surround snap issues.
The magnet drives dual 75 mm-diameter, two-hm copper voice coils wound on a special aluminum/titanium hybrid former, which is both vented and anodized black for maximum heat transfer. The coil comes from the highly-regarded Po Yun factory where many of the world's best voice coils originate. Electrical current is sent to the coils via spring-loaded nickel-plated terminals that will accept 10-gauge wires easily.
A third set of terminals is provided for a 12-volt DC connection to illuminate the three blue LEDs, which are housed in the driver's full coverage dustcap. The LED terminals are very clearly marked, making it easy to get the proper connections going to the correct terminals. The resulting light show is a woofer that really catches your attention in a cool way.
Under the full size injection-molded polypropylene dustcap is a fiber-reinforced paper cone. The cone is first pressed and, then, a woven material is laminated to it for light weight, excellent strength and rigidity.
The woofer has a mounting diameter of 11.3 inches and a mounting depth of just over seven inches.
LISTENING
According to the owner's manual, the Elite.12D can be used in either sealed or vented enclosures. The recommended size for sealed systems ranges from 0.75 to 1.6 cubic feet. The vented designs are listed between 1.75 and three cubic feet. Since I'm more interested in critical listening and sound quality, I decide to use a 1.5-cubic foot sealed enclosure.
Those of you who are more interested in maximum SPL will probably choose a smaller version of the vented box, so it's good to have choices! After the usual break-in and normalizing period, I add the woofer to my reference system and begin what turns out to be a lengthy listening session.
I have to say: the engineers have done a good job on this one. This is one of those all-too-rare woofers that just sounds "right" regardless of your musical tastes. I drive the woofer with an amplifier capable of developing well over 2,000 watts and, although I'm careful not to be abusive, I'm pretty sure I've exceeded the 1,600-watt rating a few times. The Elite.12D simply handles everything you throw at it without complaint.
Over the course of an entire afternoon, I play dozens of tracks from every genre imaginable. Classical works from the London Symphony Orchestra, classic rock by Rush, Queen, Pink Floyd, Deep Purple and many others, including more audiophile-type tracks by Jennifer Warnes, Thursday Diva, Randy Newton, Thom Rotella, and Lincoln Mayorga. I even break out the country with tracks from Hank Williams Jr., Zac Brown Band, Carrie Underwood, Jason Aldean and Brooks & Dunn – have a listen to the kick drum on "My Maria."
Regardless of the genre, it all sounds great. The woofer exhibits great musicality and produces a natural timbre to the bass. Details in passages with plucked acoustic bass are easy to distinguish and articulate.
Regardless of what I play, the results are the same. Clean uncolored bass with excellent control and superb detail. Kick drums sound full and warm with no ringing or unwanted overtones. Bass lines have great articulation and, with the incredible power handling capability, I never have to worry about accidentally overdoing it.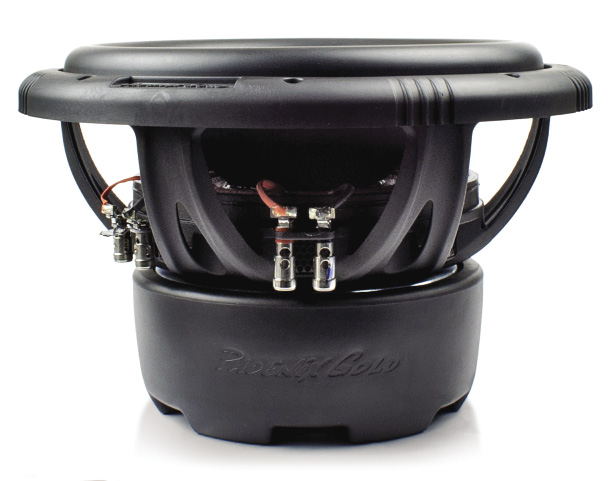 PERFORMANCE / BENCH MEASUREMENTS
The following morning I move the woofer into the lab to measure its specifications. My results are similar to the published specs even after a very thorough break-in and several hours of enthusiastic use. The specs do indicate a bit of a preference for a sealed enclosure, but not enough to preclude using a vented design though I did not have an opportunity to evaluate the woofer in a vented box. I have no reason to think it would be any less impressive.
Thiele-Small Parameters
Model = Phoenix Gold Elite.12D
Coils in parallel
Revc = 1.910 ?
Fo = 28.334 Hz
Sd = 0.049 M²
Vas = 2.5.4 L (0.897 cu-ft)
Cms = 74.559 uM/N
Mmd = 416.940 g
Mms = 423.176 g
BL = 15.911 T·M
Qms = 3.382
Qes = 0.568
Qts = 0.487
Levc = 1.004 mH
No = 0.098 %
SPLo = 81.947 dB
EBP = 49.88

QUICK TECH SPECS

Power Handling 1,600 watts RMS
Frequency Range 25 – 250 Hz
Sensitivity 82 dB/SPL @ 1.0 W (1.414 V @ 2 ?)
Nominal Impedance (2) 4 ? coils

CONCLUSION
Well, it appears to me they've done it! Just like the original design goal, this woofer produces deep, tight, musical bass... Bass that goes low and can get seriously loud. The Elite.12D woofer can do classical or classic rock and everything in between while looking as good as it sounds.
There are many ways to spend money on your car audio system, but if you have the $449.99 it takes to bring one of these home, it will be money well spent.