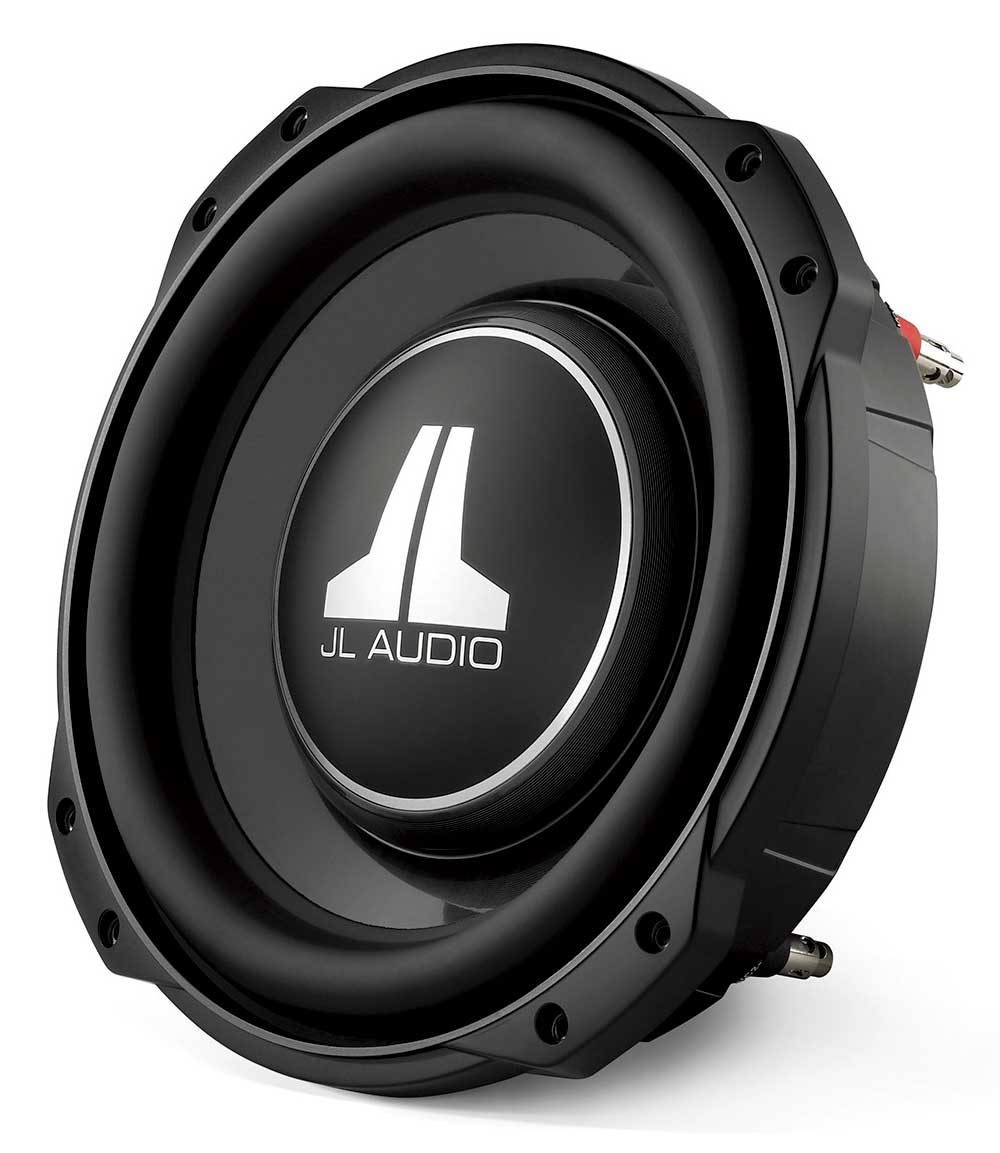 When it comes to building shallow woofers, I thought I'd seen just about every way possible. That was until I saw the new JL Audio 10TW3-D4 subwoofer. The latest shallow woofer design to come out of JL Audio's Miramar Florida facility is a thing of beauty to look at, and an equally impressive bit of 'out of the box' design and engineering. The all new 10TW3-D4 is a dual four ohms coil woofer built around several patented technologies, and will be shipping by the time you read this. This high performance shallow woofer will carry a suggested retail price of $349.95 (USD).
Features
To build a 10-inch shallow woofer that will work in enclosure depths as little as 3.25 inches, JL Audio took a clean slate approach when they designed the 10TW3-D4. The goal was a woofer that could be mounted not only in a shallow enclosure, but also one that also works with an absolute minimum of total airspace. It also had to provide long excursion, deep bass, and excellent sound quality, while handling 400 watts of continuous power.
To accomplish these goals, JL developed a unique cone body based on patented technology called a "Concentric Tube" structure. The genius of the design places the long-throw voice coil assembly directly beneath the speaker dust cap. This high-mounted coil allows the engineers to use a full size motor structure to drive the coil, but the magnet assembly is moved much closer to the cone than on a traditional woofer – it's actually inside the basket, rather than hanging off the bottom like you'd normally see. The result of this component shifting is a very shallow woofer, but one that retains a full-size double stacked Strontium ferrite motor and even greater excursion than JL Audio's W3v3 series. Brilliant!
Technically speaking, the 10TW3-D4 is built on a cast aluminum alloy basket that houses the entire motor assembly. Because the pole is not vented, the back of the basket fits flush against the inside wall of the enclosure, further decreasing mounting depth requirements. The basket uses four tabs (or 'ears') for mounting, with each tab furnishing two mounting screw locations. The idea here is to make the remainder of the diameter of the woofer as small as possible, which allows them to be mounted closer to enclosure boundaries or to another woofer, making it easily adaptable to really tight spaces.
The entire moving assembly is unique in that it's constructed as a complete sub-assembly before being fitted into the basket. A 'normal' woofer begins with a motor and basket assembly, then the spider and voice coil are fitted, followed by the cone and surround, and finally the dust cap. Not so for this new JL Audio woofer.
Using the patented Concentric Tube structure, first the JL Audio woofer has the dust cap, cone, surround, voice coil and progressive type spider built as a unit, which is finally fitted to the basket and magnetic motor. This approach provides great precision in parts alignment, better electrical connectivity, and is simply easier to build.
But the 10TW3-D4 isn't simply a batch of cleverly assembled parts. Indeed, the quality of the components used in the woofer are also top notch. From the top trim plate that is designed to accept an optional mesh grille, to the rubber surround, the mineral-filled poly cone, the eight-layer copper coil wound on a Kapton former, and the aluminum alloy dust cap that serves as part of the woofers cooling circuit, the JL Audio 10TW3-D4 deservedly screams high-end. Amplifier connections are made via clearly-marked and solidly-mounted spring loaded terminals on each basket spoke that easily accept ten gauge wire. Thanks to the innovative design, the woofer tinsel leads are solidly epoxied to the inside of the concentric tube structure, instead of being made to flex with the suspension. There is even a pre-fitted foam sealing gasket applied to the frame mounting surface to ensure a good seal to the enclosure baffle.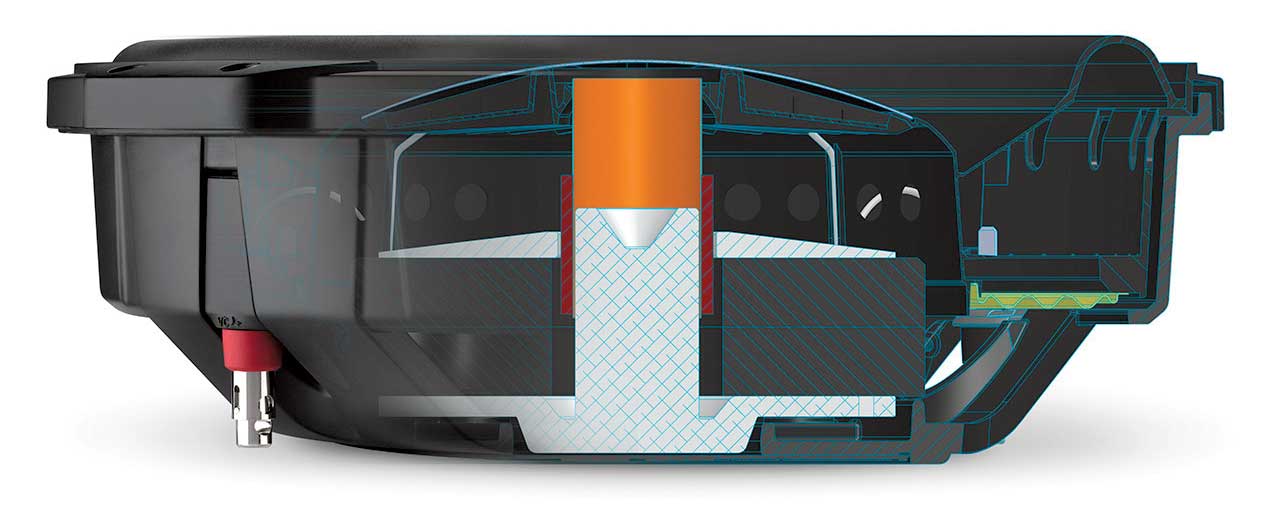 Listening
It's no secret that JL Audio makes some of the most musical sounding subwoofers available. For my evaluation, Manville Smith, JL Audio's VP of Marketing sent along one of their small, well-made sealed enclosures. And I do mean small – it's a mere 0.5 cubic feet in internal volume! I have high expectations of the 10TW3-D4 sitting down to audition it, but I am worried that the tiny enclosure will choke off its performance. But I'm quickly shown the sonics are nothing short of excellent. The bass output is smooth and deep and has that excellent musicality JL Audio is famous for. Kick drum notes have impact and accuracy that I didn't expect from such a small-sized woofer system. The timbre of the bass is almost perfect, and it makes listening to the details in drum and bass work a lot of fun. My reference system is equipped with an amplifier capable of easily exceeding the woofers recommended 400 watt maximum power levels, and I have to admit I did that (albeit briefly) a few times during this two hour session; but the 10TW3-D4 took it all in stride without complaint. I don't generally make absolute statements in my reviews, but I can say with all sincerity, this is the best sounding 10-inch woofer in a one-half cubic foot box I've ever heard.
The laws of physics always apply, and where I did find the system wanting a bit was in overall SPL. Part of that can be blamed on how good it sounds, because it simply makes me want to turn it up! The 10TW3-D4 probably gives up a couple of dB of overall output to a standard 10-inch with a 50% larger enclosure, but then you have a standard-depth woofer in a bigger box, and aren't solving the problem this woofer is so incredibly good at addressing.
On the Bench
The next morning after the woofer had cooled and normalized, I move into the lab and fire up my Klippel analyzer to measure the small signal parameters of the subwoofer. I'm happy to report that my measured data is within a few percent of the published specifications, which says a lot about the level of quality control JL Audio has in their Florida-based facility.
JL Audio 10TW3 10" Woofer
Measured Specifications
Coils in Parallel
Revc = 2.36 ohms
Fs = 33.1 Hz
Sd = 0.036 M²
Vas = 16.8L or 0.59 Ft³
Cms = 0.092 mm/N
Mmd = 239.4 g
Mms = 247.1 g
BL = 13.64 T•M
Qms = 4.777
Qes = 0.660
Qts = 0.621
Levc = 3.49 mH
No = 0.092 %
SPLo = 81.8 dB
EBP = 50.15
Quick Tech Specs
Power Handling: 400 watts RMS
Frequency Range: 20 Hz – 300 Hz
Sensitivity: 81.8dB/SPL @ 1.0 W (1.414 V @ 2 ohms)
Nominal Impedance: (2) 4 ohms coils
Conclusions
The JL Audio W3 woofers have earned a reputation for excellent sound quality, tonal accuracy and reliability. This shallow version appears to not only be able to uphold that tradition, but perhaps build the reputation of providing quality bass in places nobody expected a true high performance woofer system to ever fit.
If you are tight on space, but demanding when it comes to the quality of your music, drop by your local JL Audio dealer and ask to audition one of these babies for yourself. You can thank me later. For more information on the JL Audio 10TW3-D4 and all the other JL Audio products, you can check them out online, at www.JLAudio.com.