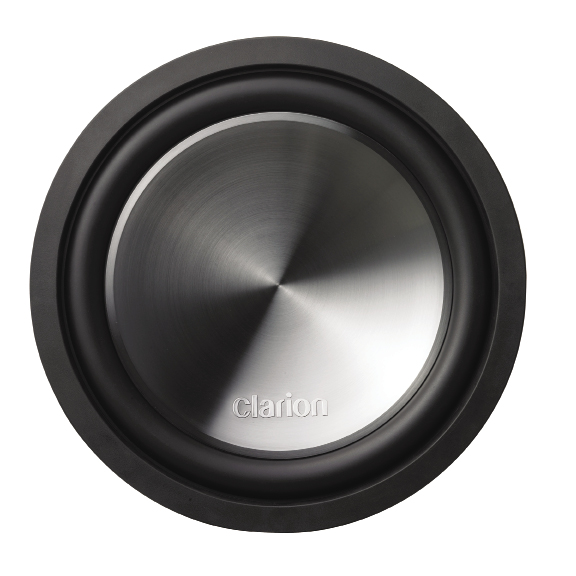 Each year for the last 15 or so years, I have evaluated somewhere between 50 and 100 subwoofers per year. I've seen subs from virtually every brand, some of which are still going strong, while others are no longer in business. But no disrespect intended, when I think of a high performance subwoofer, the Clarion brand doesn't come readily to mind. That is, until now. The new WQ3010D subwoofer from Clarion is definitely going to change that perception. Clarion has been working hard and listening to feedback from their customers, and it shows, across their entire product line. With great looks and a MSRP of only $199.00 (U.S.) the new dual voice coil 12" driver will fit almost any budget. And as I was to find out, when it comes to performance, it takes a backseat to very few woofers anywhere near its price.
Features and Construction
The Clarion WQ3010D is a 12" dual voice coil woofer, utilizing a stamped steel basket. The woofer is very nicely finished, with a spun aluminum look cone, although the cone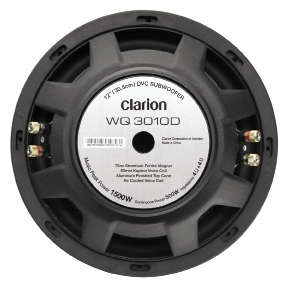 you see is really a full diameter concave dustcap, and is actually formed of injection molded polypropylene, with the Clarion logo embossed in it. Under the cosmetic dustcap, the cone itself is molded from fiberglass reinforced paper. The basket is finished in a textured matte black powdercoat, and uses beefy gold plated screw type binding posts that will also accept banana style plugs. A custom tooled rubber gasket provides an air tight seal and does double duty as a method to hide the mounting screws, for a clean finished appearance. It's also reversible, if you wanted to mount the woofer with the motor showing. On the motor side, another custom tooled rubber boot trims out the magnet assembly. The magnetic material Clarion chose for this woofer is 76 ounces of Strontium Ferrite, for greater magnetic density than standard ceramic magnets. The WQ3010D uses a vented pole piece to reduce internal pressure build up at high excursion.
Getting into the rest of the business side of the woofer, the tinsel leads are rubber insulated and attached through the cone neck to the 2" 4 layer copper voice coil, which is wound on a Kapton former. A single linear type cotton spider provides the mechanical stability for the lower side of the cone assembly, while a wide butyl rubber surround adds stability and compliance to the top edge of the cone. All the components of the woofer are held together via specialized adhesives, and are treated to withstand ultra-violet light damage.
Listening
After break in, following the recommendations in the owner's manual, I mounted the woofer in a 1.25 cubic foot sealed enclosure, and connected it to my reference system. I began with the -24dB/Oct subwoofer crossover at 125Hz, but later found that I preferred a setting between 80 and 100Hz. With the coils wired in parallel for a 2 ohm load, I sat down and began auditioning the WQ3010D. Immediately I noted the prodigious output from the Clarion woofer. This thing plays LOUD, and doesn't need a lot of power to do it. But from my perspective, while loud is good, a woofer has to sound good too. No worries there, the bass was deep, tight and well defined. One of the tracks I listened to was "My Maria" by Brooks and Dunn. The kick drum in this track is very well recorded, and has excellent definition. On a good system you can hear the attack as the batter strikes the drumhead, and the full, warm resonance of a properly tuned bass drum. The WQ3010D reproduced this very well, and to be honest, it's been a while since a woofer this modestly priced has done so.
As my listening continued, I grew more impressed and surprised with the performance of this upstart woofer. I noticed that in my chosen enclosure, the bass was very linear, meaning I did not have to increase the volume to hear the bass detail, and when it got louder, the woofer did not get boomy or sloppy sounding. From hip hop to classical, rock to country, the Clarion WQ3010D simply reproduced the recordings I played, without strain or complaint. Even when pushed hard on bass heavy music at high power levels, it simply played on, and asked for more.
Read on for Full Results