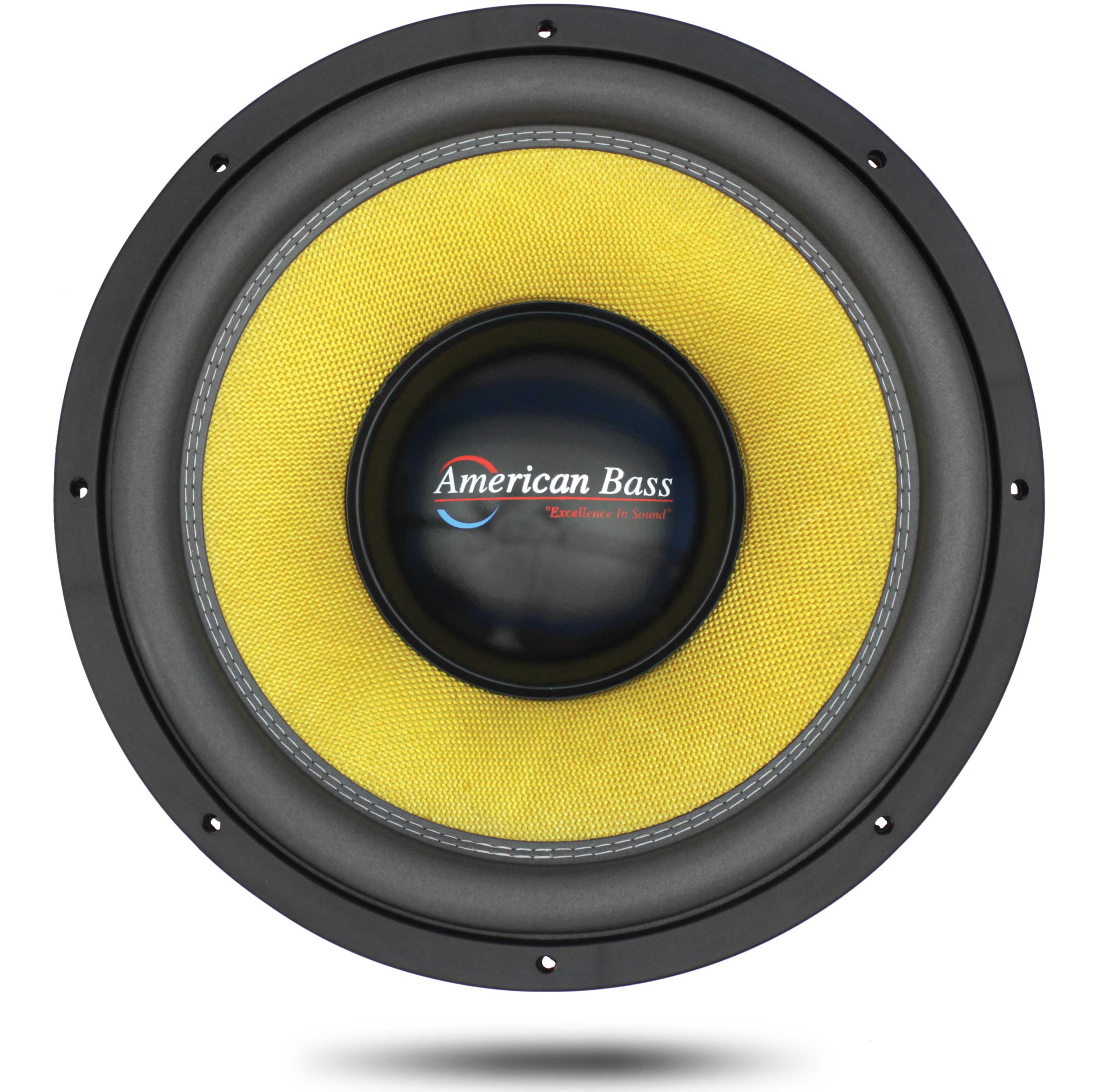 If you are into SPL contesting, you probably noticed a winning vehicle sporting American Bass products. Established in 1991 and based in Maple Heights Ohio, American Bass is a widely-recognized brand in the staging lanes at all levels of competition. It has been responsible for setting several world records in dB Drag Racing, USACi and MECA competitions over the years.
We've reviewed several American Bass products here at PASMAG, but this time we are looking at the meanest, baddest twelve-inch woofer they offer – the VFL-COMP 12D1. If you understand anything about model numbers, this is a twelve-inch, dual one ohm voice coil woofer, designed for maximum power development in the SPL lanes. I'll let you decide what VFL stands for on your own.
Features
This is a massive woofer, tipping the scales at almost sixty pounds! The huge ten-inch diameter, 450-ounce magnetic motor is responsible for about half its total weight. The rest comes from the rugged cast-aluminum basket, the four-inch flat-wire coil, and black-anodized steel top and bottom plates, which provide voice coil venting and heat dissipation. American Bass is proud to point out that this coil is wound in the U.S., on a vented aluminum former to improve cooling and maximize reliability under extreme conditions.
How extreme? The VFL-COMP 12D1 is rated for 2,000 watts of continuous power, and 10,000 watts peak!
Everything about the woofer is designed for extreme SPL contest use, from the multiple Nomex spiders used to control excursion and keep the coil aligned, to the outer diameter of the cone – which is double-stitched to a high-excursion, low-compliance foam surround. The voice coil is mated to a non-pressed pulp paper cone, strengthened by yellow colored woven fiber laminated on top of the paper cone. The dust cap is also incredibly strong – necessary when building the type of pressure needed to set world records. Supplying the electrical signal to the low-impedance one-ohm coils takes some serious conductors, so the woofer is outfitted with eight-gauge copper cables, strain relief-tied to the basket. From there, the current is routed through high-current tinsel leads (double the amount - four per coil) which are double-stitched to the spider to prevent tearing.
Everywhere you look this woofer is ruggedly designed and built to take a beating. It also comes with a rubber gasket/trim ring to ensure a proper seal to the enclosure baffle, for a clean finished look.
Listening
Obviously, the VFL-COMP 12D1 is not intended for normal listening, but I want to see how it works in that role. Since the woofer does not come with instructions (which is normal for a competition intended product), I decide to break it in, measure the parameters and build an enclosure for it. After exercising it, I calculate it would work reasonably well for music in a vented enclosure of about two cubic feet, tuned between 35 and 40 Hz - which I already happened to have. Make no mistake, with a fairly-high resonant frequency and low compliance and low Qes, this woofer will not work in just any sealed enclosure. Obviously for pure SPL applications, you will require a more specialized enclosure.
The listening session proves interesting – this woofer can definitely be used for listening to music. The output from the VFL-COMP 12D1 is deep and authoritative, with a tight, controlled sound. Bass drum impact is very good, but the woofer lacks a bit of detail when listening to plucked bass or double bass, as heard on Imelda May's hit Johnny Got a Boom Boom.
Using an amplifier capable of about 1,500 watts into two ohms and the one ohm coils wired in series, I don't even come close to finding its power limit. This thing will handle gobs of power and come back for more.
Tech Specs
Actual Measured Thiele-Small Parameters
American Bass VFL-COMP12D1
Coils in Parallel
Revc= 0.501 ohms
Fo= 34.109 Hz
Sd= 0.0537 M²
Vas= 40.6 L or 1.434 Ft³
Cms= 0.991 mm/N
Mmd= 212.463 g
Mms= 219.619 g
BL= 8.782 T•M
Qms= 3.146
Qes= 0.305
Qts= 0.278
Levc= 0.245 mH
No= 0.511 %
SPL= 89.098 dB
EBP= 111.8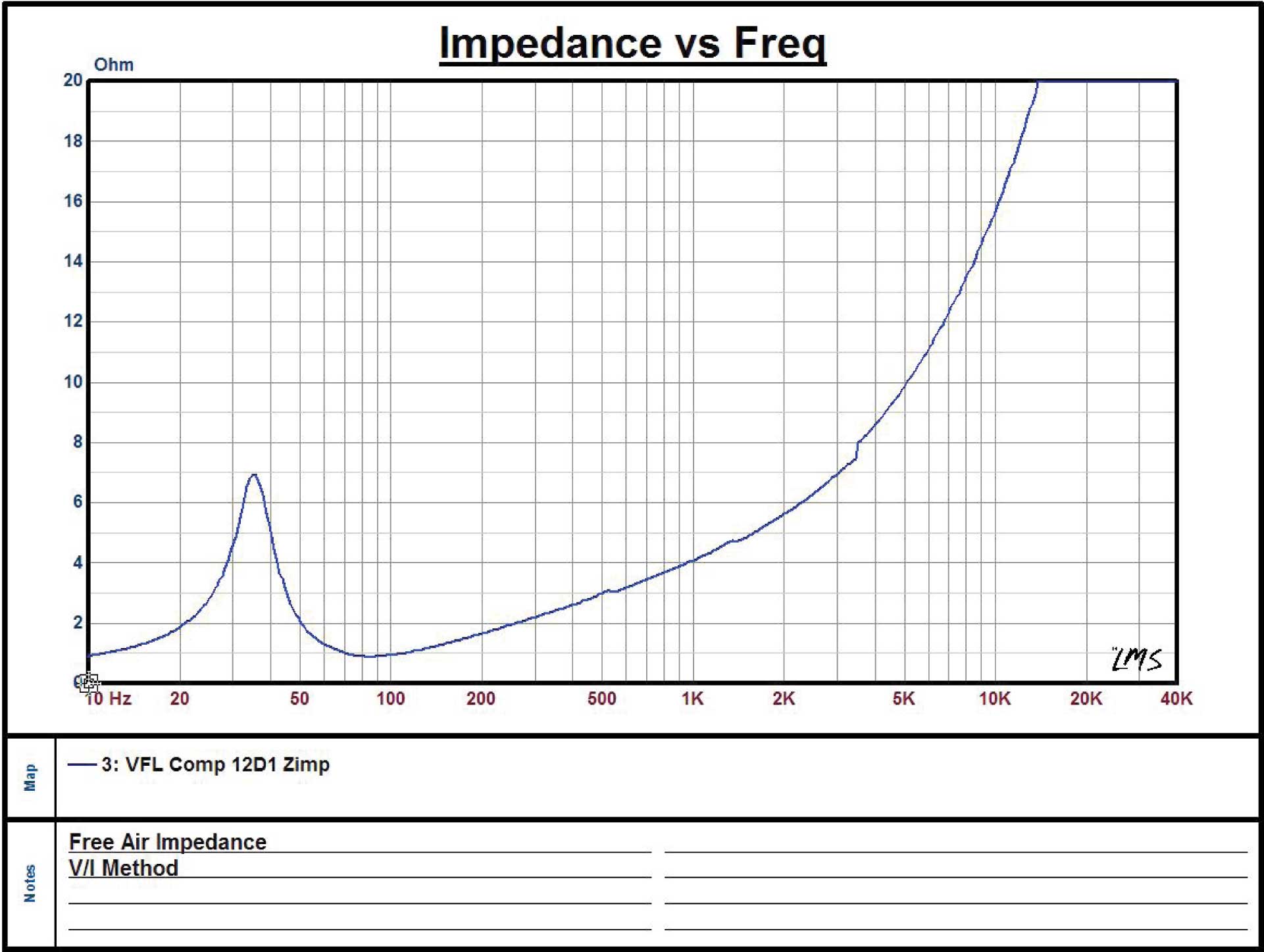 Quick Tech Specs
Power Handling 2,000 W RMS / 10,000 W (Peak)
Frequency Range 20-400 Hz
Sensitivity 89.1 dB/SPL @ 1.0 W
Nominal Impedance 1 ohms coils (2)
Application (Music) 1.5 to 2.5 cubic foot vented enclosures
Application (SPL) Custom design for specific vehicle
Conclusion
If you are serious about making big SPL, you probably know the American Bass VFL series of woofers are among the best you can buy. But if you are a casual SPL contestant and need a woofer you can live with musically, the VFL-COMP 12D1 is still a good choice. The woofer proves it can compete at the highest level in SPL wars, while also sounding good on the drive home with the trophy. For more information and pricing, contact your local American Bass dealer.