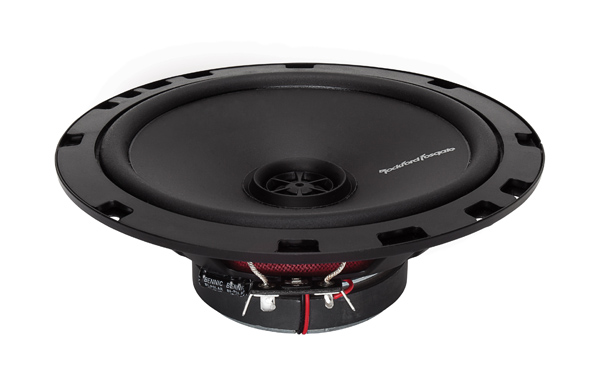 Rockford Fosgate, the industry leader in high-performance car audio systems, announced that its upgraded 2013 Prime full range speakers are now shipping.
"The next generation of Rockford Fosgate Prime coax speakers provides both performance and an ultra-efficient design for our customers," said Theresa Hephner, Rockford senior director of product development and marketing. "Prime loudspeakers are a perfect factory replacement for any vehicle, offering Rockford Fosgate sound quality at a fantastic value. Coupled with our Punch and Power series, we can almost guarantee that we have a full range speaker for every budget and virtually every application."
The Klippel-verified 2013 Prime series offers a notable increase in power handling, and, on the 2-way drivers, a horn loading design that provides a phase correct relationship with the mid and tweeter, providing better off axis sound. The 3-way loudspeakers feature a noticeably shallower tweeter mount of a half inch that not only provides for a cleaner cosmetic finish, but also allows the entire frame to fit more easily behind factory door panels. Grills, speaker wire, and connectors are included with all models.
Klippel testing, validation, and certification offers a number of benefits for the manufacturer, industry, and, ultimately, the customer. During development, Klippel analyzers can uniquely and dynamically measure the behavior of transducers in the large signal domain in order to determine its performance and reliability. It has the ability to capture voltage, current, power, and voice coil temperature on multiple channels over time with any stimulus. In production, SPL, T/S parameters, coil position, and suspension non-linearity can now all be verified on every unit and batch manufactured. The result is a product manufactured to Rockford's precise specifications that typically exceeds industry standards.
2013 Prime Full Range Speaker Specs and US Pricing:
Model Size System Power Handling Mounting Depth MAP
R14X2 4-inch 2-Way 30 Watts RMS 60 Watts Peak 1.7 inches $49.99
R1525X2 5.25-inch 2-Way 40 Watts RMS 80 Watts Peak 1.9 inches $59.99
R165X3 6.50-inch 3-Way 45 Watts RMS 90 Watts Peak 2.1 inches $59.99
R1675X2 6.75-inch 2-Way 45 Watts RMS 90 Watts Peak 2.1 inches $59.99
R168X2 6in X 8in 2-Way 55 Watts RMS 110 Watts Peak 2.5 inches $69.99
R169X2 6in x 9in 2-Way 65 Watts RMS 130 Watts Peak 2.8 inches $69.99
R169X3 6in x 9in 3-Way 65 Watts RMS 130 Watts Peak 2.8 inches $79.99
Prices and specs subject to change without notice.
To see Drew Kallen, Director of Loudspeaker Engineering, present all of the new 2013 speakers please go to:
http://www.youtube.com/watch?feature=player_embedded&v=6otNpbacHxA
For more information on Rockford Corp., please visit www.rockfordcorp.com.