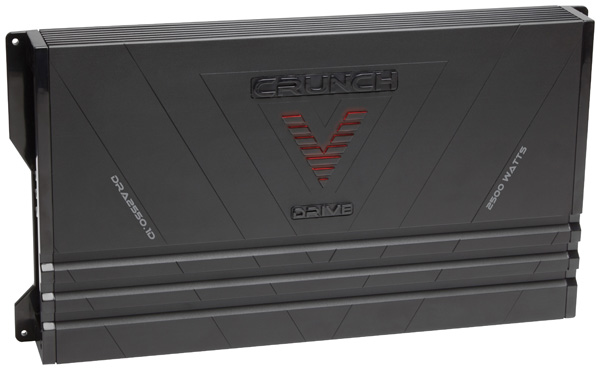 Crunch revealed the new line of murdered amplifiers, V-Drive, at the CES in Las Vegas. Murdered is an automotive term for "black on black on black" referring to the paint and over all cosmetic presentation.
Alden Stiefel, President and CEO of Maxxsonics, says, "The new V-Drive amplifiers are Crunch's top tier product. The "murdered" design and illuminated "scrolling" V are a show stopper."
According to John Studley, VP of Product Development at Maxxsonics, The V-Drive amplifiers utilize the new Speed-FET output devices for outstanding musical clarity in our A/B stereo amps and the new Super V™ Drive D-Class mono blocks.
Mr. Studley said, "These are some of the most powerful amplifiers ever designed for the Crunch line up."
Crunch V-Drive Amplifiers

Model

Description

MSRP

Two Channel Amplification

DRA850.2

2 x 200 @ 4 Ohms, 2 x 400 @ 2 Ohms, 800 WATTS x 1 @ 4 Ohms Bridged

$ 149.99

DRA1150.2

2 x 275 @ 4 Ohms, 2 x 550 @ 2 Ohms, 1100 WATTS x 1 @ 4 Ohms Bridged

$ 179.99

DRA4050.2

2 x1000 @ 4 Ohms, 2 x 2000 @ 2 Ohms, 4000 WATTS x 1 @ 4 Ohms Bridged

$ 289.99

Four Channel Amplification

DRA1050.4

4 X 125@4 Ohms, 4 X 250 @ 2 Ohms, 2 X 500 WATTS @ 4 Ohms Bridged

$ 179.99

DRA1450.4

4 X 175@4 Ohms, 4 X 350 @ 2 Ohms, 2 X 700 WATTS @ 4 Ohms Bridged

$ 199.99

DRA2450.4

4 X 300@4 Ohms, 4 X 600 @ 2 Ohms, 2 X 1200 WATTS @ 4 Ohms Bridged

$ 249.99

DRA4050.4

4 X 500@4 Ohms, 4 X 1000 @ 2 Ohms, 2 X 2000 WATTS @ 4 Ohms Bridged

$ 349.99

Amplifiers

DRA1850.1D

1 x 450 @ 4 Ohms, 1 x 900 @ 2 Ohms, 1 x 1800 WATTS @ 1 Ohm D Class

$ 319.99

DRA2550.1D

1 x 625 @ 4 Ohms, 1 x 1250 @ 2 Ohms, 1 x 2500 WATTS @ 1 Ohm D Class

$ 349.99

DRA3250.1D

1 x 800 @ 4 Ohms, 1 x 1600 @ 2 Ohms, 1 x 3200 WATTS @ 1 Ohm D Class

$ 389.99
Amp Features
V-Drive technology powers these amplifiers with beefed up circuitry delivering clean and powerful music power

SPEED-FETS is the Crunch standard for MOSFET circuitry, delivering music quality with power

AB Class SEPP (Single Ended Push Pull) 2 and 4 channel amplifiers for the sound quality required for great musical power.

V-Drive 3P Power supply with Twin-Coil Isolation Design (TCID) power supplies for maximum efficiency in converting 12volt power into huge watts through the amplifiers
Exponential Variable-Power Supply (EXVP) for efficient DC to AC conversion