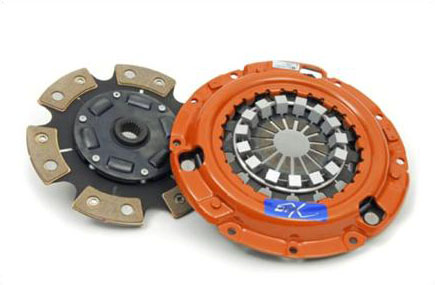 Centerforce ­­­­­­­­­­­­­­­­­strives to provide top of the line products in today's market for all performance levels. To do so, Centerforce uses patented processes and constantly tests different materials and designs to find the best combination.
The DFX series by Centerforce, the best in extreme-performance single disc clutches, is now available for 1994-2005 Mazda & MX-5 1.8L engines w/ 22 spline transmissions. The DFX part number: 01580019 (Pressure Plate & Disc). This new clutch assembly replaces the current assembly with a higher holding capacity pressure plate and ceramic button style disc, designed for a direct bolt in replacement. Also available, is new DFX part number: 11580019 (Pressure Plate Only) & 23543056 (Disc Only).
The DFX series is the latest of single disc extreme-performance clutches from Centerforce. DFX scores big, not only with holding capacity and strength, but also provides some of the best drivability from a race inspired clutch. The DFX performance clutch system utilizes the patented Centerforce centrifugal weight system for maximum grip, a patented Ball Bearing design for a light pedal and quick release, Nodular Iron pressure plate rings and reinforcements designed to help prevent drive strap breakage and safety. The paddle, or button style disc, has been through constant testing of different friction materials and hub designs to bring the optimal combination available. Dual Friction ® assembly is also available upon request. Because of the aggressive nature of DFX discs, one may experience some chatter.
Please call a Centerforce dealer or Centerforce directly with questions at (928)771-8422 or visit them online at www.centerforce.com.