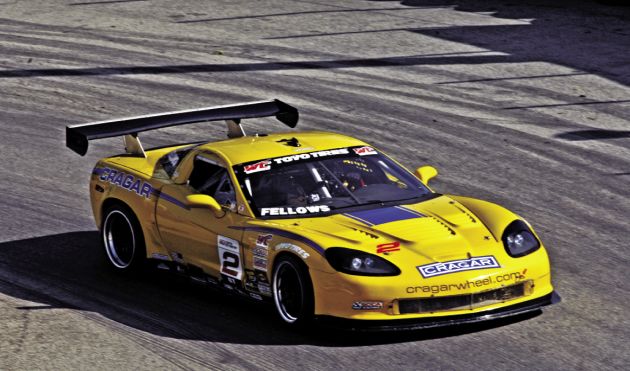 GT CLASS
Kuno Wittmer's race weekend was nearly perfect in the No. 13 Dodge Motorsports Dodge Viper, as he earned the pole with a new track record, and cruised to victory by 8.475-seconds.
With a clear vision of the first turn from his front row starting position, Wittmer rocketed away from the standing start and had opened up over a full second lead on the first lap. That gap continued to grow, and at lap 16 was at 7.271 seconds.
"The most important thing was to get off the line," Wittmer said. "I had Brandon [Davis] behind me and I know he has two years of experience with the standing start in his car. I only have three races now in the Viper. On top of that, we had the two all-wheel-drive Volvos sitting second and fourth. But, they didn't really get off the line."
Leading by 10.579 seconds by lap 20, Wittmer was able to cruise to the finish.
Wittmer averaged a record 80.787 mph over the 29-lap, 57.072-mile race that ran without a full-course caution period. It was the 26-year-old's fifth career World Challenge victory, but his first in the GT class. He also turned the fastest lap of the race at 1:25.797 (82.576 mph), a new Long Beach race record.
Dino Crescentini, of Manhattan Beach, Calif., sliced his way through the GT field in his No. 4 Centric Parts/Stoptech/GMG Porsche 911 GT3 from his sixth starting position to finish as the runner-up to Wittmer. Crescentini made up two positions by the first turn, and held that position until lap 8 when he was passed by Ron Fellows in the No. 2 Carlisle Companies/Cragar Chevrolet Corvette and dropped to fifth.
On lap 17, Crescentini began his charge. He passed Fellows for fourth, and then picked off Boris Said in the No. 3 Applied Comp Solutions/Sun Microsystems Ford Mustang GT for third on lap 20. He slipped past Brandon Davis in the No. 1 Applied Comp Solutions Ford Mustang GT for second on lap 23, but wasn't able to significantly close the gap on Wittmer.
The charge through the top-five earned Crescentini the MTM Special Ops Best Move of the Race award.
The runner-up finish did boost Crescentini into the GT Championship lead with 292 points, one point ahead of Wittmer and just two ahead of Global Motorsports Group teammate James Sofronas.
Davis, of Huntington Beach, Calif., held onto third position in his first GT race of the season. Davis finished on the podium in Rounds One and Two in St. Petersburg in the
GTS class.
GTS CLASS
Tyler McQuarrie, of Walnut Creek, Calif., won the GTS class race of the Toyo Tires World Challenge at Long Beach Presented by Bondurant. Nick Esayian, of San Diego, Calif., was second.
McQuarrie, making his World Challenge debut, cruised to a 49.535-second flag-to-flag victory in his No. 19 LPL/DRS/Switcars/LCS/Dayco/M&T Lotus Exige S.
Starting on pole, McQuarrie got a jump on the field on the first lap, aided in part by the poor luck of Peter Cunningham in the No. 43 Acura/RealTime Racing Acura TSX. Following contact with another car, Cunningham's hood opened into the windshield of his Acura on lap one, forcing him into the pits that put him a lap down and ended any challenge the Series' all-time wins leader could have given McQuarrie.
"I had a great start and actually got by a couple of GT cars," McQuarrie said. "I didn't have a working radio in the race, so I didn't actually realize who was behind me. I looked up at the screen on the second lap and saw one of the Acuras head to the pits with the hood up. I dialed it back just a little bit when I felt I could."
Cunningham, the GTS points leader, finished sixth.
The GTS win was the first time a Lotus had won a race of any kind at Long Beach since Mario Andretti won the 1977 Formula One event in a John Player Lotus.
Acura/RealTime Racing's Esayian finished a distant second to McQuarrie in the No. 34 Acura TSX for his third podium finish in as many races on the season. Michael Pettiford, of Louisville, Colo., finished third in the No. 41 Go4It Racing Schools/Hawk Chevrolet Corvette in finishing third.
Cunningham remains the GTS Drivers' Championship leader with 358 points over Esayian (317) and Pettiford (275).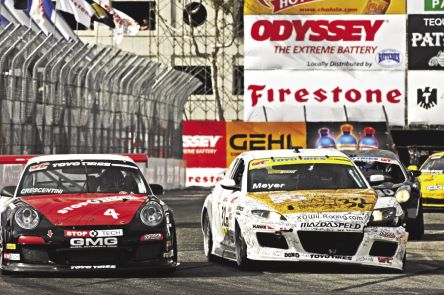 TC CLASS
Robert Stout, of Brownsburg, Ind., won the Touring Car class race at the Toyo Tires World Challenge at Long Beach Presented by Bondurant. Eric Meyer, of Indianapolis, finished second.
Stout scored a big win for Scion in front of a "home" crowd. At 18 years old, one month and 16 days, Stout became the youngest winner in World Challenge. The youngster started second in class in the No. 18 DG-Spec/Scion/TRD/Lucas Oil/Scion tC, but had grabbed the lead from polesitter Nick Wittmer by the first time past the line.
By lap seven, Stout's lead was stretched to over 10 seconds and he raced to a 19.666-second margin of victory.
"I felt like I got off to a decent start," Stout said. "I worked my way around Nick [Wittmer] a lap or so after the start. I heard he had some problems over the radio. I knew I had a pretty good gap over second place at that point and I tried to take it as easy as I could."
Stout was followed across the stripe by Eric Meyer, of Indianapolis, Ind., in the No. 32 XOWii/Samaritan's Feet/Delvira Mazda RX-8. Meyer battled with Stout's teammate, Dan Gardner, in the No. 36 DG Spec/Scion/TRD/Lepper&Associates Scion tC for the first half of the race, but inherited the second position for good on lap 15 when Gardner's day ended after a brush of the wall.
Montreal's Nick Wittmer, the younger brother of GT race-winner Kuno, recovered from an early flat tire after contact with another car to finish third.