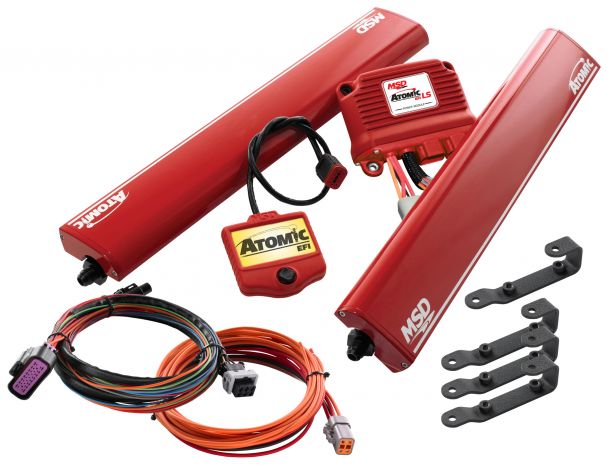 The GM LS is a legendary engine in a multitude of applications, from hot rodding to sports car racing, muscle cars and drifting. Its diminutive size and raw power makes it one of the most sought-after engines for conversions, and for anyone who's ever completed an engine swap, it can lead to its fair share of headaches.
The Atomic LS from MSD is designed to make your engine swap easier than ever by eliminating the bulky ECU and complex wiring configurations that come with the job. Instead, the Atomic LS incorporates all of the electronics right into the fuel rail. Bolting the EFI/ECU directly onto the engine in plain sight drastically reduces the wiring of an LS fuel-injection system, giving your engine a clean look that is easily serviceable.
The aluminum fuel rails house all the EFI electronics necessary, while the interior diameter of each rail is equivalent to a -8AN line to feed enough fuel for virtually any engine - even nitrous or forced injection -
up to 1,000 horsepower. The result is a high-performance EFI that is more installer- and user-friendly, without any drawbacks of traditional systems.
The ECU communicates via MSD's proprietary, patent-pending CAN-Bus technology, connecting the system using the same factory connectors as the engine block. Each bank of the Atomic LS has only the necessary connectors for each side; the crank sensor circuit even recognizes whether the engine is a 24- or 58-tooth trigger wheel, resulting in one less programming step!
In fact, the system is so well-designed that a computer isn't necessary at all – the Atomic LS/ECU rail kit is completely self-learning. Using the handheld programmer, you can easily program the ECU for different temperatures for up to two cooling fans, advance or delay ignition timing by
10 degrees over the factory setting, select a rev-limit through fuel feed or ignition cutoff, adjust air-ratio targets, WB02, or even nitrous inputs. When the engine is setup for optimal performance, you can either unplug the unit or keep it connected for real-time readouts of each item. With or without programming experience, tuning a swapped LS engine has never been easier.
The Atomic LS/ECU fuel rail is the perfect complement for anyone searching for an easy install, a show-winning engine build or even motorsport teams that want to reduce wire buildup. As a testament to its durability, Formula Drift driver Nikolay Konstantinov uses the very same system on his 480 horsepower Nissan S13 240SX/LS2 engine.
Whatever the application, there is an Atomic LS/ECU rail kit for you. Each model is designed to operate with a specific engine/intake manifold (i.e. LS2 or LS7 platform) and has an optional coil cover accessory to customize your system even further.