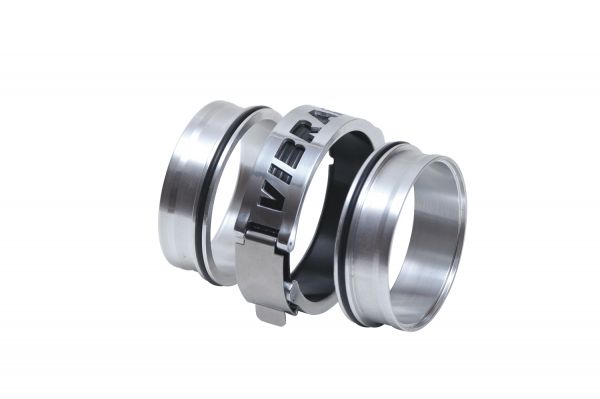 The new VANJEN Clamp System is the latest in flexible, banded clamp connector solutions from Vibrant Performance.
Constructed entirely from T6061 aluminum, and featuring a unique Quick Release clamping mechanism, the Vibrant VANJEN clamp provides a leak-free, modular connection that is ideal for pressurized air applications. Capable of withstanding up to 100psi, operation temperatures up to 400 deg.F, the VANJEN Clamping System is ideal for turbo intake plumbing.
Consisting of 2 weld fittings (with o-rings), one union sleeve, a safety pin and a spring loaded clamp, this assembly is designed specifically for automotive use.
Once assembled, the VANJEN clamp system provides a flexible connection that withstand vibration, movements along it's axis, lateral misalignment and angular deflection (up to 12 des.).
Each VANJEN full assembly includes:
-         One, Quick Release Clamp (with safety pin)
-         One pair, Aluminum Weld Fittings
-         One, Hard Anodized Aluminum Union Sleeve
Part #                                       Description
12505                                      Full Assembly for 2.5" O.D. Tubing
12506                                      Full Assembly for 3" O.D. Tubing
12507                                      Full Assembly for 3.5" O.D Tubing
12508                                      Full Assembly for 4" O.D. Tubing
Please note: Fittings, Union Sleeve and Clamps can also be purchased separately.
For more information about this please visit our website at www.vibrantperformance.com