Written by Grant Smith /// Photos By: www.turbokits.com | 14 May 2010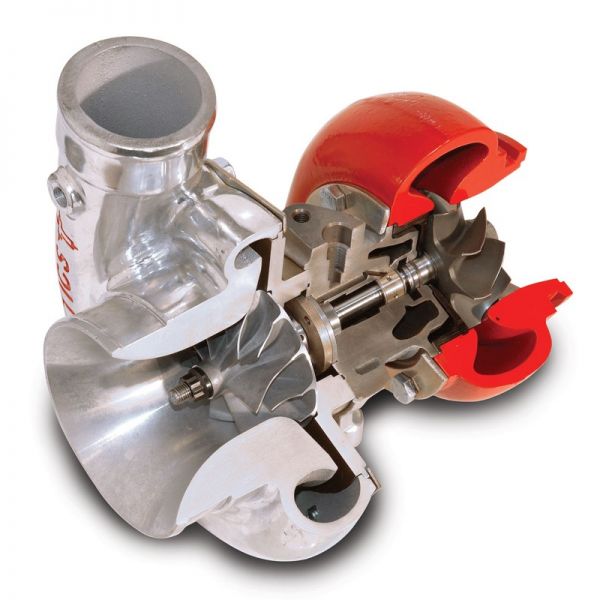 If you are looking to initiate a lengthy conversation with a turbo industry professional, just ask them what turbo is best for your car. Gone are the days of picking from a meager selection of exhaust and compressor housing combinations to come up with a mediocre match to feed your boost hungry engine. Recent strides in turbo engineering and development now enable perfect turbo matching to almost any horsepower goal, engine displacement or boost level imaginable! Experimenting with lighter, stronger materials has yielded increases in efficiency levels, turbo life, and horsepower development in today's intricate gasoline and diesel engines. While all of the new housing options, A/R configurations, trim possibilities and wheel designs are enough to make your head spin, it is nice to know there are "boost gurus" to explain it all to you like the crew over at www.TurboKits.com
Although pairing a turbo to a specific application does take expertise, there are some basic questions that you need to consider before going turbo hunting. First, you must determine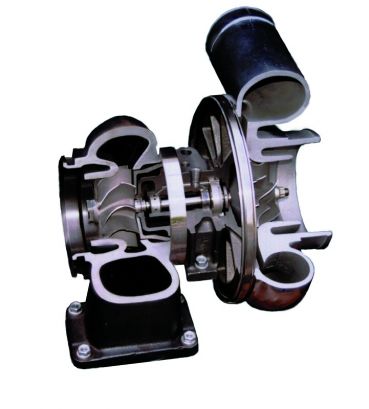 a realistic horsepower goal. In many cases, installing a turbo on a naturally aspirated engine is the ultimate intent. Generally speaking, stock engines can internally support horsepower gain of roughly 50%-60% without drastic modifications. Consider an engine that is 200 HP in its factory form. Sure it would be nice to see 550, 575, 600 HP from that motor, but without performing extensive internal mods, engine management alterations, and fuel system modifications, such gains are not realistic. Now that we have determined we will end up in the 300-320 HP range once turbocharged, we can start to choose the exhaust and compressor housings that will best suit our needs.
Determining the vehicles intended use is the second part in the quest for the perfect turbo. Taking the car auto-crossing? Fast spool and throttle response with a higher concentration on added low-end torque would lead you to selecting a turbocharger with a smaller turbine housing. By choosing the smaller housing, you are restricting the maximum horsepower potential of the engine because of the increased amount of back pressure in the housing, but throttle response will be optimized. In contrast, if the car is being prepped for track days, a larger turbine housing would be recommended since higher horsepower numbers take greater importance over low-end torque.
Turbine housing A/R or "Area Radius" and "Trim" are the main measurements in determining housing size. The exhaust housing A/R is described as the amount of exhaust gas energy it takes to effectively spool a turbo. Take a turbo with a .48 A/R exhaust housing and mate it to a 1.6L single overhead cam motor. The limited exhaust gas energy supplied by the small displacement motor will still effectively spool the turbo at a respectable engine RPM due to the increased velocity of exhaust into the smaller turbine inlet. Match the same 1.6L motor with a .82 turbine housing and the throttle response and spool time will slow due to reduction in exhaust gas energy into the turbine wheel. The smaller .48 A/R housing would be the optimum match for an autocross vehicle while the larger .82 housing would be best for track battles. Trim is a mathematical ratio used to describe both the turbine and the compressor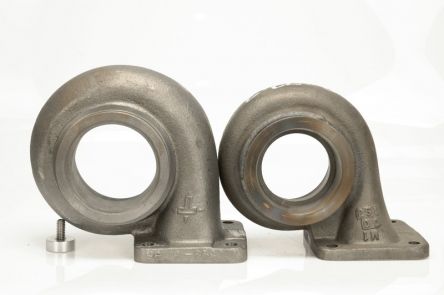 wheels. The trim equation is determined by calculating the relationship between the inducer and exducer diameters of the given wheel. Similar to the A/R rating of the exhaust housing, the higher the trim ratio, the more air flow the combination can support.
Now that we know our target horsepower and intended use, we are ready to select the "frame" or "series" turbo that would work best for the project. Small frame turbos will likely utilize an internal wastegate for boost regulation. The compact size of the turbo is ideal for smaller displacement engines where exhaust gas energy and mounting space is limited. An internally gated exhaust housing eliminates the space requirement of larger external wastegates. The T25 turbine inlet flange would be common in this family. Most small frame turbos have the capability of supporting just under 300 HP. Medium frame turbos are popular on street-driven gasoline engines. While these larger turbos can be internally wastegated, they commonly utilize external wastegates to regulate boost pressure. Medium frame turbos are popular when seeking the 200-600 HP level and would often employ a T25 or T3 turbine inlet configuration. Large frame turbos are best matched to sizeable engines requiring massive amounts of air flow. Large displacement diesel powered applications or very high horsepower drag racing vehicles would commonly have a large frame turbo under the hood. A T4 or T6 turbine inlet flange would likely be used with this configuration. A medium frame T3 turbo would be the proper selection for a 300-320 HP project.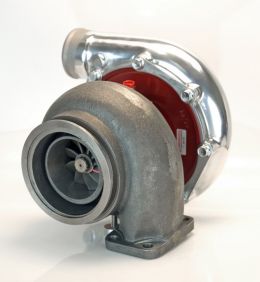 If cost is a factor, you will want to consider your center cartridge options. The CHRA or "Center Housing and Rotating Assembly" would be considered the "heart" of the turbo. There you will find the oil-bathed bearings that support and guide the exhaust and compressor wheel shaft. Non-ball bearing or "journal bearing" turbos are the more economical choice. While they do not often provide the same throttle response or spool time of the ball bearing option, they are less costly to rebuild.
Pick up any issue of Performance Auto & Sound magazine and you will likely see more and more vehicles sporting "snails" under their hoods. The benefits of turbocharging are reaching engines designed for all applications, and manufacturers are continuing to release a greater number of turbo-powered vehicles fresh off their assembly lines. Combine faster spooling, compact turbos that flow massive volumes of air with the new fuel and engine management systems of today's vehicles and we will continue to see small displacement power plants rival horsepower figures that used to only come from monstrous V8 motors of yesteryear. In the age of fuel conservation, emission restrictions, and the continuous rise of gas prices, the replacement for displacement is now turbocharged technology!
Source:
TurboKits.Com
Turbos & Accessories
www.TurboKits.com