Written by Dave Pankew Photos By: www.advancedclutch.com | 05 July 2010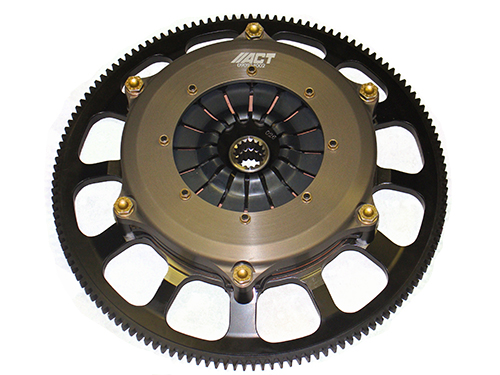 There is no shortage of clutches available on the market today. From a simple OE upgrade to big dog multi-plates, the choices are endless. If you are making stupid horsepower in your Sport Compact, you don't necessarily have to order some obscure part number from Japan to put the power to the ground. There are some great clutches made right here in the good ol' US of A that have logged thousands of laps, drag passes and are used in a wide variety of motorsports.
Advanced Clutch Technology (ACT) of Lancaster, CA has been in the game a long time. Back in the 1990s, the founder saw a real need to service the Sport Compact market. It was growing exponentially, yet no companies had stepped up to develop clutches for the segment. They weren't the imports of yester-year that didn't make enough power to break anything. Nope, these were turbocharged, high revving machines now making three or four times stock horsepower!
Since their launch ACT has been steadily developing their produces and now has a line of multi-plate clutches to compliment an already expansive catalog of over 1200 performance clutch kits and components for more than 700 different applications. If it is a hot platform, they have an application even if the motor never made it here, such as a Nissan SR20 or RB26. However, one of their new products is designed to harness domestic Sport Compact ponies found in the Dodge Neon SRT-4. The car was originally built from '03-'05, but remains hugely popular on the streets making gobs of power. ACT noticed that owners were not stopping in their pursuit of more power and were cranking over 1000whp in some cases, so they decided to develop a twin disc clutch with a high torque rating that will hold on street, strip and track.
The ACT Race twin-disc kit offers is a true race-ready direct bolt-on clutch kit that requires absolutely no modifications. Constructed of sintered iron discs for extreme holding capacity, the ACT twin-disc is rated at 770 lbs/ft of torque! The shifting action is smoother with a forgiving engagement. The twin-disc boasts twice the surface area to clamp hard as well as dissipate heat and improve clutch life. The decrease in rotating mass is also substantial. The stock clutch and flywheel combination weighs in at 31lbs., while the ACT twin assembly is only 15lbs. The 16lb. reduction makes the turbo-4 rev noticeably faster and frees up torque.
Although this is a monster of a clutch, the innovative design has resulted in only a 15% increase in pedal pressure. Not many multi-plate clutches can make that claim. Furthermore, the chatter associated with multi-plates is kept to a minimum and is livable for street use. Each and every clutch pumped out by ACT is dynamically balanced in-house as an assembly, which helps ensure miles of vibration-free (and trouble-free) motoring.
ACT has consistently delivered the maximum holding power through their research and development to maximize load and reduce vibration and flex. ACT is a solid choice for your Sport Compact or Domestic with a massive line of high performance clutches and forged flywheels for the most popular cars, trucks and SUVs.
Source:
Advanced Clutch
SRT-4 Twin-Disc
www.advancedclutch.com