Written by Dave Pankew Photos By: www.motovicity.com | 05 July 2010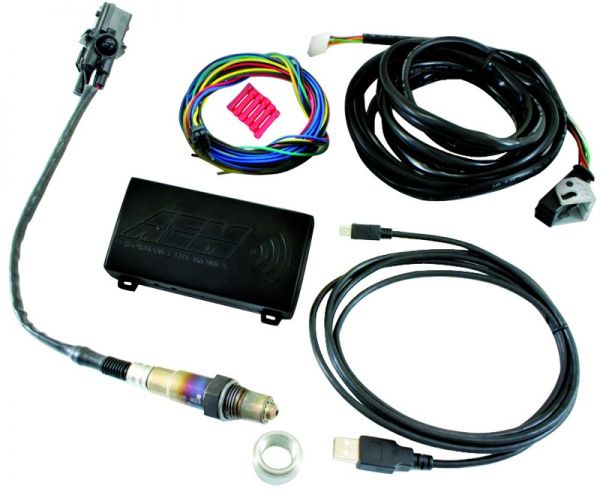 With the whole world going wireless, there seems to be no end to the usefulness of Bluetooth and WiFi. We remember hearing rumors that wireless technology was going to enter the aftermarket and it has finally arrived. Now the tuning world is going wireless like this new product from AEM, the X-WiFi Wideband and EGT Module.
The convenience afforded this new unit means that the signals from the sensors can be picked up by your laptop or smartphone without wires. The X-WiFi is a 3-channel unit, two for EGT and another for the wideband O2 signals. Included with the X-WiFi is a Bosch wideband O2 sensor that reads AFR on all types of fuels such as: gas, methanol, ethanol and E85. The accuracy of the supplied sensor measures within 0.1AFR for safe and accurate tuning. The EGT signals are sent via K-Type sensors, which are optional and measure temperatures up to 1800°F (982°C).
The sensors connected to the X-WiFi relay the 0-5V serial data stream to the AEM EMS standalone or digital dash via USB. The data is also converted to wireless so that any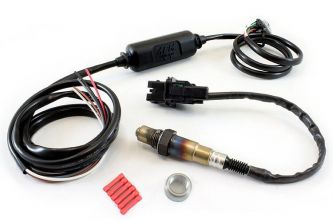 smartphone or laptop can acquire the readings even while standing outside the car! The WiFi has a range of around 100 feet and all of the AFR and EGT readings can be viewed on any standard browser- no extra software needed. The data can be viewed on a regular internet browser so not extra software is needed plus, it can be configured for security using the WEP encrypted password.
Also new from AEM is the Inline UEGO Wideband module. Now in an impossibly small format, the UEGO wideband is a compact module that sends all of the AFR signals where required. Whether it is used to tune an AEM EMS or displayed on an AEM gauge, the unit requires no laptop to display data. Included is the same high quality Bosch sensor that gives accurate readings to within 0.1AFR for all types of fuel including: gasoline, E85, Ethanol and Methanol.
A perfect compliment to the AEM X-WiFi unit and Inline UEGO are the AEM Analog SAE & Metric Gauges. Many tuners prefer the analog versus the digital readout and AEM has responded with a huge line of gauges and styles. The AEM Analog gauges feature 7-color LED displays and interchangeable bezels and faces to tailor the look and backlighting to the interior of your car. All AEM Analog gauges use high precision sensors for the most critical of every engine parameter you can think of.
When it comes to keeping tabs on your engine vitals, AEM has you covered. With innovative wireless units, to compact and high-precision components, AEM electronics is in a class by itself.
Source:
Motovicity
AEM X-WiFi
AEM Inline UEGO Wideband
AEM Analogue Gauges
www.motovicity.com