Written by Dave Pankew Photos by: www.hypertech.com | 05 July 2010
When it comes to exciting front wheel drives a few legends pop into mind: Mini Cooper-S, Integra Type R and Sentra SE-R. However, Mazda has taken their already potent 260hp MazdaSpeed3 to new levels with the latest version, but there is plenty still left in the turbo 4-banger. As we found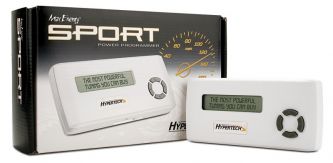 out from Hypertech recently, their gains with the MazdaSpeed3 are the highest we have ever seen with tuning alone. The 5-door is definitely sandbagged from the factory and Hypertech has spent countless hours extracting safe horsepower using their Max Energy tuning software.
Without any delay, let's look at the numbers. The direct-injection 2.3L turbo puts down around 240whp for a baseline but the Hypertech team extracted 64whp more at 6500rpm! This push north of 300whp was no easy task but as Lead Engineer, John Lambert explains, their thorough research and development with the car is really paying off. Hypertech went out and purchased a brand new MazdaSpeed3 and, after the break-in period, got to work immediately. A total of 8000 miles was put on the MazdaSpeed3 for R&D with zero failures on the path to perfecting the Max Energy tune.
Long known for domestic and truck tuning, Tennessee-based Hypertech has stormed onto the Sport Compact scene for many popular platforms. Currently they tune a variety of makes such as Mazda, Honda, Subaru, Nissan and Infiniti and with impressive results. The Mazda, however, is described as a "totally different animal" by Lambert who pointed out that it isn't all about peak-to-peak gains. "We tune the total package, not just 100-percent throttle. We pull boost back in a couple areas for maximum traction through first, second and hit full boost by third gear. Maximum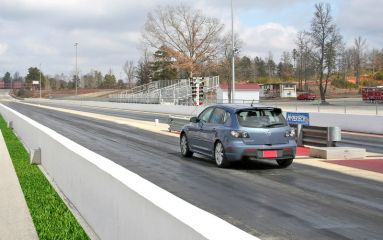 power with daily drivability is our mission," he said.

Many tuners are unfamiliar with setting up drive-by-wire systems and stick to tuning wide open throttle. Hypertech tunes part throttle for the best response under any conditions. They did 1000 dyno pulls on their test Civic Si and only extracted 3whp at peak but the drivability throughout the range was amazing, making for a much better driving experience. Hypertech tests thoroughly in real world conditions as well, which means that there will be no surprises when the air is dense or too hot or any of the other variability is factored in, such as cold starts. When you tune you car with the Hypertech Max Energy, it has been through many real world trials, not just on the dyno.
Tuning of the direct injection drive-by-wire MazdaSpeed3 was challenging. The ECU did not want to be cracked, but the rewards were great once it had been done. Hypertech ships out complete ready to run tunes for your new MazdaSpeed3. What if you have an intake already and are concerned about it working with your upgrade? Hypertech has you covered, because they went and bought every single intake available for the car. When you purchase your Max Energy you select from a drop down menu which mods you are running and they take care of the perfect tune, without any headaches.
Source:
Hypertech
Max Energy Tuning for MazdaSpeed3
www.hypertech.com