Written by Dave Pankew Photos By: www.summitracing.com | 21 April 2010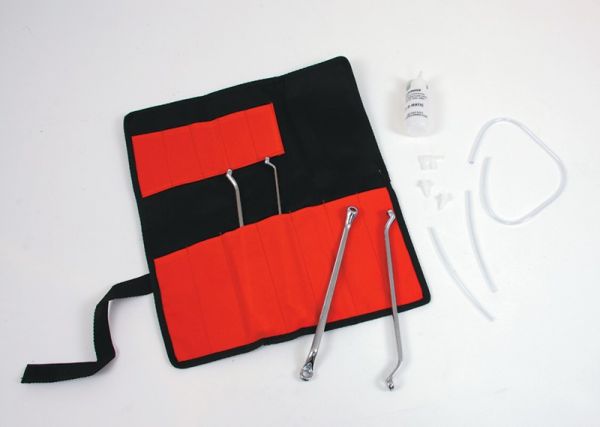 In a tough economy it only makes sense to look at what work can be done yourself. What holds true in the do-it-yourself housing market has spilled over to the automotive world and it seems everyone is doing backyard repair jobs. We have seen everything from engine swaps to turbo conversions done right at home, without a lift, air tools or any of the specialty equipment your mechanic owns.
One way to save extra cash is performing your own brake jobs. There are plenty of affordable upgrades out there for pads, rotors and stainless steel lines. All you need is a few basic tools, a jack and a jackstand to get at one wheel at a time, and the job can be completed in a few hours. However, there is always one element of the job that takes forever, and in some cases has to be done over and over again because it wasn't done right the first time. We are talking about bleeding the hydraulic brake system of air.
When air gets trapped in the lines, it can make your brake pedal feel mushy. Even worse, if it works its way to a caliper, it can reduce brake effectiveness and it might prevent them from working at all. We talked to the pros over at Summit Racing about a new product they have brought to market called the Brake Bleeder Pro Pack, which promises to get the job done right the first time, every time.
The Summit Racing Brake Bleeder Pro Packs promises to save do-it-yourselfers some time and money. Traditionally, you needed two people to bleed the brake lines of air but with the Summit Racing Brake Bleeder Pro Pack, it turns the process into a one man job. The packages includes four offset brake bleeder wrenches—5/16x 3/8-inch,1/4x3/8-inch, 7mm x 9mm, and 8mm x 10mm to suit a variety of vehicles. The Brake Bleeder Pro Pack also includes a brake bleeder kit that uses and innovative magnetic pad to attach the reservoir to the vehicle's bodywork.
The system eliminates the need to hold the reservoir while bleeding the brake system by pumping the brake pedal repeatedly. You can't be in two places at once but the reservoir will rid the system of air while you pushed the pedal to build pressure. Repeat the process at all four corners and the system will be free and clear of potentially dangerous air pockets. The Summit Racing Brake Bleeder Pro Pack comes complete with bottle, fittings, and tool pouch to hold a variety of tools.
We were impressed with this simple, yet effective tool for bleeding your brakes. It has always been a two man job in our experience and when you're exhausted after wrenching all day, having to yell commands at your little brother about how to pump the brakes in the dark can be a bit of a nightmare. At that point, it'd be nice to be in full control of your brake job and Summit Racing has made it possible with the Brake Bleeder Pro Pack. Be sure to check out the Summit Racing website for more tools and gear to get you back on the road or track quickly.
Source:
Summit Racing
Brake Bleeder Pro Pack
www.summitracing.com